How To Highlight Gray Hair And Add Dimension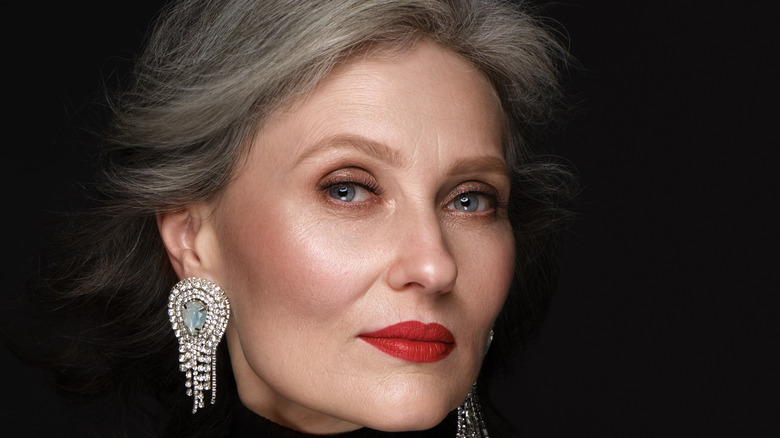 Kobrin Photo/Shutterstock
We may receive a commission on purchases made from links.
Going gray (whether naturally or through hair dye) doesn't mean that your hair has to be drab and one-dimensional. You only need to look to the endless celebrities in Hollywood who rock their gray hair with style and confidence to know that you too can flaunt your grays proudly. 
For those whose hair isn't fully gray yet, gray blending is a popular technique to incorporate gray hair into your existing hair color in a stylish way. Many stylists have also suggested adding some pop to gray hair with the addition of highlights, per BestLife.
While some guides focus on covering up gray hair with highlights, this one is geared toward making gray hair look fabulous in its own right. Especially because naturally gray hair has a different texture from other hair, there are some considerations that those with gray hair should make as they approach getting highlights. Read on to find out what you need to know before touching up your grays.
Follow your natural color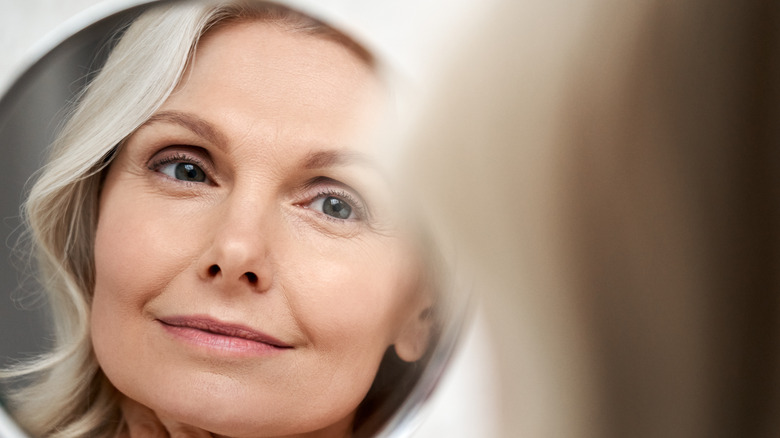 Ground Picture/Shutterstock
The first tip given by colorist Janesa Morera is to use your natural color to guide any highlights that you want to add to your gray hair, per BestLife: "The most flattering highlight look for an individual would be to follow their natural pattern of lightness and depth, all while keeping the hairline bold. This technique will give the hair a natural appearance and still keep it contemporary."
Having different shades of gray and silver added to your hair through highlights can bring out the beauty of the color. Alternatively, you can add cool blond highlights to complement your gray hair. Many also choose to transition from their natural color to gray hair using highlights, as covered in a post from Vegamour. 
Note that those who have dark roots may not want to go for highlights. Curl Centric makes the case for using lowlights rather than highlights, which involves having darker shades dyed throughout your gray hair rather than having sections brightened with lighter shades. 
Ultimately, the choice is up to you. You can also choose to take inspiration from celebrities with trending styles such as herringbone highlights (via Real Simple). This technique uses a herringbone pattern to blend gray hair in with the rest of your hair.
Face-framing highlights are another option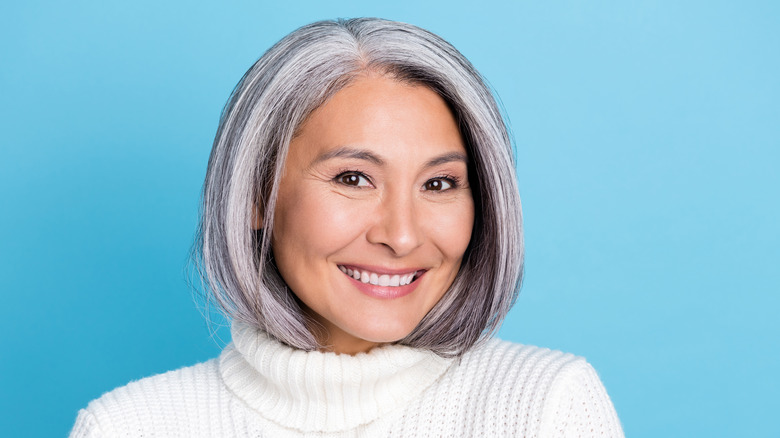 Deagreez/Getty Images
Janesa Morera also recommends going for face-framing highlights (via BestLife). This look works for any hair color, but it is particularly effective on gray hair. The basic principle involves taking strands of hair near the face and brightening them up, which brightens up a person's whole look in turn and brings a new dimension to the gray hair.
It's important to note that dyeing gray hair could be more expensive from professionals who charge by the hour rather than by the service being provided. As colorist Chase Kusero tells The Zoe Report, "Gray hair is more resistant and usually requires extra processing time." Similarly, You Probably Need a Haircut mentions that gray hair is less likely to hold dye as well because it tends to be drier. Keep this in mind when planning your long-term hair maintenance needs. 
No matter the look you're planning to get, you can turn regular gray hair into something totally exciting by incorporating these simple techniques.