How To Make Your Face Crystals And Gems Stay In Place Once And For All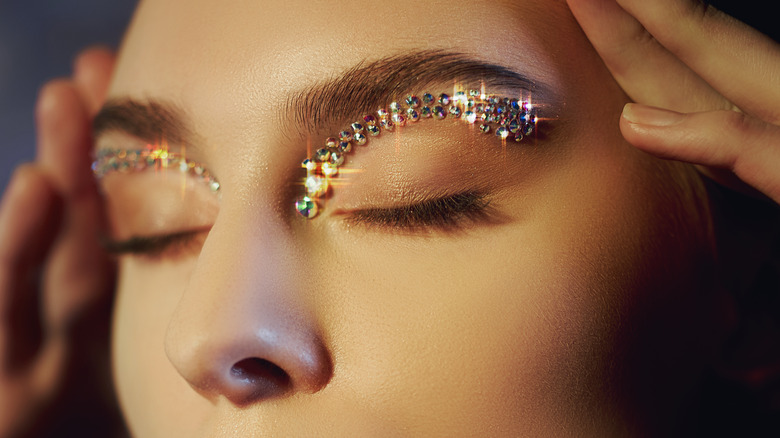 Angel_nt/Getty Images
Whether you're wearing them to a festival or rave or just adding a bit of glitz for the trendy fun of it, face crystals and gems can be a great way to take a makeup look to the next level. (Don't believe us? Just take a look at the different looks and products showcased by Lifestyle Asia.) The challenge of these exciting accessories comes in when they're expected to stay where you've applied them. Between sweat and your skin's natural oils, making sure that your face crystals and gems don't budge can wind up being a distraction during an event or on a night out.
Fortunately, it turns out that there is a better way than checking a mirror (or a phone's front-facing camera) every few minutes to make sure that all shiny stones are present and accounted for where they should be, and it comes to us from Makeup.
Use a good adhesive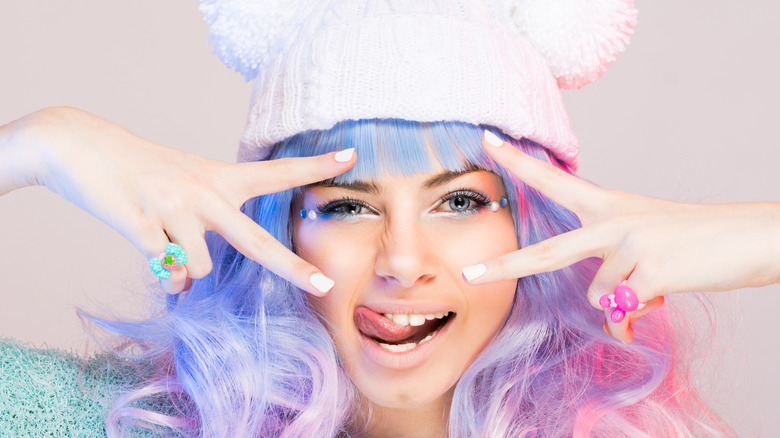 Biglike/Getty Images
Makeup advises those looking to keep their face crystals and gems in place to use an adhesive product that won't damage or irritate the skin in addition to any adhesive that might already be on the crystals or gems. Here, the website notes that there are multiple options, with eyelash glue, spirit gum, and specially-made products all doing the trick.
Spirit gum is often used in the application of prosthetic makeup to create special effects. Red Carpet FX has a guide on how to use spirit gum for a number of different purposes for anyone who might be new to it, and this includes a list of frequently asked questions about the product.
Mehron, one of the manufacturers of spirit gum, also sells an adhesive product called AdGem, which offers a latex-free option, which is ideal for anyone who is allergic or otherwise sensitive to latex.
Make sure not to use anything too harsh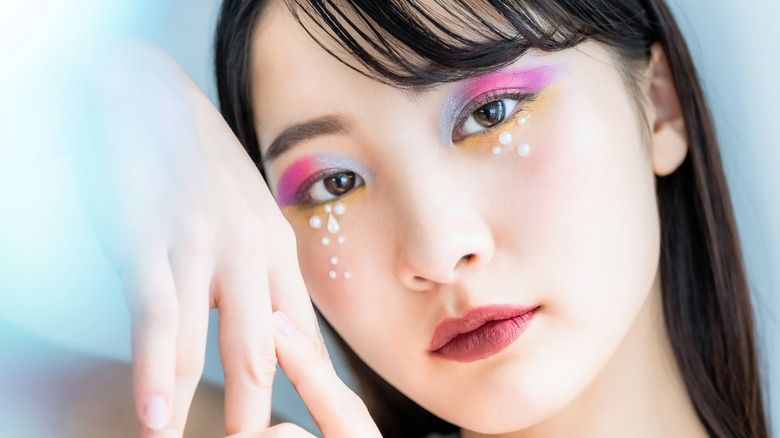 metamorworks/Shutterstock
When choosing an adhesive to ensure that your face crystals and gems stick where they're supposed to go, make sure not to use any products that aren't meant to be applied to the skin. Some products may be advertised for use on gemstones, for example, but are intended for applying them to fabric or other materials. As LEAFtv points out, hot glue guns and the like should not be used to apply crystals or gems to one's body.
Per Face Lace CEO Phyllis Cohen's comments to Bustle, even "Euphoria" makeup artist Donny Davy has opted to go for face stickers, with Cohen explaining, "When Donni was planning looks [for Euphoria] and just starting to film, she reached out to Face Lace as she felt stick-on makeup was perfect for the experimental makeup aesthetic of Gen Z."
If in doubt, do your research before applying any products to your skin, and make sure to do a patch test on them first.