The Beauty Treatment Poised To Be On Everyone's Radar In 2023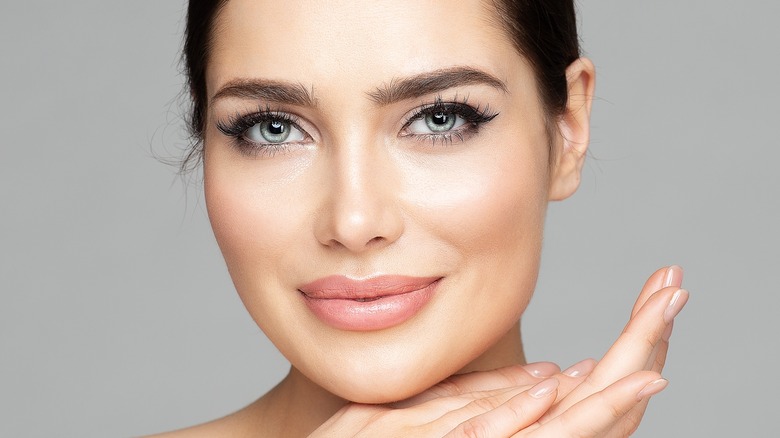 Inara Prusakova/Shutterstock
In 2022, we've seen some fun, energizing beauty trends soar in and out, barely missing a beat. The no-makeup makeup look, flashy nail art, Botecelli hair waves, colorful brows, the bouncy Rachel cut of the '90s: there has been a lot to digest. Thanks to platforms like TikTok, we have been able to rapidly take in beauty ideas and dabble in treatments, discovering what worked wonders for us (and what to pass on), from skincare regimens to minor cosmetic procedures.
We've also seen brow trends quickly evolve, with some recreating the pencil-thin look of the '90s, while others hold firm to the heavily filled-in, bold brow of the 2010s. If you feel like you're having a hard time keeping up with what's hot when it comes to brows, you're not alone. Bleached brows, untouched brows, fox brows : it feels like we've seen it all. But there's one beauty treatment, in particular, that is geared to float us into 2023 with its youthful, carefree vibe, and, perhaps needless to say, we're here for it.
Brow flips will continue to wow in 2023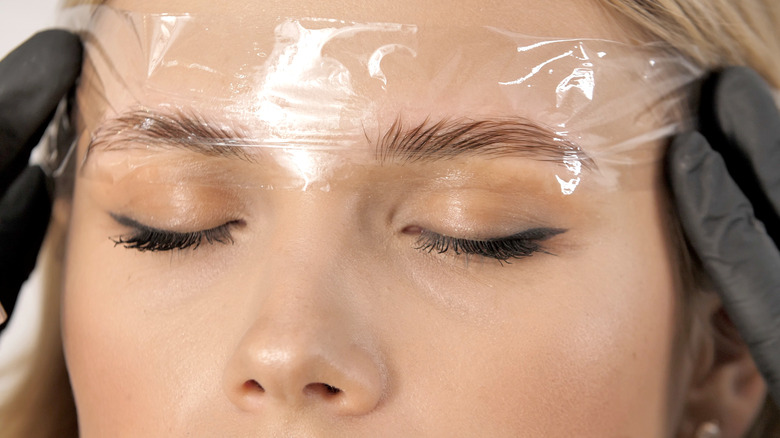 markwar/Shutterstock
Brow lamination, also known as a brow flip, is a shiny, smooth brow treatment like a hair perm. It's semi-permanent and gives off an effortless energy. "We love the 'perfectly imperfect' look where the brows are well-groomed and feminine without being overly shaped or polished," said Melissa Pruett, founder and CEO of MELT by Melissa, The Zoe Report. "Happiness is when clients fall in love with their truest brow."
The good news is that brow flips are needle-free and last around two months. Also, understand that the main result of a brow flip is bigger, fluffier brows. So, make sure that's what you're after and that the look will complement your facial structure. "This procedure is best for anyone who wants to make a thin brow appear full within 30 minutes, as well as, a more full brow to appear fuller and more fluffy," Melanie Marris, an eyebrow stylist and founder of Brow Code, tells Byrdie.
The process of a brow flip is fairly simple. Your brow technician will first apply a cream to lift your brow hairs. Next, they'll be brushed upwards for that extra fluffy look, and then they'll be sealed with a neutralizer so they stick firmly in place. The procedure shouldn't take too long, and you'll be out the door in no time with the full, shiny, and trendy brows of your dreams.
Brow lifts and sensitive skin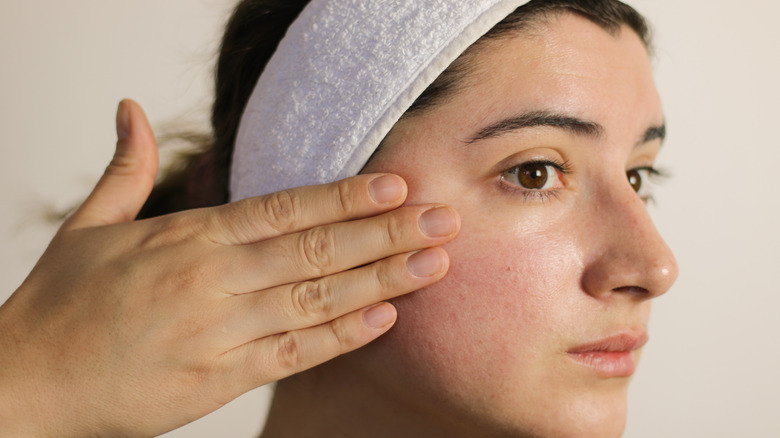 Liz Jara/Shutterstock
While this beauty treatment will no doubt be on everyone's radar in 2023, if you have particularly sensitive skin, it's important to pause and investigate whether or not a brow lift is the right route for you. Those with rosacea, eczema, or other sensitive skin conditions should talk to a healthcare provider about the ingredients used in brow lifts before booking an appointment. Some of the not-so-desirable side effects include puffiness, swelling, peeling, and rashes. And as this treatment is done so close to the eyes, irritation in the eyes (or even eye damage) could occur (via Healthline). 
Some providers may be able to do a test patch of the chemical solution to see if you'll have an allergic reaction prior to the actual brow lift and if you're worried you may fall under the hyper-sensitive skin category, this could reveal some pretty helpful information. "Don't try it if you have had any kind of reaction to a perming solution or had sensitivity to any of the ingredients in brow lamination products," Melanie Marris tells Byrdie. And while DIY brow lift kits are available for home use, it's probably best to book with a professional for your first go-around, as we all know what a good brow can do for the face.