How To Apply Foundation For A Flawless Finish On Textured Skin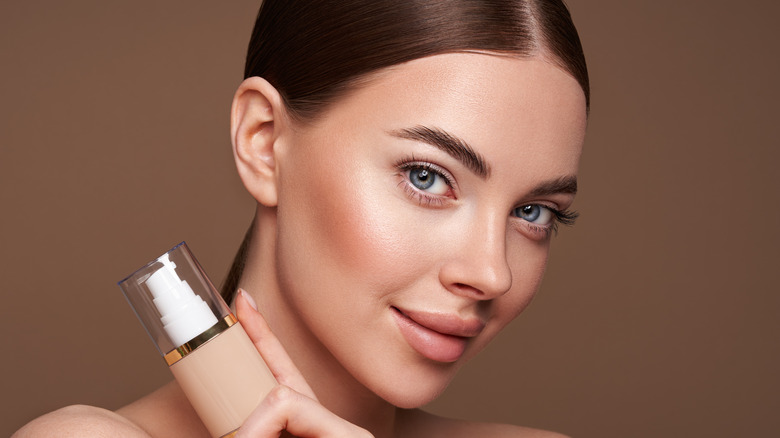 Oleg Gekman/Shutterstock
We may receive a commission on purchases made from links.
Beauty tutorials can be a blessing as they help makeup enthusiasts learn how to properly put makeup on. However, scrolling for endless hours on social media can also damage one's self-esteem when all you see on Instagram are beautiful people with perfect, glass skin. You first need to know that your skin always has some texture.
"Uneven skin texture is commonly a result of excess dead skin cells that build up on the surface of the skin," dermatologist Dr. Frank told Byrdie. He added that sun exposure could also contribute to textured skin, and it can look dull and won't feel smooth when you touch it. Regular exfoliation, chemical peels, and using Vitamin C and sunscreen can help even out your skin.
Aging is another factor. A 2018 study published in the Cell Transplantation stated that aging causes loss of collagen, which results in fine lines, wrinkles, sagging, and rough texture of the skin. The use of antioxidants and retinoids can help boost collagen production and may help in the reduction of textured appearance.
Dry and dead skin, enlarged pores, and scars can amplify textured appearance so having a skincare routine that caters to those needs is vital if your goal is to have a smooth, even complexion. While you're treating your skin texture with skincare products, it's still possible to use the power of makeup to make your skin look more flawless, and one trick is how you apply foundation.
How to apply foundation on textured skin for a flawless finish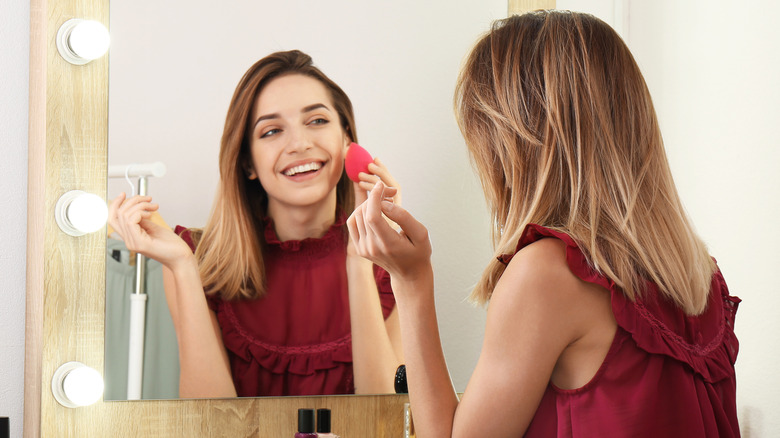 New Africa/Shutterstock
Flawless perfect skin isn't real unless you're possibly a newborn, and babies sometimes have bumpy skin textures too. The only difference is that some people have minimal textured skin while others have more. However, with the magic of makeup, especially foundation, you can reveal smooth and even-toned skin.
Remember to prep your skin before applying makeup for a smoother appearance, especially if you have textured skin. "At home, cleansing and hydrating is key before you do your makeup," celebrity makeup artist Tobi Henney told Who What Wear. Henny said you should clean, exfoliate and moisturize your skin before applying any makeup.
Pro makeup artist Keita Moore told Makeup, "I always start by applying a little bit of foundation on a sponge and build coverage in layers." Moore added that you could use a brush or add extra foundation if certain areas need more coverage.
If you've been using your hands or a brush for foundation, try a makeup sponge for textured skin, as you'll see a difference while still looking natural. "A sponge is ideal for a flawless natural foundation application," makeup artist Samantha Freda told Byrdie. Freda added that a sponge is her go-to for flawless results as it also lasts longer; because you wouldn't want to keep retouching your face when you're out.
Best foundation for textured skin
Now you know that the trick to applying foundation like a pro for textured skin is all about sponges, layering, and spot treatments; we need to find the perfect foundation that blends in seamlessly to give you flawless skin ... but always remember that having a little texture is human.
"Someone with textured skin should look for a foundation that's buildable," makeup artist Keita Moore told Makeup. That way, you can add a little more coverage on areas that need a little help. He recommends choosing a moisturizing foundation for dry skin and an oil-free and non-comedogenic foundation for oily or acne-prone skin. One of his favorites is Giorgio Armani Beauty Luminous Silk Foundation.
"Armani's Luminous Silk also works wonders on textured skin, as you can build the coverage where needed on more problematics areas, and it will give such a flawless finish," makeup artist Tobi Henney told Who What Wear. It's formulated with Micro–fil technology that perfectly allows color pigments to layer over the skin for a smoother appearance. This foundation has an average of 4.5 out of 5 stars on Amazon.