Keep The Glow Going With Rare Beauty's Latest Product Launch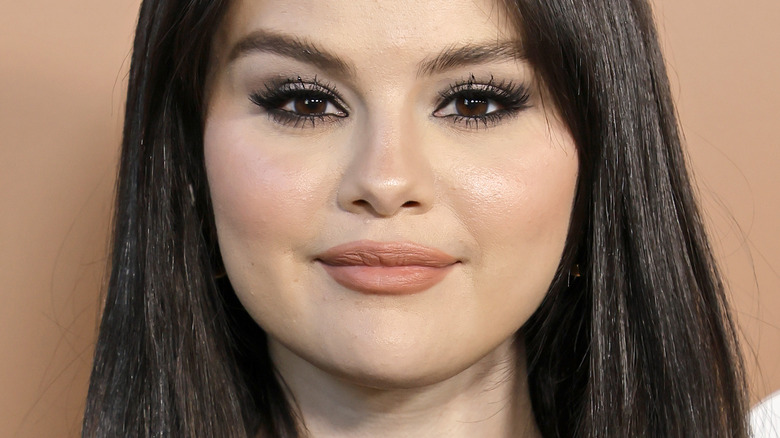 Kevin Winter/Getty Images
We may receive a commission on purchases made from links.
Selena Gomez's beauty brand, Rare Beauty, will launch a brand-new product tomorrow, December 6, just in time for you to snag it for the most festive season of the year. Get ready to shine as bright as a holiday tree because this launch may just bring the most wonderful highlighter of the year. So far, the new talc-free, vegan, and cruelty-free compact powder highlighter promises a subtle, long-lasting sheen that mimics naturally fresh and dewy skin. Will it live up to the hype?
The formula is set to serve as a less intense version of Rare Beauty's lauded Positive Light Liquid Luminizer for those who are after a less dramatic look. Positive Light Liquid Luminizer has taken the beauty world by storm since its release in 2020, reaching an average review of four stars on Sephora. If the brand's new highlighter product is anything like it, there may be a new cult classic on its way. Here are all the details.
Enter the Positive Light Silky Touch Highlighter
Positive Light Silky Touch Highlighter will hit shelves tomorrow, December 6, 2022, along with its Positive Light Precision Highlighter Brush. However, if you're feeling particularly impatient when it comes to acquiring the glossiest of highlights, you can get early access to the launch exclusively by shopping on the Sephora app. The formula for its new highlighter is not only talc-free, vegan, and cruelty-free; it's also paraben-free, noncomedogenic, dermatologist-tested, and suitable for sensitive skin. This is important because parabens have been tied to hormone disruption, cancer, and skin irritation, according to the Environmental Working Group. Bonus points to the brand for maximizing accessibility for those living plant-based lifestyles or struggling with skin sensitivities and for including a full ingredient list in the product description for those with allergy concerns. 
The highlighter is packaged in a slim compact that is perfectly sized for traveling in a purse or a makeup bag. The Positive Light Precision Highlighter Brush, sold separately, is described by the brand as "small, slim, and just firm enough for perfect precision" (via Rare Beauty). It's designed to apply the perfect highlight to the high points of your face, like the tops of the cheekbones, the bridge of the nose, and the Cupid's bow. 
Ratings and promises for the highlighter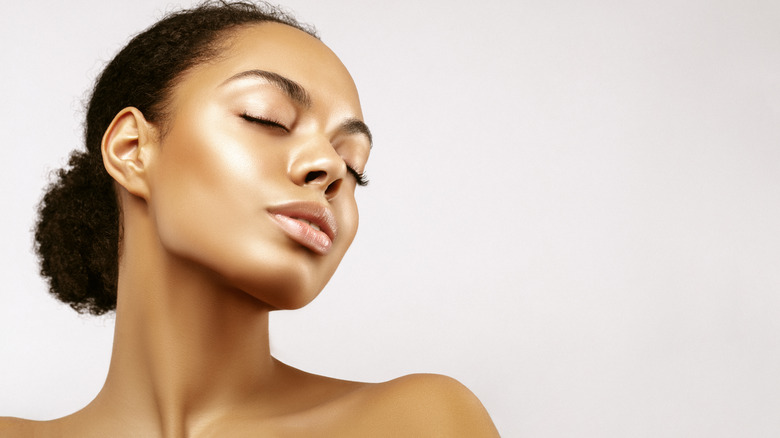 Beauty Agent Studio/Shutterstock
Rare Beauty's website lists the results of a consumer study of 56 people. Of those 56 users, 100% reported that Positive Light Silky Touch Highlighter gave them a healthy and natural-looking glow. All the participants also agreed that the product provides a high-shine luminosity that lasts all day, doesn't look powdery, flatters all skin tones, and doesn't look flaky. Selena Gomez herself has weighed in as well, saying, "It's truly lightweight and goes on like silk, and I love the natural sheen it gives you — I've never seen a highlighter like this!"
With such high remarks like this on the Positive Light Silky Touch Highlighter's product page, we're excited to see if Rare Beauty's latest offering will stand the test of time and be as deliciously light and luxe as it promises to be. In fact, for just $25, this may be one of those beauty products you simply need to try, and we know we're looking forward to doing so.