14 Gifts For The Fitness And Wellness Fanatics In Your Life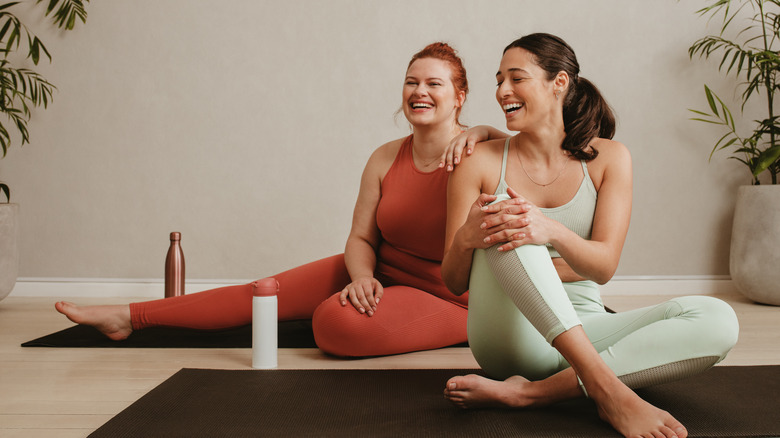 Jacob Lund/Shutterstock
We may receive a commission on purchases made from links.
You know a gift is good when it's something you know you'll use constantly but likely wouldn't buy for yourself. And it turns out, a lot of health and fitness products seem to fit that bill. Having the latest trending workout gadgets, cozy socks, and well-balanced meal recipes can make for a pretty satisfied gym rat, but many would rather put their money toward basics like quality workout clothes, sturdy running shoes, and, if possible, gym memberships.
So gifting them the "extras" is a great idea, but if you're not interested in cardio and weight lifting and whatnot yourself, it can be difficult to shop for your marathoning significant other or eerily calm yogi friend.
Our fitness and wellness gift guide offers some helpful holiday ideas. Featuring something for the pet parent, apartment dweller, healthy chef, and more, this quick list of products will help kickstart your search for the perfect wellness-themed present.
How we selected these fitness and wellness products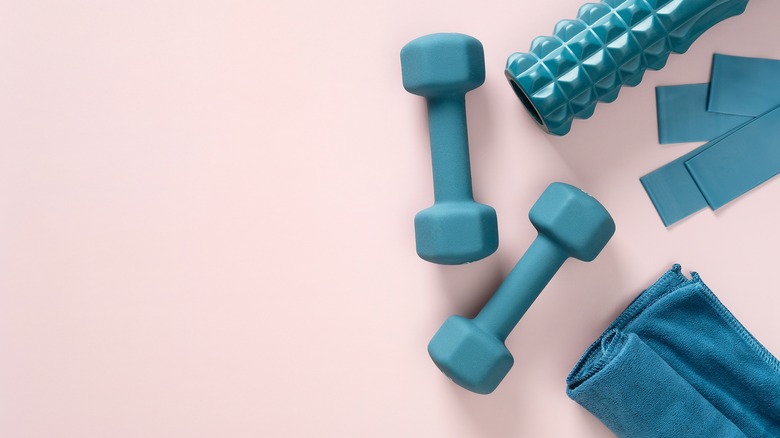 Savanevich Viktar/Shutterstock
When choosing our gift recommendations, we started by considering the fitness lovers in our own lives. What do they use regularly and what are they missing? By answering these questions, browsing fitness-themed websites, pouring through Amazon comments, and reading reviews online, we were able to curate a 14-product gift guide for workout and wellness fans.
And because interest in health and wellness always increases after the holidays as we head into the new year, we wanted to also make sure that this list featured options for the exercise expert as well as the budding workout fan who probably doesn't know their way around every single gym machine (yet). You don't need to be a star athlete to want a dependable water bottle and a sleek yoga mat.
Price came into play as well. A good present isn't always expensive. In fact, some of the most thoughtful gifts often aren't pricey at all. And, while some of these gifts do have a luxurious quality, there is hopefully something for every budget.
Best water bottle
Hydro Cell Wide Mouth water bottles are a perfect crowd-pleasing present for the fitness lover in your life. They don't even have to be that athletic, really, as water bottles are an everyday staple for students, office-goers, and more. And unless they're one of those people who actually prefer lukewarm water, this practical gift is sure to be well-received.
It's more affordable than some other stainless steel options on the market and receives pretty glowing reviews online — especially on Amazon. One reviewer said, "Though I have other steel water bottles, I find myself reaching for this one every time." Another positive reviewer wrote, "Best water bottle I've ever owned. I have been using the Hydro Cell bottle every day for several weeks. It does not leak — not a drop."
Purchase the 18oz Hydro Cell Wide Mouth model from the Hydro Cell website for $18.99.
Best for runners
The North Face Women's Etip Recycled Gloves are a useful gift option for the brave winter runner in your life. The brand's website highlights this lightweight cardio accessory as being touchscreen friendly, flexible, and made out of 93% recycled polyester. 
Satisfied Amazon buyers report that the Etip Recycled gloves do exactly as they claim. One reviewer said, "I measured my hand and got the perfect fit based on the size chart. These gloves are sleek, comfortable, and functional. They work great with my phone and watch and keep my hands warm." Marathon Handbook recommends the gloves for their easy-to-wash quality, warmth, and lightweight fabric, making this simple but effective gift one that will totally earn its place in your fitness fanatic's repertoire.
Purchase the Women's Etip Recycled Gloves from The North Face website for $45.
Best for foodies
Co-written by Olympian Shalane Flanagan and multiple New York Times best-selling cookbook author Elyse Kopecky, the "Run Fast. Eat Slow." cookbooks are great options for health food aficionados. The two health and fitness experts have published three different options: "Run Fast. Eat Slow.," "Run Fast. Cook Fast. Eat Slow.," and "Rise & Run." 
Health doesn't begin and end with exercise. "Outside of training, the single greatest thing an athlete can do to improve their performance (and their long-term health and happiness) is to learn to cook," Elyse Kopecky said (via Run Fast. Eat Slow.). And a healthy meal doesn't have to just mean salad, salad, salad. These well-balanced cookbooks provide a range of nutritional baked goods, snacks, dinners, and more to enhance any fitness lover's lifestyle.
Purchase the original cookbook "Run Fast. Eat Slow." from Amazon for $17.86.
Best for the consistent gym-goer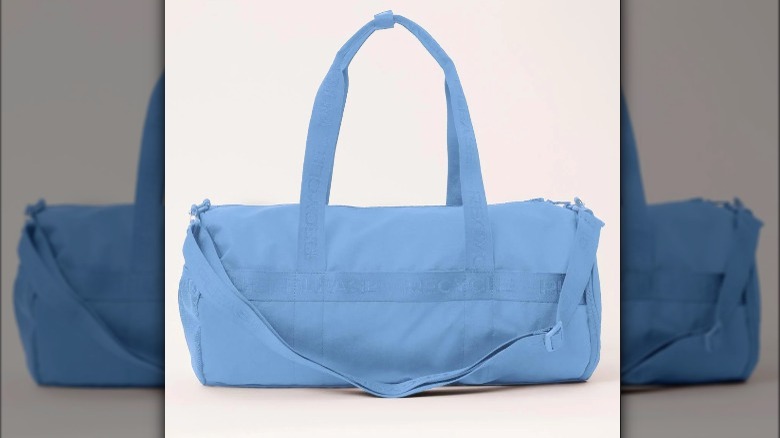 Girlfriend Collective
The Girlfriend Collective Provence Please Recycle Gym Bag makes for a great sustainable gift. Gym bags undergo a lot of wear and tear, so if you're shopping for someone who hardly ever skips a day, a stylish new bag is a safe bet.
Girlfriend Collective takes pride in sustainability, making sure to use only responsibly sourced materials in their high-quality athletic wear. The main body of the bag, plus the straps and belt bits are made out of 100% recycled plastic bottles. It also features multiple inside pockets for organization, a breezy spot for dirty laundry, and removable/adjustable straps. The brand also promises it is water resistant.
Alongside its eco-friendly and durable claims, the bag also receives resoundingly positive reviews online. One reviewer wrote, "This is the best gym bag I have ever used!" 
Purchase the Girlfriend Collective Provence Please Recycle Gym Bag from the Girlfriend Collective website for $78.
Best socks
Yep, socks for Christmas. We cannot stress this enough: they're not a throwaway gift! Everyone needs them, but many forget to buy them, and high-quality pairs can be a bit pricey — therefore, socks are a great present.
Smartwool, a long-standing popular brand recommended by Montana-based outdoor website Big Sky Fishing.com, delivers dependable products perfect for keeping you both warm and dry. If you're shopping for a hiker, Smartwool socks are a good option. Made from a majority of ethically-sourced Merino Wool, the Women's Hike Classic Edition Full Cushion Solid Crew Socks feature elasticized arch support (to ensure a snug fit with no sliding) and full cushioning for maximum warmth and comfort. Wrap these up in a recycled trail map and send your nature enthusiast on their way!
Purchase the Women's Hike Classic Edition Full Cushion Solid Crew Socks from Smartwool.com for $22.
Best hat
The New Balance Lightweight Running/Athletic Skullcap is a simple but practical gift option for anyone training outside this winter. Per New Balance on Amazon, it's sweat-wicking, made of a poly/spandex fabric blend, and features 360 stretch technology to accommodate more than just small heads — which is a surprisingly common complaint about other similar products on the market.
Runner's World recommends this lightweight skullcap for its versatility, mentioning that it actually protects against windchill without being so thick that you can't wear it when the ground begins to thaw. Amazon reviews for the product are also quite positive, as one reviewer writes, "Lightweight, unobtrusive. Perfect for working out. The skull cap is flexible and breathable ... These are amazing to work out in."
Purchase the New Balance Lightweight Running/Athletic Skullcap from Amazon for $24.95.
Best for beginners
A yoga mat is the perfect introductory workout accessory. Just unroll it and you can exercise anywhere — no expensive gym membership required. The Jade Voyager Mat is a travel-friendly, easy-to-store workout mat that will help any gym novice feel like a pro.
Recommended by Wirecutter as one of the five best yoga mats available, this portable product doesn't compromise its floor grip for travel readiness. It reportedly folds easily and has a sturdy amount of traction on both carpet and hardwood flooring. "Best yoga mat!" one five-star Amazon reviewer wrote. From beginning ab video viewers to seasoned yoga lovers, this lightweight workout mat makes for a stress-free holiday gift.
Purchase the Jade Voyager Mat from JadeYoga.com for $42.95.
Best stocking stuffer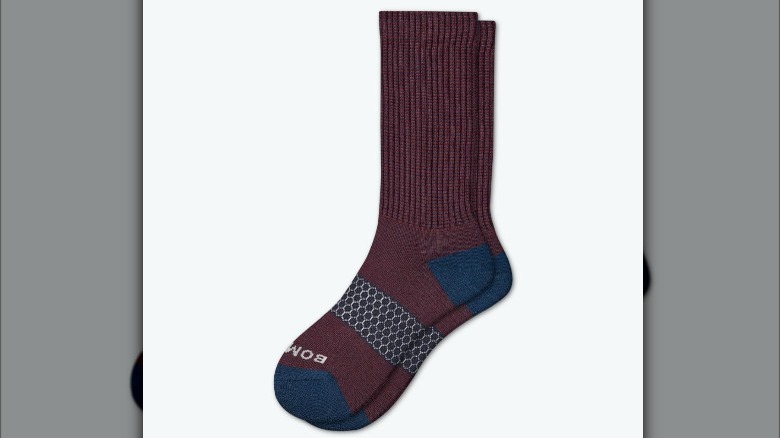 Bombas
Socks are a simple gift, but you really can't go wrong with them. Fitness fiends go through socks particularly fast — all that exercise makes for a formidable pile of dirty laundry. The Bombas Women's Microstripe Calf Socks are a fun, cozy, high-quality stocking stuffer that will come in handy right away. 
And this is a gift that gives back because for every pair purchased one pair is donated to those in need. Alongside Bombas' charitable nature, the socks receive overwhelmingly positive feedback online, with customers leaving comments like, "Fabulous," "Satisfied," and "Best socks ever." Another reviewer even promises, "I'm a Bombas customer for life."
Purchase the Bombas Women's Microstripe Calf Socks from the Bombas website for $14.
Best for stretching and recovery
Labeled top-rated on the REI Co-op website, the Trigger Point Performance GRID Foam Roller features sturdy EVA foam and a three-dimensional outer design meant to deliver pinpointed massaging post-workout, or whenever you're craving some intense muscle recovery. It hurts, but it helps — at least that's what everyone says about foam rollers, right?
The brand also highlights this model as being environmentally conscious. It's made with wasted materials in mind, and uses less product than other rollers of the same type, according to REI. And, out of 85 reviews on the REI website, 75 are five-star ratings, "This baby travels with me everywhere. Lightweight, sturdy and effective on my back, thighs, IT band and all around," one satisfied reviewer said. With customer approval and the strength to support 500 pounds of static weight, this foam roller will keep your fitness lover happy and limber.
Purchase the REI Trigger Point Performance GRID Foam Roller from REI.com for $36.95.
Best on-the-go product
For the fitness fanatic on the go, deodorant is a must. You never know when you're going to stumble upon a trail that must be hiked or meet up with a friend post-gym. Having some deodorant handy means you can run, walk, chill, or whatever without worrying about BO.
The Kosas Chemistry Deodorant is an AHA serum meant to fight odors while delivering useful active ingredients to your underarms. Shikimic, mandelic, and lactic acid work to exfoliate, brighten, and eliminate odor-causing bacteria. "The main cause of body odor in the underarm area is the results of the bacteria that are present," board-certified dermatologist Dr. Michele Green told Allure. "The AHAs target the bacteria that cause body odor." And to prove its popularity, the Kosas Chemistry Deodorant is a TotalBeauty Award winner, an ELLE Future of Beauty Award winner, and a Refinery29 Beauty Innovator Award winner, as well as a two-time Into the Gloss Top 25 list honoree (via Kosas).
Purchase the Kosas Chemistry Deodorant from the Kosas website for $16.
Best for yoga fanatics
Lululemon's The Small Towel is a safe bet for any yoga enthusiast. It comes in a variety of alluring colors and patterns, is handy not only for yoga, but other workouts as well (or even just a hot day), and isn't one of those products of which it's weird to have multiples. 
One of many fans of The Small Towel wrote, "A quick blot leaves me feeling cooler and sweat-free where before it felt like I was moving it around my face. I love these things and they're a huge space saver in the gym bag over a traditional towel," (via Lululemon). Compact, soft, absorbent, stylish, and more affordable than some other popular Lululemon products, The Small Towel checks all the boxes for the yogi in your life.
Purchase The Small Towel from the Lululemon website for $22.
Best for beauty enthusiasts
Yes, you can still get sunburned in the winter, so a good water-resistant sunscreen is vital to skin health and safety. "Even when it's cold or overcast, UV rays that cause skin aging and skin cancer are reaching your skin," Dr. Deborah S. Sarnoff, president of The Skin Cancer Foundation, writes on the foundation's website. "In the right winter weather conditions, you can sustain sun damage just as easily as during the summer."
The Skinnies Sungel Eco Sunscreen is reef safe, contains SPF 30 to 50+, and is award-winning, per Skinnies on Amazon. It's a water-free concentrate that is meant to reduce waste and increase staying power on the skin. Ranked number one by Runner's World, this high-performing skin protector reportedly dries quickly and, as it says on the label, a little goes a long way.
Purchase the Skinnies Sungel Eco Sunscreen from Amazon for $34.99.
Best for apartments
Amazon's Fit Simplify Resistance Loop Exercise Bands are affordable, easy to store, and increase workout intensity without taking up space like a bunch of clunky weights, making them perfect for apartment living. They are also useful for physical therapy purposes, so they're definitely a good tool to have around when working out.
This particular option comes with five bands of varying resistance levels for sore days, hard workouts, beginners, and more. One reviewer wrote, "I really like the multiple levels of stretch available in this one product. The bands enable me to practice exercises from physical therapy at home."
This Amazon option might not be the best choice for a seasoned workout pro, but if you're shopping for an active person craving some variety in their apartment routines, these exercise bands are a great last-minute gift.
Purchase the Fit Simplify Resistance Loop Exercise Bands with Instruction Guide and Carry Bag from Amazon for $20.95.
Best for pet parents
The Tuff Mutt Hands Free Dog Leash is a two-birds-one-stone type of gift. Basically, buying the fitness lover in your life an innovative leash means a present for them and for their pet.
Named the best dog leash for running by Active, this hands-free product allows pet lovers to mix their daily walks with daily runs. It's designed with enough length to help prevent tripping, features reflective material threaded throughout for increased safety at night, and the "easy glide belt clip," makes it easier for your pet (and you) to move side to side while exercising, according to Tuff Mutt Store on Amazon. One five-star reviewer wrote, "This is by far the best leash we've had to walk our two golden retrievers ... The spring gives just enough so when the dogs pull, it isn't as jarring."
Purchase the Tuff Mutt Hands Free Dog Leash for Running, Walking, Hiking from Amazon for $24.97.