How Witch Hazel May Help Improve Your Stretch Marks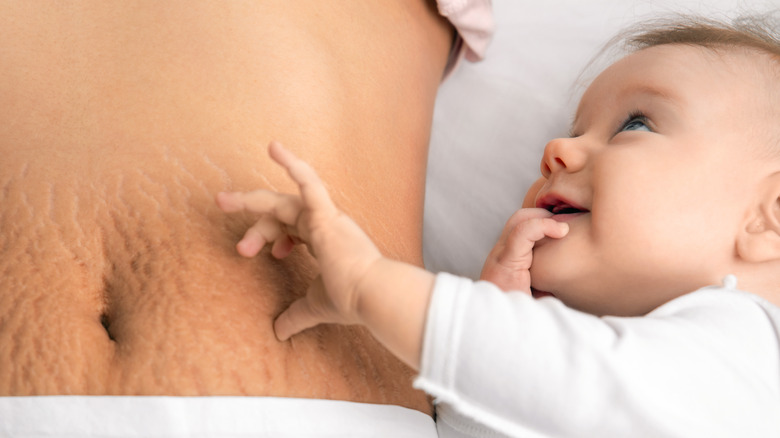 Ales Munt/Shutterstock
One of the most commonly used healing plants in folk medicine, witch hazel has long been valued for its soothing, cooling, and anti-inflammatory properties. You'll likely recognize the name as one of the ingredients in your facial toner or possibly from an herbal tea blend. Witch hazel is a woodland shrub that grows primarily in the eastern United States, near sources of water (via Chestnut School of Herbal Medicine). In his article "The Mysterious Past and Present of Witch Hazel," published in The Atlantic, John-Manuel Andriote described the plant as "One of the few products that's both FDA-approved and endorsed by real witches."
Now if that doesn't perfectly capture the magic of witch hazel, we're just not quite sure what does. It's even rumored that the name "witch hazel" stems from the time of year in which the plant flowers, around Samhain or Halloween (via Chestnut School of Herbal Medicine). Witch hazel is used to treat a vast array of skin conditions like acne, diaper rash, razor burn, varicose veins, bug bites, and dandruff — and even to reduce the appearance of scars and stretch marks (via Medical News Today). Although there isn't exactly solid research to support that this works, witch hazel isn't known to have any serious side effects, so it's worth a shot.
Witch hazel is an astringent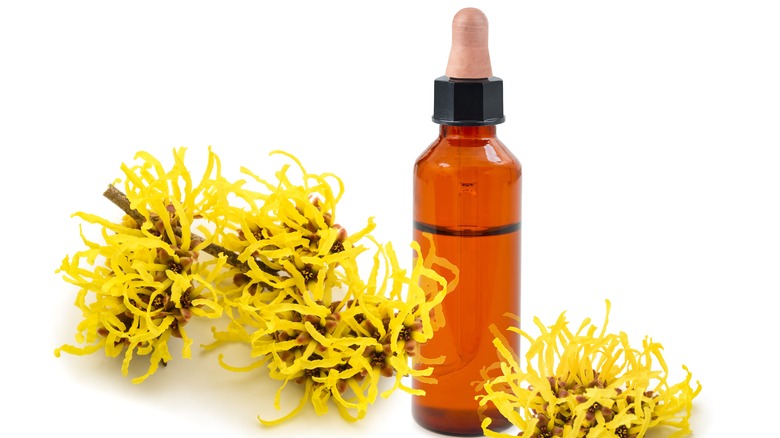 Scisetti Alfio/Shutterstock
Witch hazel has noted astringent properties, and astringents help to tighten the skin, so one can naturally see how witch hazel could aid in reducing the appearance of stretch marks — which certainly don't need to be erased, but if that's what you're after, witch hazel could be the best holistic route to take. According to iHerb, witch hazel may tighten the pores around stretch marks, shrinking them and making them look smaller. Try applying witch hazel with a warm compress to the area that concerns you. "It's often used by pregnant women to prevent stretch marks," said Dr. Dendy Engelman of Oasis Wellness and Rejuvenation Center in an interview with Byrdie.
As previously mentioned, there are a host of other benefits to witch hazel. The plant is known to strengthen the blood vessels and veins, says iHerb. A witch hazel wash is also said to be a holistic treatment for skin irritations, even eczema. It seems the magical powers witch hazel holds when it comes to treating the skin are nearly endless, so again, even though it hasn't been proven as an effective remedy for stretch marks, it certainly warrants a try.
Other holistic ways to treat stretch marks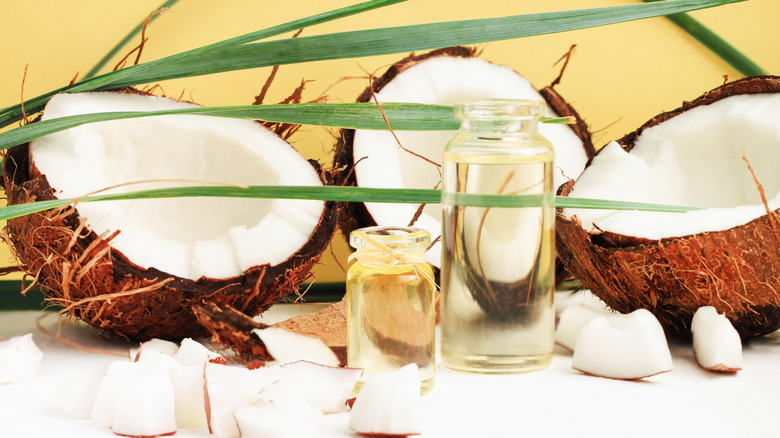 Anna Ok/Shutterstock
Whether or not you're having luck with witch hazel when it comes to your stretch marks, there are other natural remedies moms totally swear by. You likely knew coconut oil and aloe vera would be at the top of the list — and for good reason. Coconut oil encourages collagen production, and aloe vera plants are able to provide moisture, so both of these should be leaders in your stretch mark care regimen, via Parents. 
Next, using a homemade sugar scrub is a lovely way to nourish the skin, prevent stretch marks, and lessen the appearance of existing ones. Mix together sugar, honey, olive oil, and lemon juice. Apply the mixture to your skin and gently exfoliate, then rinse off after a few minutes. This scrub will moisturize, lighten, and tighten. The next one may come as a bit of a surprise, but according to StyleCraze, some mothers share that applying breast milk to their stretch marks in the postpartum phase lightened and lessened them. So, as you can see, there are many avenues worth exploring. But remember, there's nothing wrong with having stretch marks, and caring for your skin with love is what matters most.