Your Guide To Wearing Florals All Winter Long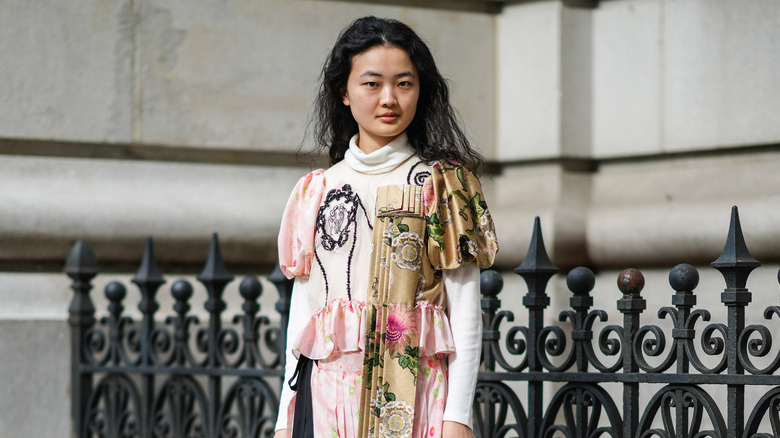 Edward Berthelot/Getty Images
While you might have a tendency to think of floral designs and patterns as being reserved for the spring and summer months alone, you don't need to relegate your favorite florals to the back of your closet just because it's that time of year when the weather has gotten cooler again. Depending on the climate where you live, you might not be able to wear your favorite garments in the exact same style as you would in the summer, for instance, but there are plenty of ways to keep your florals looking fresh and fashionable all year long. In fact, florals might even be a staple for the perfect winter capsule wardrobe
If you're in need of some winter floral inspiration, we've rounded up some of the top tips we've found from around the internet, from the British edition of Good Housekeeping's focus on different floral garments that can be used to complete a wintry outfit to Who What Wear's gallery of great wintertime floral looks.
Layer up with your favorite pieces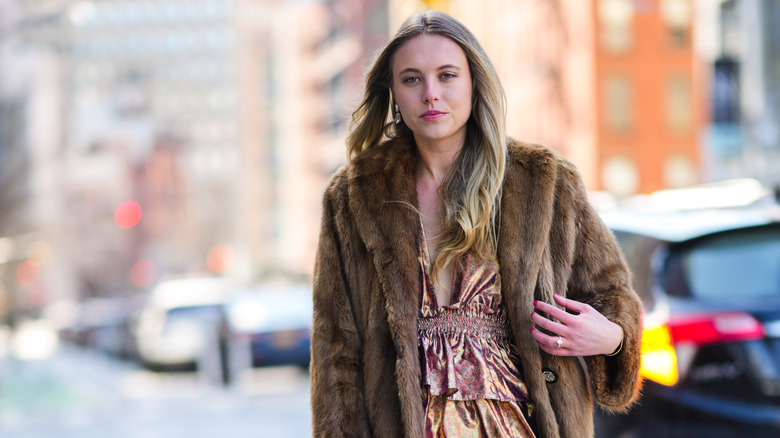 Edward Berthelot/Getty Images
You can still make the most out of some of your favorite florals by layering up when the weather is colder. Opt for a colorful floral dress or shirt underneath and complete the look with a coat in a single color for the ultimate touch of elegance.
Although this might sound like an obvious piece of advice to some, designer Jonathan Cohen explained the simplicity of it to The Zoe Report, sharing, "It's all about layering the prints and incorporating them into your fall [or winter] wardrobe."
Use a floral coat as a statement piece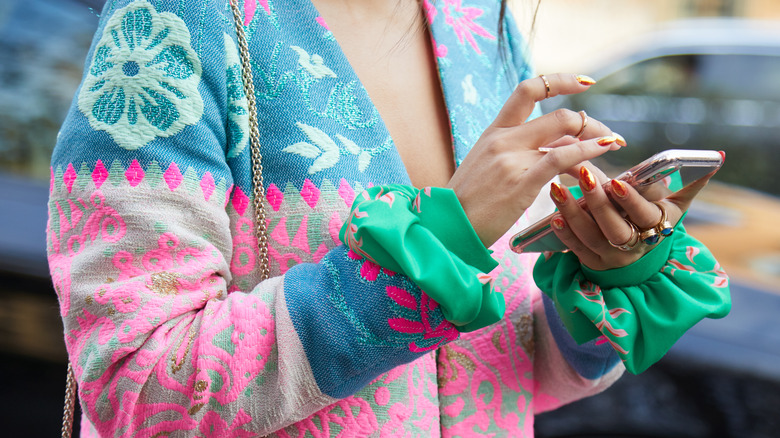 andersphoto/Shutterstock
You can go beyond layering by incorporating florals into your heavier winter layers themselves, such as by wearing a floral-patterned coat as a warm and practical statement piece.
One of the great things about this look is that it can be bold or subtle, depending on your personal preference. Fast Company mentions the Reversible Edie Puffer Jacket from Hill House Home as one potential option. 
Dress in a darker floral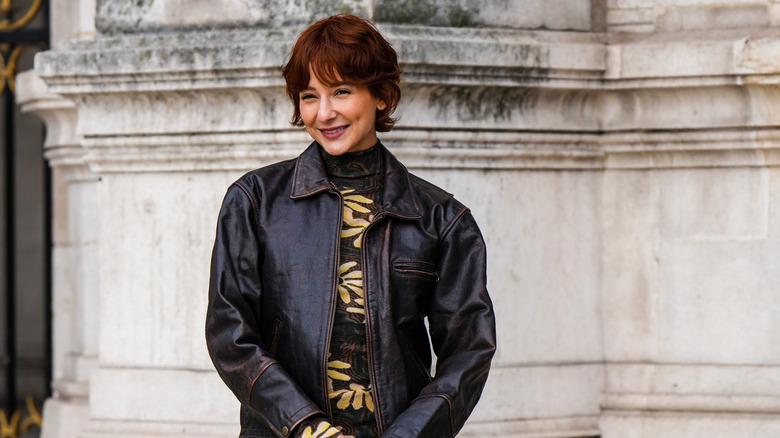 Edward Berthelot/Getty Images
Another suggestion for incorporating florals into your winter wardrobe is to go for a darker floral pattern, according to The Wardrobe Consultant.
The Guardian even wrote about the versatility of a dark floral at length in 2019. Sézane founder Morgane Sézalory revealed in that piece, "Small flowers on a dark pattern is a timeless pattern. It is not a specific trend but something that really goes through the time. During fall and winter, it is always a staple to have in your wardrobe. The print works really well on a midi or long dress with a pair of boots."
Go for heavier fabrics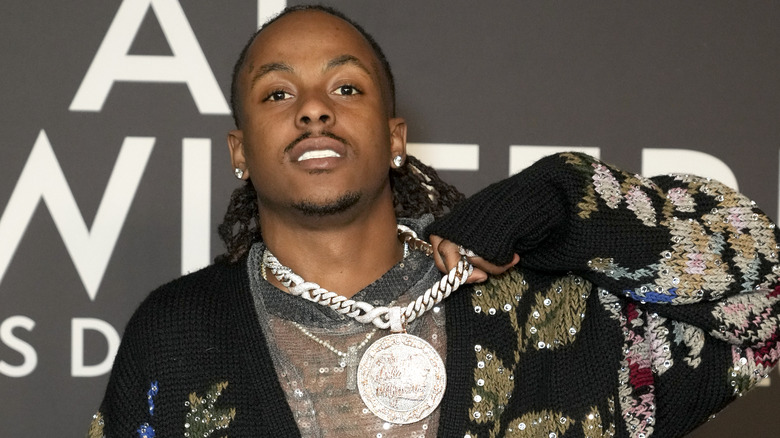 Kevin Mazur/Getty Images
If you want your florals to work in winter, it wouldn't hurt to choose them in fabrics that work well for the season without unnecessary layers, such as leather or wool.
"The floral trend can be pulled off with gaudy accessories and luxe materials like leather for fall," stylist Mickey Freeman told The Zoe Report. This extends to wintertime as well, naturally, but could require some layering based on how cold it is where you live.
Choose a floral denim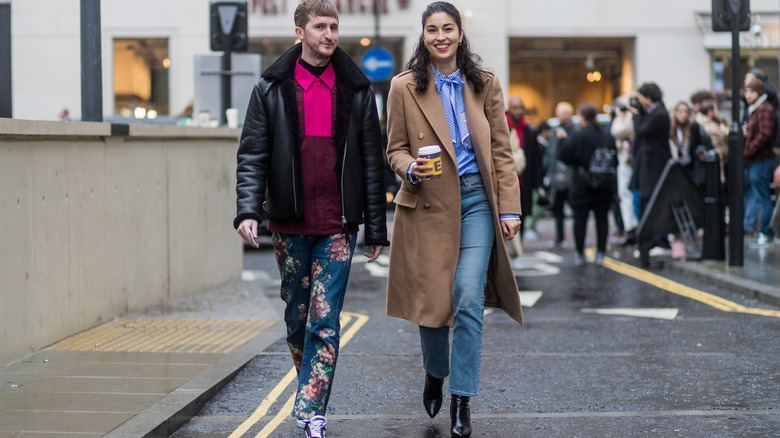 Christian Vierig/Getty Images
While not necessarily a heavy fabric in itself, another suggestion for winter florals is to go for a floral-patterned denim, such as with a pair of floral jeans. The Hollywood Reporter noted that floral jeans were in for Spring 2022, but it doesn't look as though they've gone anywhere since then.
From Denim Tears' collaboration with Stüssy, as reported on by Hypebeast, to denim mainstay Wrangler, there is no shortage of potential options in this regard. There's always the renewed popularity of denim-on-denim styles to take advantage of here too. 
Accessorize with florals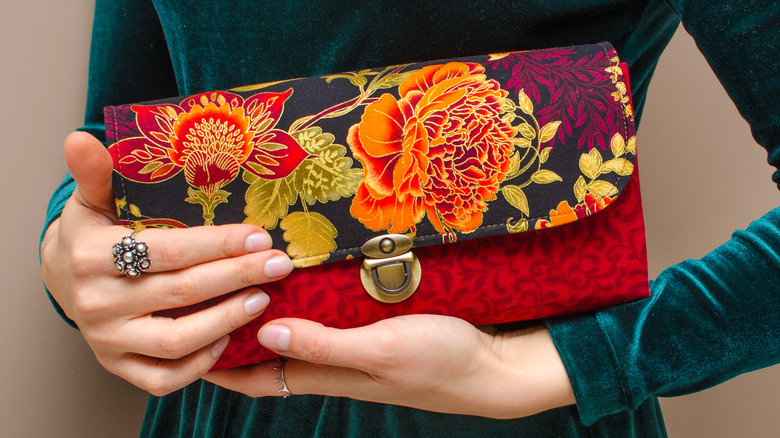 Maria Kolpashchikova/Shutterstock
Lastly, you can always choose to accessorize with florals for some added flair during the winter months. Here, your options are practically unlimited, and the great news is that you can tailor them to the types of accessories you typically wear.
Whether you want to use this as an opportunity for your handbag to shine, as suggested by USA Today, or want to use jewelry as your accessory of choice, you can add a pop of florals to your ensemble with ease.