A Third Of People Think This Is The Most Overrated Viral Fragrance - Glam Survey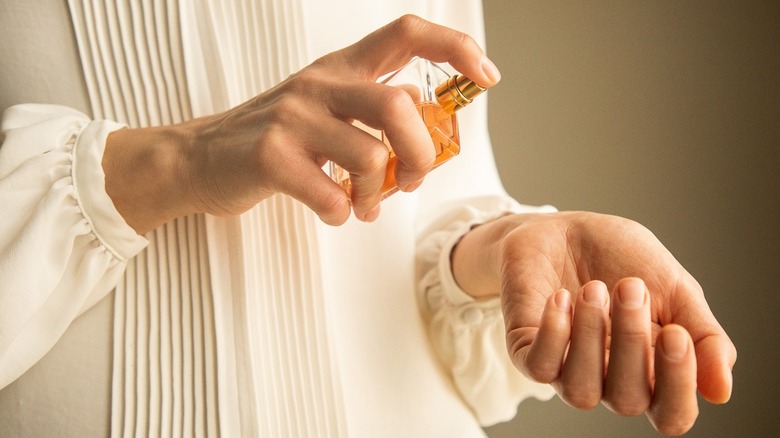 SVEPET/Shutterstock
Have you ever picked up a bottle of perfume you were dying to try, but when you put it on, you felt ... underwhelmed? Perhaps it smelled completely different than it did on the test strip? You're not the only one; the same fragrance smells differently on everyone due to a variety of factors, such as your skin's pH balance, hormone levels, and skin type (dry, oily, combination), Charlotte Eye Ear Nose and Throat Associates explains. This can seriously impact your satisfaction with the purchase a certain fragrance, even if it comes highly recommended.
If the scent isn't everything you'd hoped, it's normal to feel disappointed. The power of advertising pushes us to think every perfume is THE must-have fragrance, but of course, it's nearly impossible to please everyone. Some may label it as their ride-or-die, while others can't stand the scent. To get a better sense of what the consumer thinks, Glam conducted a study where we asked 602 of our loyal readers which viral fragrances they think are completely overrated. Here's what they said.
Cloud by Ariana Grande
Not only is she the world's biggest popstar, Ariana Grande has expanded her empire into fragrance as well. With eight perfumes already under her belt, she recently released her two newest fragrances, Mod Vanilla and Mod Blush, on December 1 of this year, according to HITC. Unfortunately, not all of Grande's products were a hit with our readers; out of the 602 respondents, 218 participants (36.21%) said they were most underwhelmed by Cloud, which was released in September 2018, per Billboard. It appears the notes of whipped coconut, vanilla orchids, pear, bergamot, and lavender weren't a major hit.
Coming in second place for the most overrated fragrance is YSL's Black Opium perfume, with 144 (23.92%) of the total votes. The brand launched this product back in 2014, Fragrantica states. With top notes of pear, orange blossom, and pink pepper, it sold 887 bottles per day in 2019, according to The Zoe Report. Despite its success, it's clear many Glam readers agree this viral perfume is not worth the $175 price tag.
Fragrances more readers enjoyed
Deman/Shutterstock
Out of the six fragrances presented to the participants, studies show Le Labo Santal 33 is the least overrated of the bunch. A mere 27 people (4.49%) agreed the perfume was over-hyped, as opposed to the other five fragrances. Le Labo Santal 33 was launched in May 2011, Bois de Jasmin explains. Since then, the fragrance has gained notoriety as "a powerhouse of modern perfumery," Fragrantica claims.
Additionally, only 38 participants (6.31%) believed Sol de Janeiro Cheirosa '62 isn't worth the hype. Released in 2020, the fragrance comprises notes of salted caramel, almond, heliotrope, pistachio, vanilla, and jasmine, among other delicious scents, as noted on the Sol de Janeiro website. Available in two sizes, Sol de Janeiro Cheirosa '62 comes in a 50-milligram size for $78, or $26 for 8 milligrams. Compared to some of the other fragrances, this is one of the more affordable options.