How To Spend The Holidays If You Can't Be With Your Loved Ones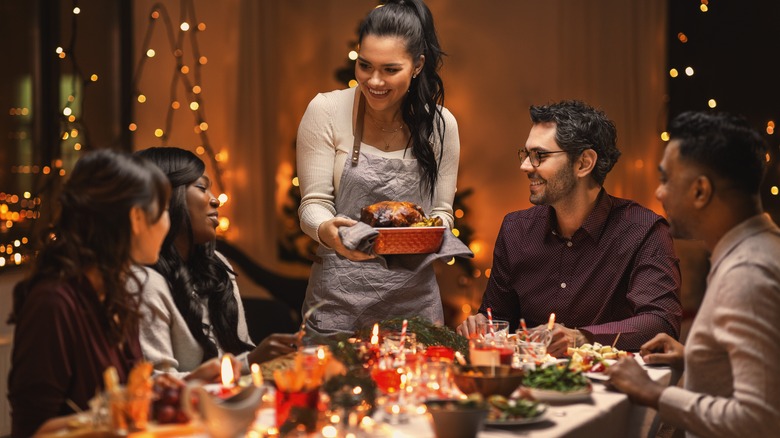 Ground Picture/Shutterstock
The holiday season may be full of joy but it also brings its fair share of high expectations and accompanying anxiety. Whether you live near or far away from your family, there is always an assumption that you will be returning to your place of origin to celebrate the holidays with them. This societal pressure doesn't take into account that you might not have the funds to travel, that your relationships with your family members might be unhealthy, or that you may not have any family at all. Nearly 30% of American adults are estranged from close family members, as reported by The Economist.
The fact that you won't be traveling "home" for the holidays doesn't mean that you have to spend them alone (unless you want to). It most certainly doesn't mean that you have to spend the season sad or that anything is lacking in your life. Here are some ways to embrace the holidays when you don't have plans for traditional, family-based celebrations. 
Embrace found family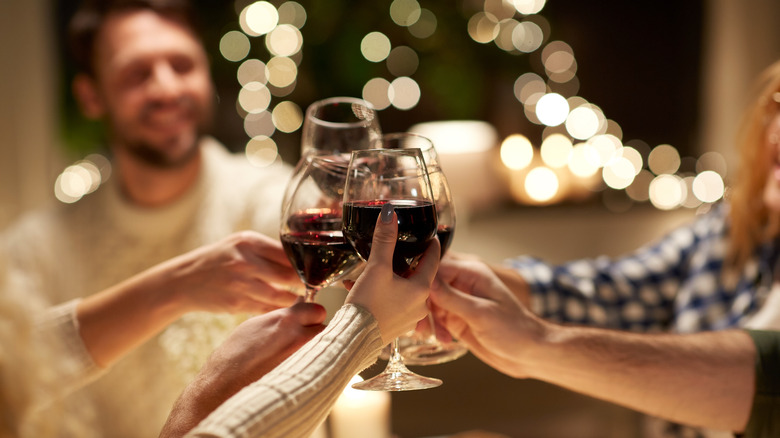 Ground Picture/Shutterstock
There is no rule saying that your closest relationships have to be with people who are genetically related to you. If your familial relationships are toxic or abusive, the healthiest thing for you may be to end them and make new connections with friends who love, support, and accept you. If you're lucky enough to have a few close friends, create a plan to celebrate together. You can keep it simple with a classic holiday dinner or go all out with gift exchanges, festive drinks, and elaborate party themes.
Celebrations like "Friendsgiving" have risen in popularity to the point that 70% of surveyed American young adults report enjoying them more than the family holiday celebrations they attend. An additional 62% of participants confessed that they don't actually enjoy attending traditional Thanksgiving gatherings with their family (via the New York Post). Home is where the heart is, and that includes right where you are currently located with your friends. 
Volunteer your time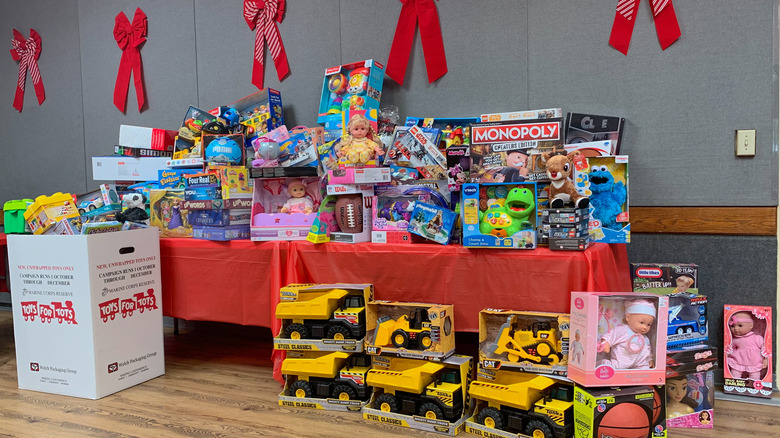 Rosamar/Shutterstock
If you're not sure about where or how you'll be spending the holidays this year, consider making a commitment to volunteer your time and effort to help others. Meeting people who are struggling can help give your life and problems the perspective you might not know you need. It also just feels good to help other people and forget about your own issues for a while. Plus, volunteering can turn into an opportunity for networking and connecting more with your community.
Not sure where to start? You can use an online service like VolunteerMatch to find local organizations that are in need of volunteers. You can also get creative and host a party to gather donations for a cause like Toys for Tots or a local food pantry. You could even combine this event with the holiday celebration you host for your group of friends as a way to have fun and help those in need at the same time. 
Gather virtually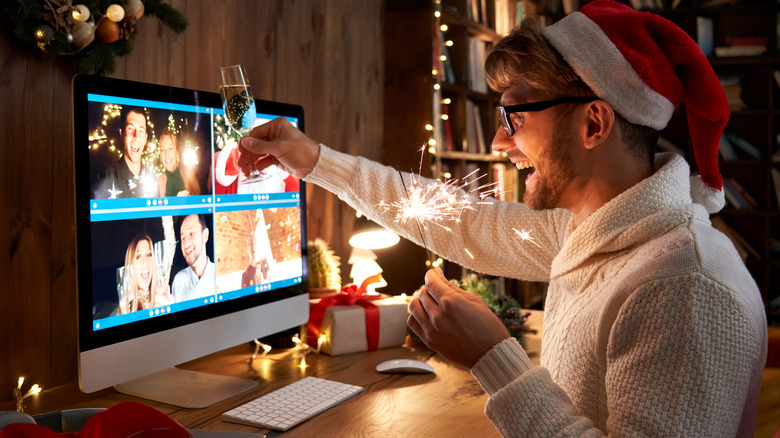 Ground Picture/Shutterstock
If distance is the only thing standing between you and a family gathering, there's no reason to skip the festivities. If nothing else, the COVID-19 pandemic highlighted the importance of finding virtual ways to stay connected with friends, family members, and coworkers. These same tools can be used to host or attend a holiday celebration with the whole family or just the family members of your choice.
If you're comfortable with free-flowing conversation, propose a meeting on a platform like Zoom. If conversation is historically a struggle, consider setting up a watch party using a web browser extension like Teleparty, or hosting themed virtual party games (via Team Building Hub). This way you can all watch the same holiday movie or show together and keep the chat centered around it. If there's any hope of steering clear of a holiday political rant from Uncle Jerry, this is it. 
Make your own traditions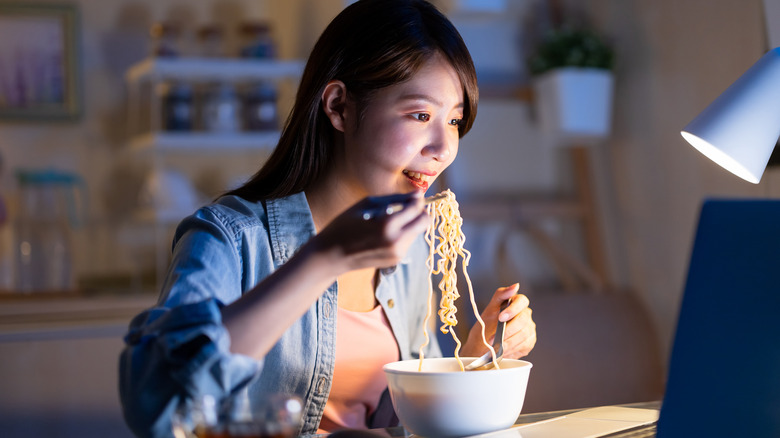 aslysun/Shutterstock
A lot of the melancholy that comes up when you spend your first holiday without your family has to do with the feeling of missing out on beloved traditions. Since holiday traditions are typically created by your parents when you're very young, they can seem almost sacred. The idea that there are other ways to celebrate may have never even occurred to you. Luckily, there most certainly are.
Literally, anything can become a new holiday tradition. Gathering old coats and boots and donating them on Christmas Eve? Tradition. Watching all the "Star Wars" movies in chronological order on Thanksgiving? Tradition. Making authentic ramen from scratch for Christmas dinner? Tradition. Once you've created your own traditions, you won't feel the need to pine for the ones you had as a younger person. Hold on to your new traditions and share them with all your friends, children, and pets whenever you get the chance. 
Take a self-care staycation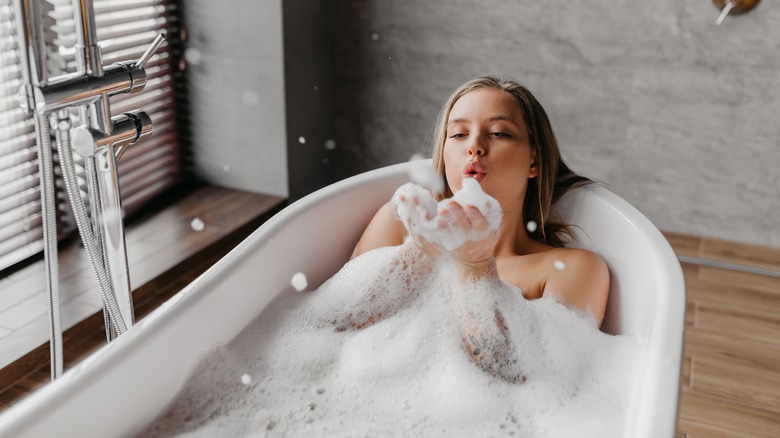 Prostock-studio/Shutterstock
Life is busy. The United States continues to be the only wealthy country in the world that does not provide guaranteed paid time off of work to its citizens, as reported by CNBC. This results in large numbers of people working well past the point of burnout in order to afford an even minimally comfortable lifestyle. For many Americans, holidays are either the only paid time off their employers offer or the only days they are forced to take off without pay.
If you find yourself without familial obligations this holiday season, consider using the downtime to recharge your mind and body. Spend a whole day alone, indulging in your favorite foods and hobbies. Re-watch your all-time favorite movie or show. Take a long bath and a midday nap. Bask in your own essence with no schedule and no responsibilities and just let yourself truly decompress while everyone else hustles and bustles from one obligatory celebration to another. Stop associating solitude with loneliness and bask in this rare opportunity for self-care.