Mistakes You Need To Stop Making With Your At-Home Manicures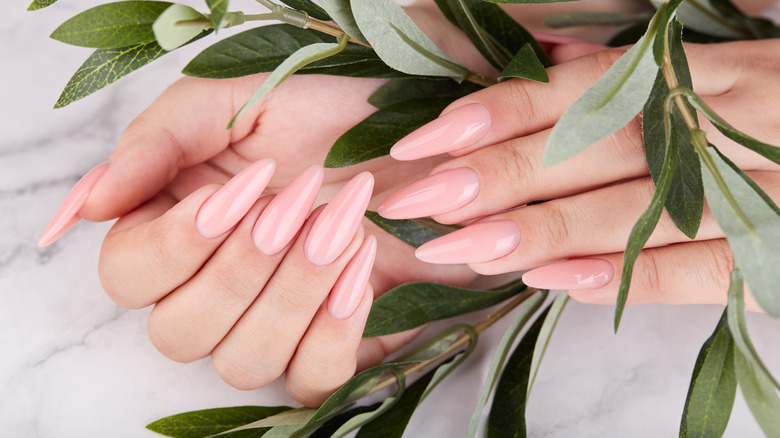 natkinzu/Shutterstock
When the pandemic first hit, it became really hard to do fun, pampering activities such as going to hair salons and spas or getting your nails done. Even going grocery shopping at this time was so odd, with so many things unknown. But a positive that came out of it was — through TikTok tutorials and beginner nail kits — that doing at-home manicures became a fun hobby. Getting a sleek gel manicure or doing fun designs was a fun task to try, and if you were able to get the hang of it, it would have saved you tons of money by not going to the nail salon.
But it's not easy, and it can be really frustrating for many people who try doing their own nails at home. Maybe you're prone to getting bubbles on the tops as they dry. Or maybe it just never looks comparable to when you go to a salon. Nail techs are definitely talented, and you can't compete with someone who made this their job. One common mistake to easily avoid right off the bat is really taking the time to let your nails set. Southern Living says you should avoid hot water for the first two hours post-manicure (showers, dishes); don't go to sleep soon after, either. But if you want to do more to get closer to a salon manicure at home, here are some mistakes to avoid.
Not creating a good nail foundation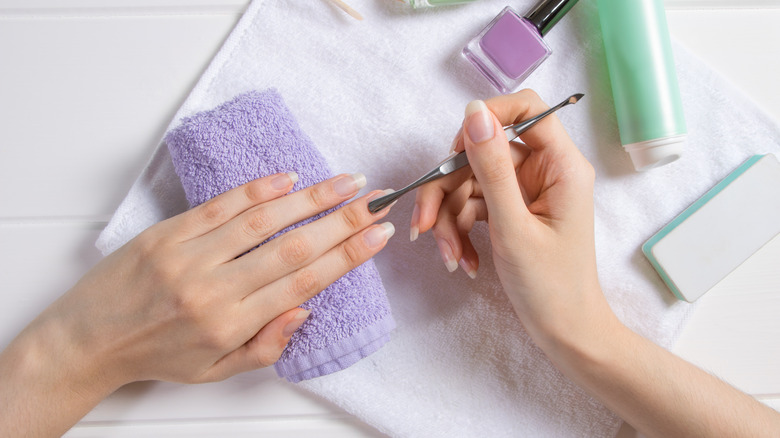 Natali Sam/Shutterstock
Growing up, we only did two-step manicures. First, we painted the nail and then used a top coat. However, if you're really trying to perfect your at-home manicure, you have to also focus on your naked nails by priming them. If you don't prep, you not only run the risk of your nail polish easily chipping, but you also might not get a great look either. This prep includes cleaning the plate, using a dehydrator, and doing a base coat.
"Make sure you're always dehydrating the nail plate with a dehydrator or acetone before you apply your polish," nail technician Ashleigh Bamber told Who What Wear. "If you skip this step, the oils, dust, and dirt on your nails will stop the gel from sticking to your nails, and you'll find your polish won't last as long as it should." And as Southern Living reported, skipping a base coat can be tempting to get a manicure done fast. But it's vital if you want a smooth base that will prevent chipped polish.
Also, make sure you don't mess with your cuticles. We all want cuticles that look good, which might mean taking off the dead skin with clippers or another tool. However, nail artist Rose Tucker told Who What Wear that many people try to remove what they think is excess and then end up bleeding. So instead, the artist recommends just using cuticle softeners and being gentle with a cuticle pusher.
Good nail polish techniques matter, too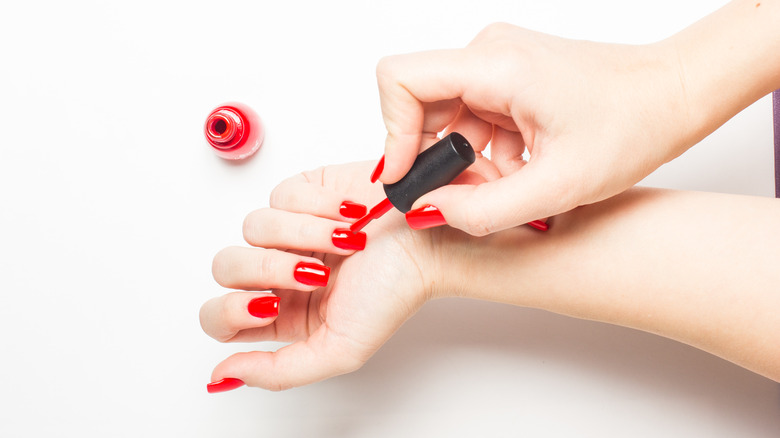 Olexii/Getty Images
Part of prep also includes filing and shaping. But L'Oreal Paris reports that a common nail filing technique is actually not great for you. Many people go back and forth with a file, which can weaken the nail and promote breakage. They suggest only doing it in one direction instead. And when it comes to shaping, Southern Living recommends the 90/10 rule to stop over-filing; 90% of shaping should take place with clippers and 10% with a file.
Once you're reading to paint, Southern Living suggests not shaking the bottle, even though it's an involuntary thing we do at this point. Shaking the bottle and dipping the brush in and out can create air pockets and give you those annoying bubbles we dislike. Instead, you should roll it between your hands beforehand. Once you go in to paint, Who What Wear suggests not doing thick coats for the same reason, and L'Oreal Paris advises not layering too quickly.
Nail artist Rose Tucker also told Who What Wear that a fun hack that prevents chipping is capping. Whether you're doing gel or using regular polish, "lightly drag the tip of your brush along the tip of your nail," she said. "You don't want a lot of product on the brush here as you don't want to see a ridge, so just use what's left on your brush and paint thinly." Lastly, you'll achieve a great at-home manicure if you're patient and careful.