Disco Curls Is The Chic Holiday Hairstyle That'll Make You Stand Out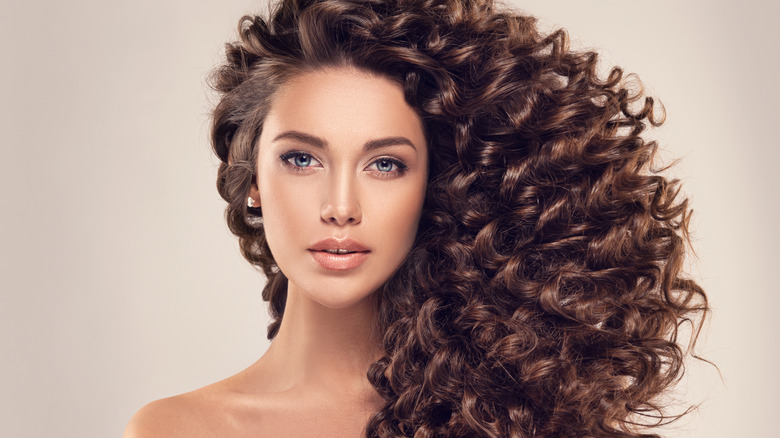 Sofia Zhuravetc/Shutterstock
The season of holiday parties is upon us. From work gatherings to family parties and events with friends, the holiday social season will quickly become booked. But the holiday season is also the perfect opportunity to get playful and fun with your fashion and beauty choices. When it comes to what to wear, consider luxe fabrics like velvet and satin and an infusion of glam with sparkles and sequins. Holiday colors like red, green, and white will always be in style, but you can stand out from the crowd with metallics and plums as well.
Plus, when it comes to beauty, don't hesitate to go a little over the top. For instance, a bold lip and sparkling eyes are the perfect way to capture the festive season. For hair, experts are saying the bigger, the better. That's why disco curls are this season's latest favorite. The wild curls are both fun and festive with a little bit of a retro feeling. With this hairstyle, you're sure to get the heads turning in your direction.
Big hair is in
The '70s are back in a modern way. Fashion and beauty inspired by this groovy decade are going to be majorly on-trend for the holidays and the coming year. And right now, this is manifesting as big hair full of curls, lovingly called disco curls. Voluminous curls can be achieved no matter what your natural texture is, and you can use big waves to tight ringlets to get that glamorous disco feeling. Plus, opting for a middle part can create even more volume.
Complete the look with more '70s-inspired beauty trends. Dewy foundation gives your skin a glow, especially when you add a sparkly highlighter. Give a little more attention to your bottom lashes, and opt for a sparkly shadow to draw more attention to your eyes. A bold, winged eyeliner will complete the dramatic look. When dressing for a holiday outfit, go a little more glamorous and little more fun.
How to get disco curls
This look has been a favorite of celebrities, and anyone can get recreate this disco curls look; you just have to develop a strategy depending on your hair type and texture. The right prep makes all the difference in getting and maintaining those curls. A texturizing spray helps hold curls without weighing them down. Removing oils with a dry shampoo or texturizing spray can help add some bounce to your hair. Using hairspray before and after the curling process can also help keep stubborn straight hair curled longer.
Create super tight curls with a half-inch curling iron on small sections of hair, celebrity hairstylist Clayton Hawkins tells PopSugar. Once you've finished, give your curls a good coating of hairspray. "Once the hair was all curled, I went in and pulled each curl apart roughing it up a bit and helping to expand it," Hawkins explains. Avoid frizz with a hair oil or serum, but Hawkins is "not afraid of a little frizz with this look."
For naturally curly hair, achieve the disco curls with a little mousse on wet hair before diffusing with a blowdryer. ​​"Try not to touch the hair at all until it's completely dry, [so] as not to break up your natural curls," Hawkins suggests. "Then you can go through with a small iron and define around your face. Don't be afraid to gently pull the curls apart when you're done."