10 Hair Wavers For Perfect Beachy Waves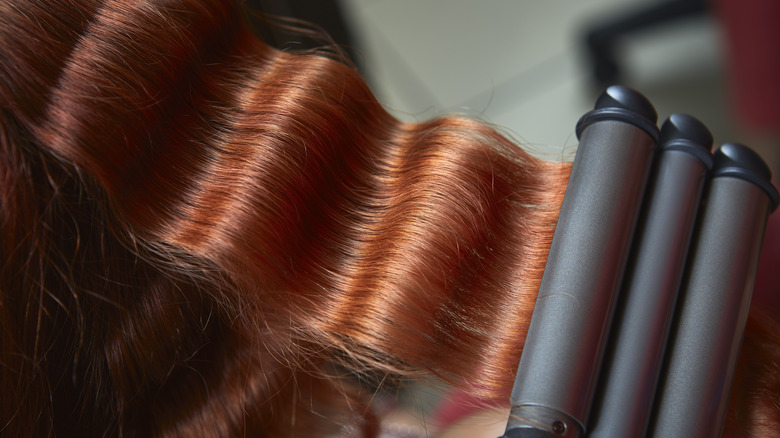 Photosebia/Shutterstock
We may receive a commission on purchases made from links.
Effortless beachy waves are a trend that you may have seen scouring your social media newsfeed. This must-have hairstyle is all about a natural, just left the beach look. To achieve this imperfect mermaid hair (as TikTok calls it) you will need a hair waver. This type of styling iron typically has multiple barrels that clamp down on your hair while giving you those coveted coastal waves. Thanks to this ingenious device, you can get the results you want right from home with minimal effort.
With so many wavers on the market, choosing one can seem a bit overwhelming. When shopping for this hot hair tool it is best to first consider the type of waves you're trying to achieve, as well as your hair type. If you have fine tresses and you're looking for more voluminous, beachy waves you may want to consider a triple barrel iron. If you have thick locks and you want loose waves, an S-shaped plate may be your best bet. However, if you like to change things up now and then, you may want to consider an adjustable hair waver. If the thought of searching for the perfect appliance seems too time-consuming, don't worry we've got you covered. Here we have put together a list of the best wavers for all hair types and needs.
How we selected these hair wavers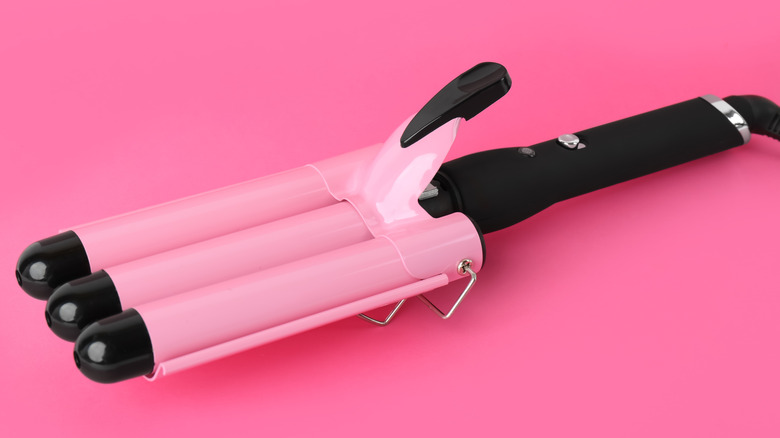 New Africa/Shutterstock
While there are plenty of great hair wavers on the market, it's not always easy knowing which product to choose. While it may seem like a specific hair type or wave style would help narrow things down, with so many beauty appliances out there, it rarely does. When selecting hair wavers for this list, we took a lot of things into consideration. We researched buyer reviews, social media trends, and of course each brand's claims about what their hair waver can do. By considering these categories, along with prices we found the best hair wavers to give you those natural beachy waves, as well as fit every style, type, and budget.
A great hair waver isn't always expensive. In fact, some of the top performers were at a great price point. So, whether you're looking to splurge or are on a budget, hopefully, you'll find something on this list that will suit your needs.
Best overall hair waver
The Mermade Pro Hair Waver is at the top of the list. It's the original OG Mermade waver that's been seen all over the internet. This easy-to-use three-barrel hair waver may be on the pricier side, but it's celebrity-approved by Hailey Bieber's stylist and can give you easy waves in seconds. The reviews speak for themselves as one customer shares, "Absolutely loved the hair waver, I had the perfect waves in less than 5 minutes. I love the beachy/natural waves this tool gave me — and so easy to use."
Purchase the Mermade Pro Hair Waver at Mermade for $79.
Best budget-friendly hair waver
A great hair waver doesn't have to break the bank. Bed Head's Wave Artist Deep Waver has great features at a great price point. It can heat up to 400 degrees Fahrenheit, be used on multiple hair types, and it has long-lasting results. With over 54,000 ratings on Amazon, one reviewer shares, "Love this waver. It heats up fast and works great. I have used it on long and short hair. It's very easy to use."
Purchase the Bed Head Wave Artist Deep Waver at Amazon for approximately $30.
Best splurge hair waver
If you're looking to splurge, then the Beachwaver Pro 1 by celebrity hairstylist Sarah Potempa will get you glamorous bombshell waves. One happy buyer raves, "Best Hair Tool Ever! I have gone through many curlers, hot rollers, Bonnet dryers with rollers ... all time consuming and not guaranteed to even keep the style after I walk out the door. For the first time ever, my curls/waves stay intact all day long and only takes me 10 to 15 minutes in the morning."
Purchase the Beachwaver Pro 1 at Ulta for $229.
Best hair waver for creating different waves
If you're a fan of versatility then you may want to consider a hair waver that is adjustable like Remington's four-in-one waver. With four depth settings, you can create tight, tousled, deep, or loose waves. Satisfied Target buyers report that the Remington Adjustable Waver lives up to what they claim. One reviewer says, "The product works great! I love how easy it is to change from deep waves to soft lighter waves. I like the locking mechanism and the ability to change the temperature. I've received several compliments on how great my hair looks when I use it! I would highly recommend it to anyone who loves that wavy look!"
Purchase the Remington 4-in-1 Adjustable Waver at Target for $35.
Best hair waver for natural waves
If you're looking to create crease-free, natural, beachy-looking waves then the Amika High Tide Deep Waver Jumbo is the ideal product for you. The three barrels will help give you those big loose waves, while its negative-ion technology will help to keep your tresses creaseless and smooth. One satisfied Sephora buyer says, "Hello beachy waves." While another raves, "I love this waver because it creates a natural wave to match the rest of my hair perfectly. I've never had a hair tool that created this type of wave."
Purchase the Amika High Tide Deep Waver Jumbo at Sephora for $120.
Best hair waver for short hair
If you think beachy waves are just for long locks, then you're mistaken. All you need is the right tool like the Conair Double Ceramic Triple Barrel Waver. This hair appliance is narrow enough that you'll be able to navigate around your short tresses with only one pass. "I did my hair in 15 minutes. Looked good and lasted two days," one buyer confirms. While another satisfied customer says, "I have had this for a couple months and it is by far the easiest and cheapest tool I've ever used. Works great on short hair too."
Purchase the Conair Double Ceramic Triple Barrel Waver at Walmart for approximately $23.
Best hair waver for long hair
A popular hair waver that you may have seen while scrolling TikTok is called the INH Beach Waver Curling Iron. This hair tool can get up to 450 degrees Fahrenheit, promises long-lasting volume, and minimal damage to your hair. "I get compliments all the time with using this and the temp control is such a great feature. I have long hair and it takes about 10 minutes to do," a buyer wrote on Amazon.
Purchase the INH Beach Waver Curling Iron at Amazon for $72.
Best hair waver for fine hair
It can be hard to find a styling tool that works well on fine hair. A three-barrel waver that has adjustable heat settings, like the Trademark Beauty Babe Jumbo Hair Waver can be a great addition to your collection because it's suited for fine hair. With an impressive 5-star rating, one Target reviewer shares, "Love it ... It's perfect for fine hair ... It gives perfect beach waves!!!" While another raves, "Works great, love the beachy vibes."
Purchase the Trademark Beauty Babe Waves Jumbo Hair Waver at Target for approximately $60.
Best hair waver for thick hair
If you have thick hair, then you know not every styling tool always works the way you'd like it to. A waver that heats up quickly and has an appropriate size barrel is your best bet when looking for a curling iron for your specific hair type. The A-Wave-We-Go Adjustable Ceramic Hair Waver has the features to give you that tousled wave for your voluminous locks. One happy customer says, "Thick hair no problem. I have extremely thick and long hair. Nothing usually works ... this tool was absolutely the best I have ever used."
Purchase the A-Wave-We-Go Adjustable Ceramic Hair Waver at Ulta starting at $22.
Best influencer-loved hair waver
If you're looking to achieve Instagram-ready beachy waves, then you'll want to try out the Alure Three Barrel Curling Iron Wand. What makes this the most influencer-loved hair waver is that it works on all hair types, heats up fast, and is super easy to use. One satisfied Amazon customer raves, "Best purchase I've made in a long time!!! And for an amazing price!! I've had it for probably about one week now and I seriously love it."
Purchase the Alure Three Barrel Curling Iron Wand With LCD Temperature Display at Amazon for $30.