Why You May Want To Try A Mid-Wedding Hair Chop Instead Of A Dress Change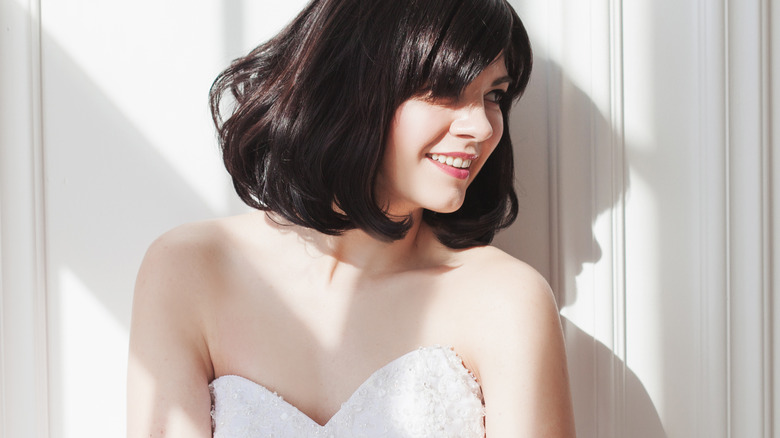 Lia Koltyrina/Shutterstock
Everyone wants to be a show-stopper on their wedding day. For many, getting married is a major life milestone, so it's no wonder that we want everything to be perfect, from the catering to our glamorous wedding ensemble. We peruse up-and-coming wedding dress trends, create Pinterest boards of potential makeup looks, and treat ourselves to extensive spa treatments, all in hopes of wedding day radiance.
For some brides, this desire to make a lasting impression — and, perhaps, to revel in more than one costume, à la Britney or Gaga — has led to the popular trend of mid-wedding dress changes. Often, this occurs between the ceremony and the reception, or after the first dance. And it has a practical advantage, since switching into a shorter, less voluminous gown will make it easier to eat, mingle, and party on the dance floor (per Inside Weddings).
Many celebs have embraced this tactic, such as Hailey Bieber, who wore not one, not two, but three custom dresses on her wedding day (via Brides). But it seems that shaking up your bridal wardrobe isn't the only way to make an impression. Now, some brides are pushing the envelope with an even more daring quick-change known as a "wedding chop."
What is a mid-wedding hair chop?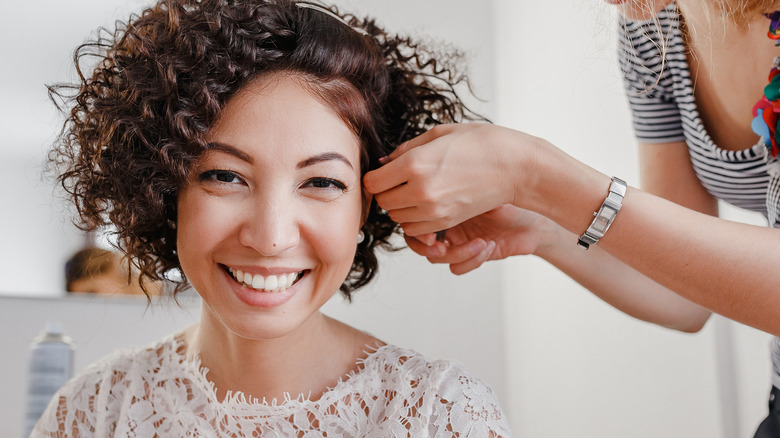 frantic00/Shutterstock
After the dress, hairstyling is one of the biggest considerations for a bride's wedding day aesthetic. Many classic styles emphasize long curls or elegant updos, while more edgy or modern brides may want to go non-traditional with a sleek bob or pixie cut. But some sassy brides want the best of both worlds and have found a way to make it work by implementing a mid-celebration haircut — a.k.a., a wedding chop.
"More than half my brides cut off their hair immediately after their wedding," hairstylist AJ Palace tells Refinery29. "If you're planning on cutting your hair after the wedding — why not just do it at the wedding, and make it the coolest second-look reveal?"
It seems like a lot of brides-to-be like the sound of this surprise, as the hashtag #weddinghaircut has racked up 33 million views and counting on TikTok. But getting your hair done is a much bigger ask than changing clothes. So if you want to embrace an adventurous wedding chop, what's the best way to go about it?
How to add a wedding chop to your big day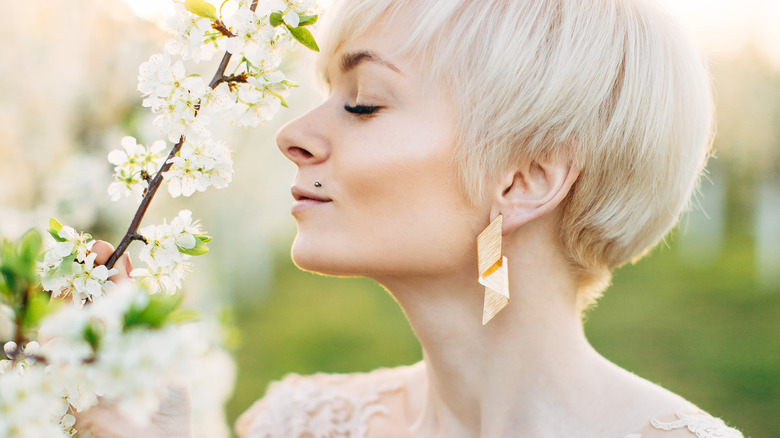 SofikoS/Shutterstock
If you want to risk the dramatic payoff of a haircut on your wedding day, the most important thing is to find a hairstylist you can trust to deliver a cut for the ages. After all, when you look back at your wedding photos in a few years, you want to feel joy and nostalgia, not regret over an unflattering hairdo.
The next crucial question is where to fit your haircut in the day's busy timeline. Speaking to Yahoo Life, wedding planner Meredith Bartel suggests scheduling the haircut in between the post-ceremony photo op and your arrival at the reception, during that liminal space known as cocktail hour. As Bartel says, "It is pretty common in most American weddings for the wedding couple to not visit their cocktail hour, due to finishing up photography or traveling between locations, so any absence would not be noticed by the guests, and a new chop could be revealed during the grand entrance before dinner."
Of course, if you're a bit nervous about rushing through such a lasting change, you can also opt to reimagine your hairstyle without cutting off any length. The Unilever hair experts at All Things Hair suggest a subtler shift for your reception by putting your hair up or adding a flower crown to the look. Or you can keep things interesting by flipping the script and wearing short hair at your ceremony, then adding clip-in extensions for your after-party.