Why You Should Be Heating The Tip Of Your Eyeliner Pencil Before Applying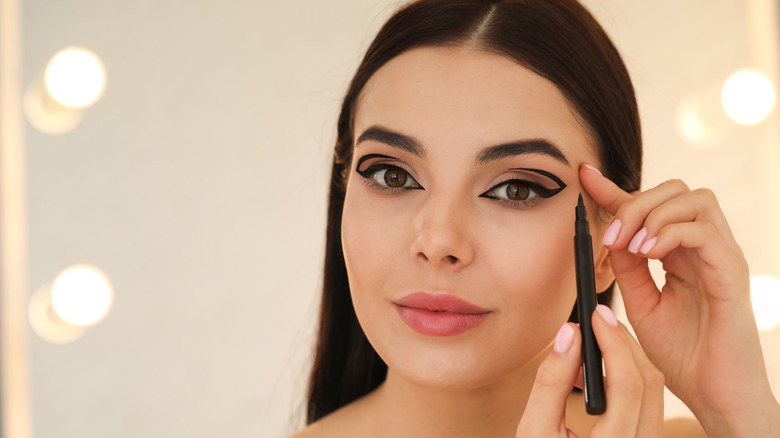 New Africa/Shutterstock
Eyeliner is the product you need to complete any makeup look. No matter how you do your makeup, you can incorporate it in some way. There's the iconic cat eye with a wing, a smokey eye with blended-out liner, and even casual looks with diffused wings. And as new trends emerge, eyeliner looks change. Who What Wear recommends tight lining your eyes with a charcoal liner for a trendy grunge look.
For any of these eye looks, you'll need a good liner. While there are different types of eyeliners, each one works best for specific makeup looks. You can choose from liquid, gel, or pencil eyeliners. One Two Cosmetics explains that liquid is best for creating defined lines and cat eyes. Gel liner is buildable and smudges for a good smokey eye. Meanwhile, pencils smudge well and can be used in the waterline to add depth. They're also a cheaper option than the other liners. While pencils are versatile, warming them up before applying them will make them an even better product.
Benefits of warming your eyeliner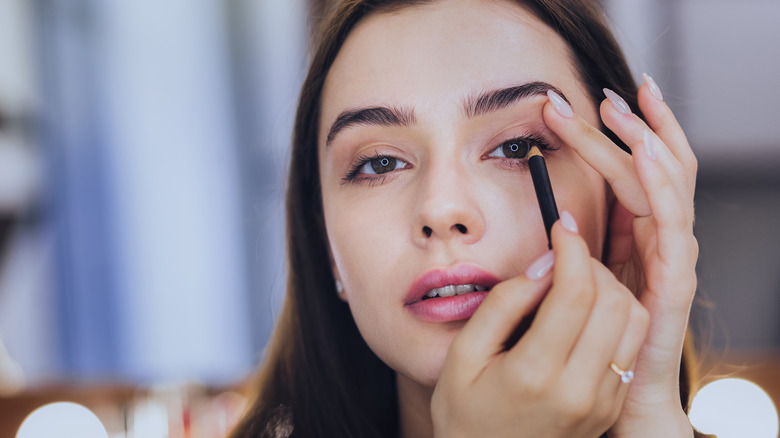 Zinkevych/Getty Images
Does your eyeliner pencil take three or more coats to deposit color? If so, don't give up and throw it away. You can bring your pencils back to life with one quick trick. Warming up your eyeliner will completely change the pencil game because this hack takes tough pigment and makes it more spreadable. Beaut. explains that heating your pencil before using it will take this already beginner friendly product and make it even easier to use.
The heat softens the tip of the pencil so that it can create smooth lines. The color payoff also increases for an intense liner look after just one layer. The application is gentler, too, because the hard pencil glides across your eyelid instead of tugging and skipping on it. This trick can give your products a new life, saving them from the trash can. Luckily, it's easy to heat your eyeliner pencil and only takes a couple of seconds to do.
How to heat your eyeliner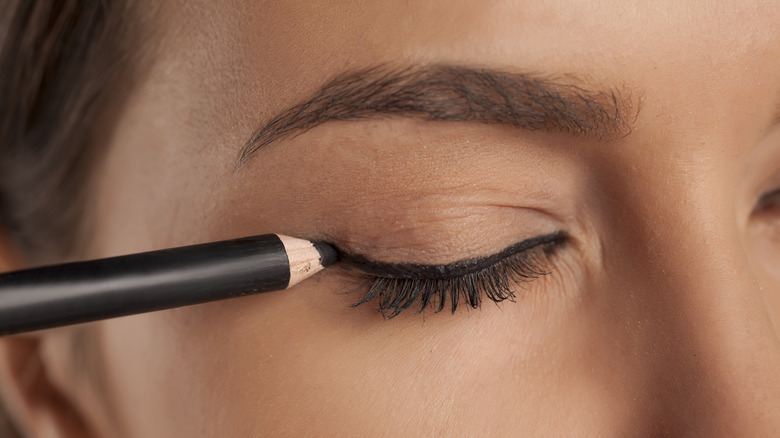 Vladimirfloyd/Getty Images
Depending on what you have available in your home, there are multiple methods to heat your eyeliner pencil. Beth Bender Beauty recommends using a lighter. To do it this way, take a lighter and run the flame under the tip of your pencil for a few seconds. Make sure to avoid touching the pigment with the fire, so you don't burn it. You can also use a blow dryer if you don't have a lighter. For this method, plug in your hairdryer and turn it on high with hot air. Hold the pencil tip in the hot air for a couple of moments.
The simplest way to heat your eyeliner pencil involves no extra tools. All you need is the back of your hand. Makeup and Beauty Blog recommends swiping the pencil's tip across your hand a few times. Doing this creates friction that will heat up the pigment. No matter what method you choose, always test if the pencil is cool enough to use by swatching it on the back of your hand or wrist before using it on your eye.