Making The Case For The Classic Sweater And Skirt Combo This Winter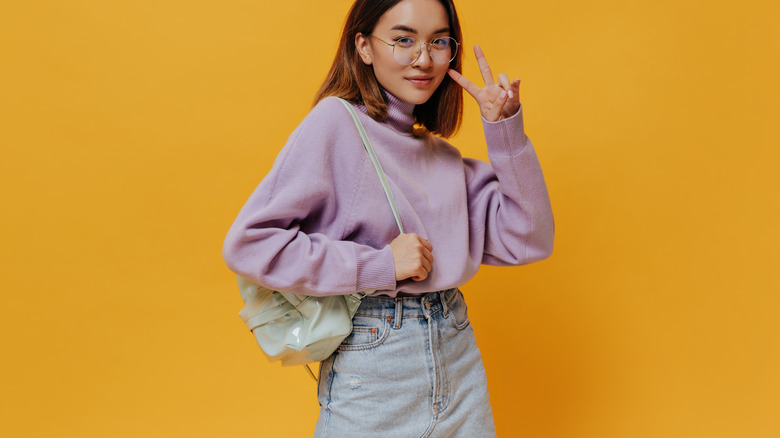 Look Studio/Shutterstock
We can't think of any garment more appropriate for winter than a sweater. It's warm, cozy, and cute, so what else could we ask for in a winter-focused piece? Plus, there are so many options, such as oversized sweaters, cropped pieces, cardigans, turtleneck options, and sweaters with fun colors or patterns. Thus, we expect everyone to have at least one sweater in their winter wardrobe. After all, we all know the popular indie pop-rock song "Sweater Weather," and while the lyrics aren't about sweaters, these items are mentioned in the song, as seen in the lyrics, "'Cause it's too cold for you here and now, so let me hold both your hands in the holes of my sweater." The fact that such an iconic song references sweaters throughout the lyrics proves that pretty much everyone wears these comfy garments.
Of course, many people wear jeans and leggings with sweaters, and you can't go wrong with those chic combinations. But don't forget about skirts! These garments look beautiful paired with sweaters, and there are many ways to style these two pieces together.
A curve-hugging sweater with a maxi skirt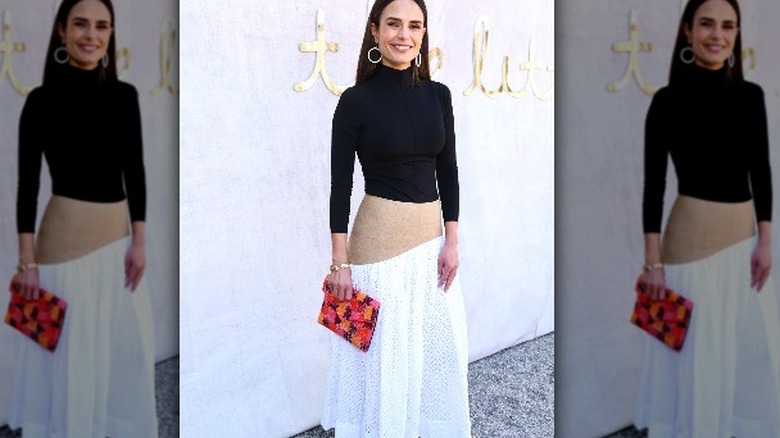 Emma Mcintyre/Getty Images
Long skirts will help you stay warmer than short skirts, making lengthier options more comfortable skirts to pair with your sweaters during the winter season. Since the sweater and midi or maxi skirt combination won't show much skin, it will be more flattering if you opt for a sweater that hugs your body, drawing more attention to your shape. While you can't go wrong with keeping the colors simple, experimenting with bolder hues and patterns can be fun, too.
White sweaters look good with any color skirt
Everyone should possess at least one white sweater in their closet because the garment looks stunning with various skirts. For instance, you can instantly dress it up with a long black skirt or dress it down with a shorter denim skirt. Furthermore, try making it preppier with a plaid skirt, bolder with an animal print skirt, or even rock a white skirt for a monochromatic outfit. The options are endless!
An oversized sweater with a short, flattering skirt and tights
Contrast is crucial for nailing many stylish looks, including the skirt and sweater combination. For instance, a style-savvy TikTok user named Sam put together an adorable outfit consisting of an oversized dark green sweater tucked into a short, fitted black skirt over dark tights. The large sweater paired with the sexy skirt makes for a fun, sassy outfit, and you can do this with sweaters in any hue, so have fun experimenting with the contrasty combination.
A plaid skirt and a solid-color sweater
Plaid skirts can give off different vibes, from sophisticated and chic to sexy school girl-inspired, depending on the top, hairstyle, and accessories you wear with them. Whichever aesthetic you're going for, you can't deny that sweaters pair effortlessly well with plaid skirts' naturally preppy appearances. If you want to add a pop of color to a black-and-white plaid skirt, try wearing a cute blue or bold red sweater with the skirt, or keep it all neutral for more mature energy.
Let a sweater hang over an asymmetrical skirt
Whether your skirt is tight, long, flowing, short, or mid-length, have you ever thought about whether it's symmetrical or asymmetrical? Intentionally asymmetrical skirts are arguably more intriguing than skirts with more traditional designs because that uneven length adds a unique touch. So, try wearing a sweater over an asymmetrical skirt and adding a belt around your waist to flaunt your figure and add more dimension to your ensemble. You should consider elements like color and pattern when deciding whether you want this style to be more dressy or casual.
Go girly with a pink-on-pink look
The Barbiecore fashion trend has been thriving, as people of all genders have arguably been wearing more pink than ever. And now that the teaser trailer for the eagerly awaited "Barbie" movie is on YouTube, we expect to see even more Barbiecore than we did in the summer of 2022. So, why not lean into this trend by wearing a pink sweater with a pink skirt? Try wearing matching shades of pink for monochromatic looks or a sweater in a brighter or darker pink hue with a light pink skirt for contrast.
Keep warm with high boots
Believe it or not, you can wear your short skirts in the winter without freezing, as long as you wear tights, leggings, or ultra-high over-the-knee boots. Wearing these long boots will prevent your feet and legs from getting cold while you flaunt your sexy skirts. Black boots look excellent with short black skirts for a sleek look, but lighter and brighter colors can be fun, too. For a super seductive and edgy vibe, try pairing thigh-high boots with a short skirt and fishnet tights or daring leggings.
Color blocking makes a fashion statement
Anyone who enjoys maximalist fashion needs to experiment with color blocking. The famously bold styling technique is all about wearing opposite colors or two hues that don't traditionally match together for a wild, contrasty ensemble. Wearing a light pink sweater and a light blue skirt together is a cute way to start dabbling with color blocking without being too over-the-top. When you start feeling more comfortable with color blocking, try this technique with louder neon hues for vivid, exciting outfits.