Glam's Exclusive Survey Shows The Type Of Bra Women Prefer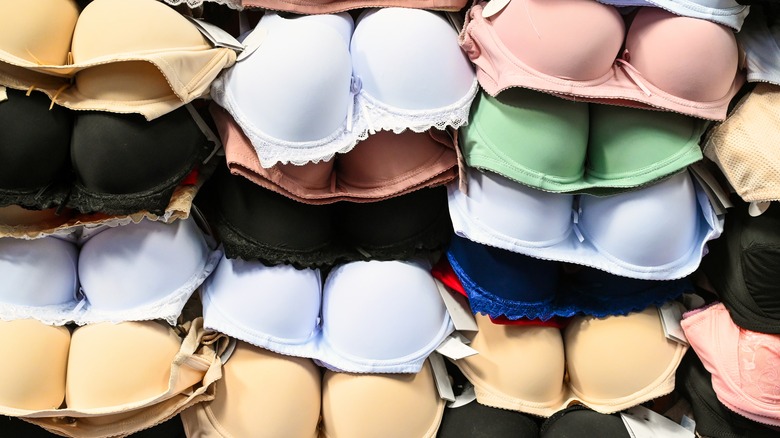 Ajdin Kamber/Shutterstock
If you've ever felt like bras were restrictive, thank your lucky stars that you weren't born during the days of their predecessor, the corset. Women were expected to wear corsets in public from the early 1500s until the early 1900s. These incredibly restrictive contraptions were originally crafted from whalebone and, later, steel. They were associated with muscle atrophy and fainting due to restricted breathing (via CNET).
During World War I, the United States requested that women stop wearing corsets in the interest of saving steel for ammunition manufacturing, leading to the invention of the modern bra. By the time World War II ended, corsets had been banned, and bras were the new norm. Today, over 90% of women in Western countries wear them on a regular basis, according to NPR. Now, Glam asked 600 of its faithful readers which type of bra they prefer to wear. Here are the surprising results. 
Sports bras claim a big win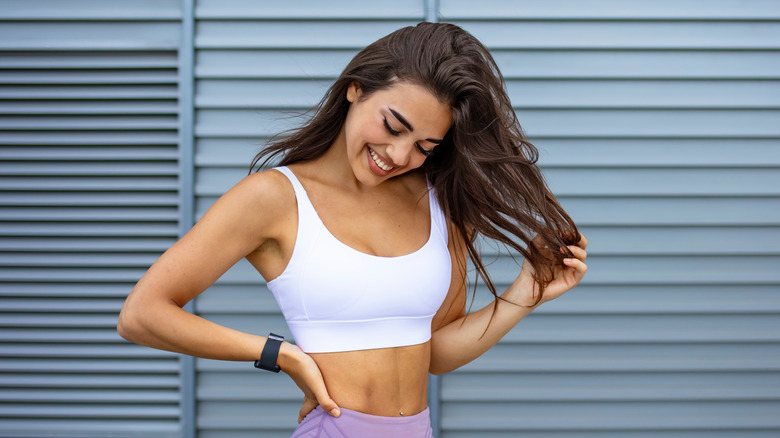 Dragana Gordic/Shutterstock
When it comes to Glam readers, the sports bra can't be beaten, landing at 154 votes (25.67%). Once reserved for actual sports, these comfortable options didn't exist until 1977, when a runner named Lisa Lindahl took inspiration from jock straps to create a stretchy, supportive jogging bra. Sadly, it would be another decade and a half before a sports bra supportive enough for large breasts would become commercially available (via Runner's World). Today, the term sports bra has become nearly synonymous with the comfy lounge bra. While true athletic bras still exist, especially for women who wear a D cup or larger, basic sports bras and similarly designed lounge bras are embraced by many for everyday comfort.
It's easy to see why the comfort and versatility of a modern sports bra are so appealing. Whether you're on your feet all day at an active job, spend your days sitting at a desk, or have dedicated yourself to raising the next generation full-time, there is one for you. If you haven't visited the world of sports bras in recent years, you may want to give one a try. There's no longer a need to fear the once-dreaded fate of the uni-boob. Styles have come a long way, too, including seamless, wired, and front-closure models.
These bras were runner-ups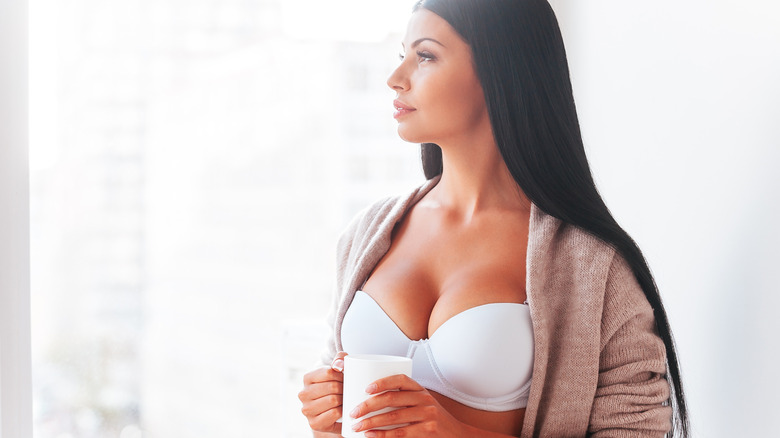 G-stockstudio/Getty Images
Now that Glam readers have revealed themselves as comfort seekers, you might expect the second most popular bra type to be the sports bra's little sister, the bralette. However, the second most popular choice was actually a pushup bra, garnering 134 votes (23%). The first pushup bra was released by Frederick Mellinger of Fredericks of Hollywood in the late 1940s, as detailed by HerRoom. It would reign supreme as the sexiest, most desirable bra option for the next 50 years or more, largely fueled by the cultural phenomenon of lingerie giant Victoria's Secret.
Shockingly, the humble and comfortable bralette only received 74 votes (12.33%) for the most preferred bra type, coming in behind the t-shirt bra at 116 votes (19.33%) and tying with the classic underwire for fourth place. The strapless bra was voted least popular, bringing in just 44 votes (7.33%) and shocking no one who's ever worn one for any length of time. It appears that Glam readers might be largely divided into two camps when it comes to bra preferences: Camp Comfort and Camp Aesthetic. How much crossover there is between the two remains a mystery. Which side are you on?