What Does It Mean To Tightline Your Eyes?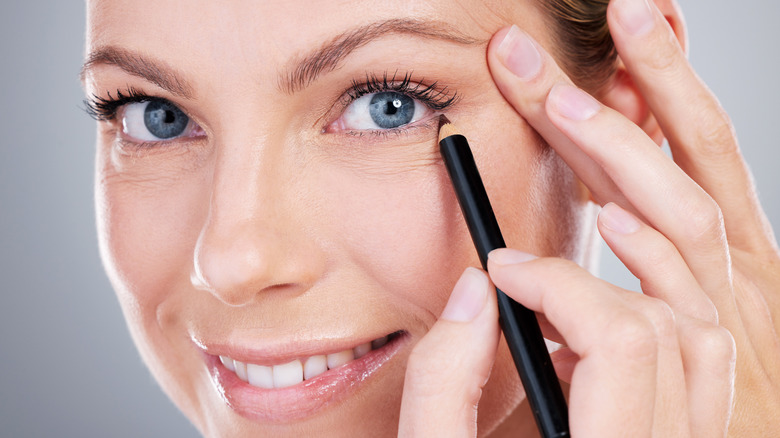 Peopleimages/Getty Images
Eyeliner is typically used to create a bold makeup look. For instance, to elongate and draw attention to your eyes, try out a dramatic wing. Or, for just a little bit more subtlety, test out a cat eye by adding just a tiny flick. Even just simply lining your top lash line or smudging eyeliner for a smokey appearance can bring your entire makeup look up a notch. 
Advertisement
Because eyeliner is usually associated with daring eye looks, those who love natural-looking makeup or prefer an easy makeup routine may not yield it too often. However, even if you favor a simple look, skipping eyeliner completely may be a mistake, as there's an eyeliner trick that's both subtle and easy to accomplish: tightlining. In fact, because it's so slight, some even call it "invisible eyeliner." Below, you'll discover what tightlining is, the most common application steps, and some of the different looks this technique can create. 
What is tightlining?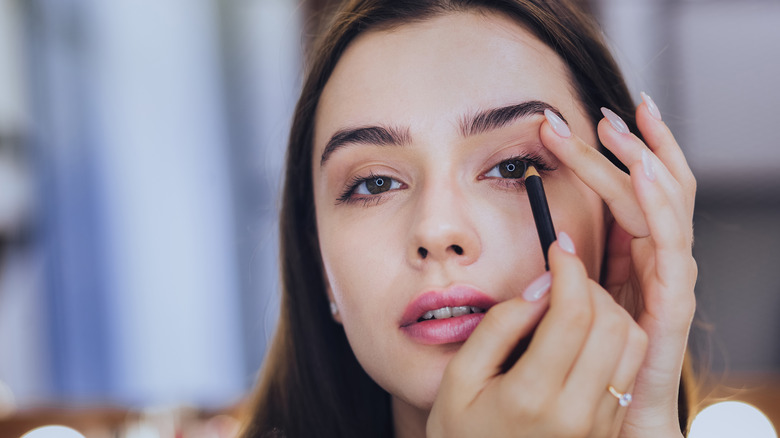 Zinkevych/Getty Images
According to Broken Down Beauty, tightlining has a few other names, including waterlining and French lining, but they all refer to the same technique: Placing eyeliner along the waterline, or the pink "line" that's closest to your eyeball. However, "tightlining" sometimes only refers to the upper waterline, while "waterlining" is sometimes only used for the lower waterline. 
Advertisement
To tightline, you'll need to complete the following steps, beginning with choosing the right eyeliner. Eyeko says that waterproof types are the most ideal, but any pencil option with a sharp tip will do. Before you start applying, MasterClass also suggests cleaning the eyeliner itself with an alcohol wipe or sharpening off the outer layer. Some recommend curling your lashes, as this may allow you to see your waterline more clearly. Furthermore, you'll need to gently lift or pull down your eyelid to expose your waterline. Using either the tip of the eyeliner or a small makeup brush, swipe the product on and stop before you reach the inner corner, per HuffPost. Clean any smudges with a cotton swab and makeup remover. You can also set the product by pressing a small amount of eyeshadow in the same shade over the top.
Advertisement
Tightlining looks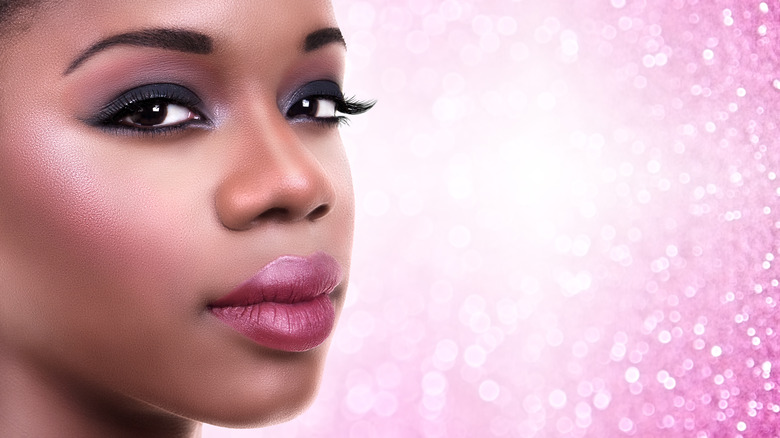 Stephanie_zieber/Getty Images
Tightlining is a tool typically used by those who love easy routines or natural-looking makeup, but there are also some other looks you could achieve by using this technique. For instance, Eyeko explains that those with hooded eyes may want to test out this trick, as it could make your eyes appear larger or more lifted. This could be a great alternative to regular eyeliner as you wouldn't have to worry about any transfer into your eyelid's crease. Those with sparse lashes could also benefit, as it typically creates a fuller lash look from the root. Or, if you love a smokey eye, adding tightlining to your routine could jazz up your whole appearance.
Advertisement
However, the color of your eyeliner will greatly impact the end result. Using black or brown on your top waterline will make your eyes look larger and your lashes really stand out, while using a dark shade on your lower waterline could make your eyes appear smaller. Instead, use white or a neutral tone on your lower waterline, which will blend into your eyes and make them appear more awake.