Wedding Expert Tells Us The Trends That Are Going To Be Huge In 2023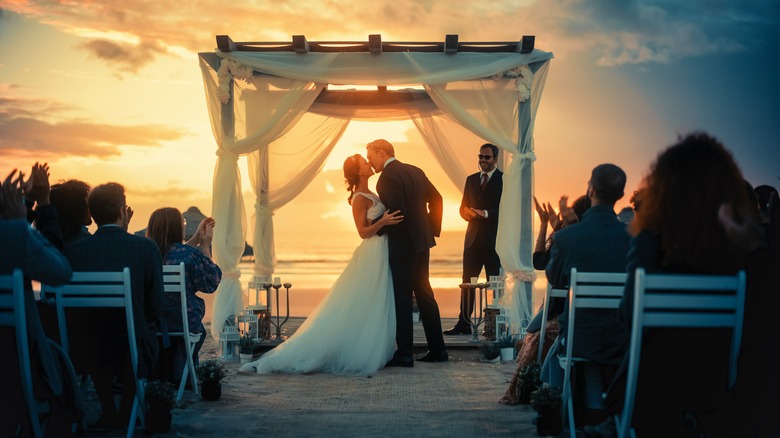 Gorodenkoff/Shutterstock
Will you be getting married or attending a wedding in 2023? Were you one of the many brides and grooms who had to postpone their weddings due to the COVID-19 pandemic over the past three years and now it's time to plan all over again? Are destination weddings in or out? Should you plan a large wedding or a small intimate ceremony?
Maybe you're worried that trends have changed enough that your original theme, venue, or dress might feel outdated. As the pandemic becomes more manageable and couples resume wedding planning, the forecast for major 2023 wedding trends becomes clearer to industry experts. One such expert, Nancy Barkley, the owner and founder of destination wedding travel firm Honeymoons and Get-A-Ways, shared her advice and predictions with Glam. From the trendiest locations to new registry etiquette and the latest in wedding gown styles, here is your guide to everything you need to know about the hottest wedding trends you'll see continuing or emerging throughout 2023. 
Eco-friendly celebrations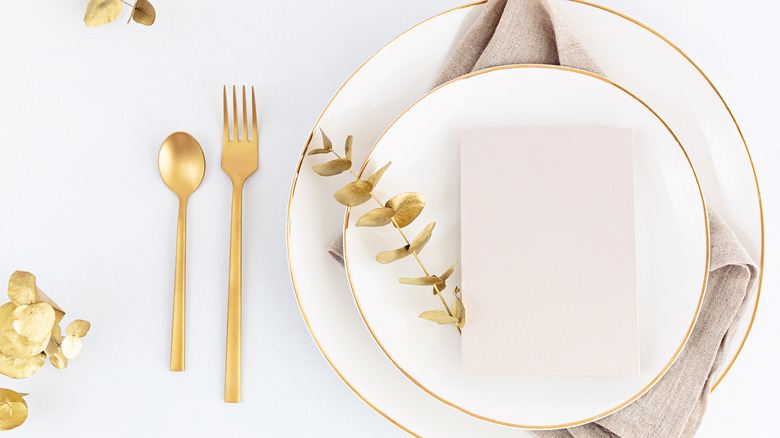 Netrun78/Shutterstock
The urge to reduce, reuse, and recycle to prevent damage to the planet has finally found its way into wedding culture. "Couples will find it difficult to find single-use plastics or materials that damage the planet in the future. Whether it's local food or sustainable wedding souvenirs, couples are using their big day to reduce their ecological footprint," Nancy Barkley explains. Goodbye, chrome-colored plastic cocktail forks.
If you're looking for ways to make your wedding more eco-friendly that won't take away from the significance of the occasion, there are many options to consider that may even elevate the festivities. For example, you can upgrade from purchasing disposable utensils and paper napkins to renting silver or gold flatware and cloth napkins for your reception dinner. Getting married in an heirloom wedding dress passed down from your mother or grandmother or purchasing a vintage dress secondhand can also elevate the ceremony's meaningfulness while saving resources. 
Intimate ceremonies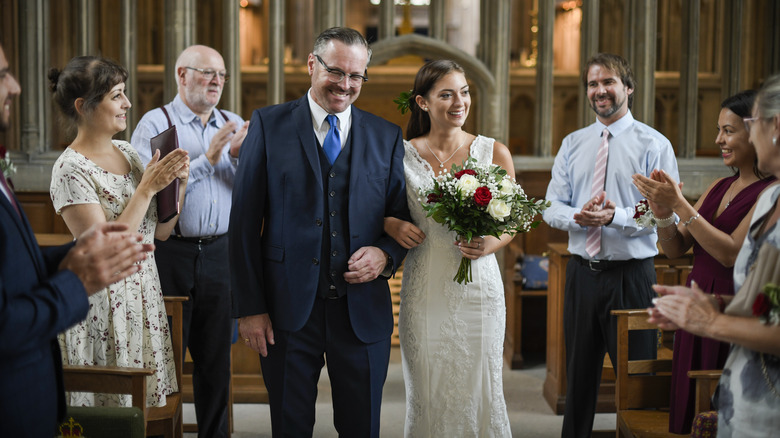 Rawpixel/Getty Images
It appears that some of the social changes brought on by COVID-19 are here to stay. "During the pandemic, weddings were reduced in size, in extravagance, and in circumstance. Despite the fact that the situation has, in some areas, returned to normal, the tiny guest lists appear to be long-term, and getting even smaller, allowing more venue and destination options," Nancy Barkley explains. "Having a smaller guest list is not always about saving money; it also allows the couple to pamper their favorite people."
If the idea of a smaller wedding feels like a disappointment to you, ask yourself why. Do you long to share the joy of marrying the love of your life with every friend, family member, and co-worker you've ever known, or do you view marriage as a social accomplishment you want everyone to know you've achieved? After some soul searching, if you still ache for a big wedding, go ahead and plan one. Sometimes, you might need to buck a trend to prioritize your own happiness. 
Destination weddings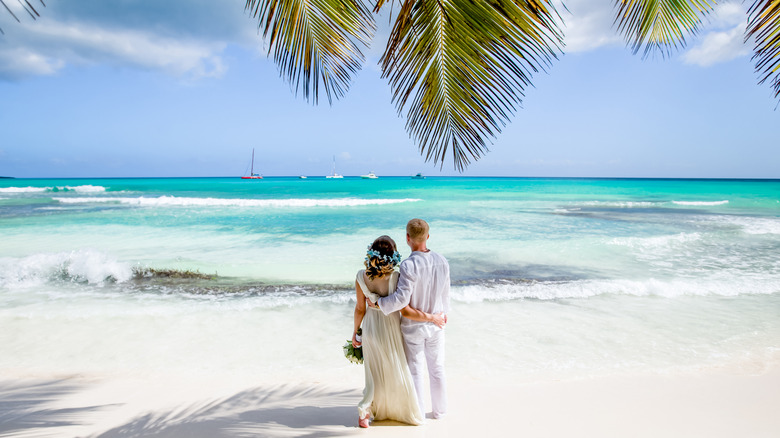 Irina Montero/Shutterstock
"Brides and grooms will be searching for sunnier climates in 2023. While destinations in the Caribbean and Mexico are popular, warmer and sunnier states in the U.S. are sought after as well," Nancy Barley tells us. This is a definite perk of considering embracing the trend of throwing a small and intimate affair versus a large traditional ceremony and reception. Since the cost of attending a destination wedding is much higher, the guest list is typically reduced to a handful of close friends and family members.
A destination wedding can offer the opportunity of a lifetime when it comes to beautiful memories in the form of wedding photos. It may also give both you and your guests the nudge to get out and see the world if traveling isn't typically an option. Just be prepared to graciously accept the fact that some of your guests may have to decline your invitation due to financial limitations, among other potential setbacks.
Honeymoon registries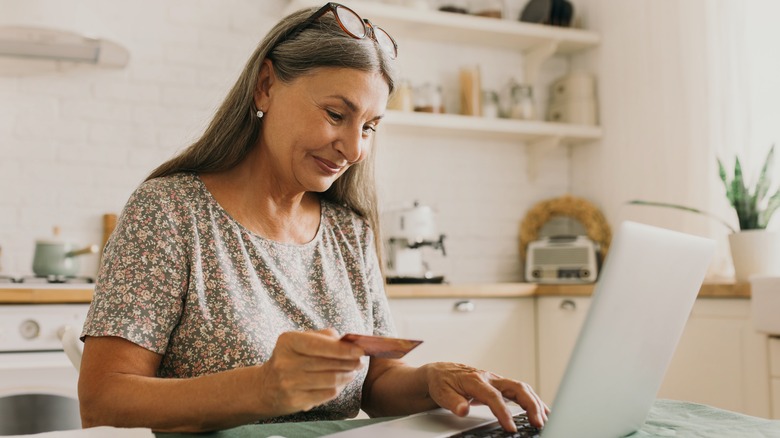 shurkin_son/Shutterstock
Traditionally, couples put together a registry of items that wedding guests can purchase to help them build their marital household. These typically include kitchen appliances, home décor, furniture, linens, and comfort items like slippers, robes, or throws. However, according to Nancy Barkley, there is a new kind of registry in town. "A honeymoon registry is a type of wedding registry that allows couples to ask their guests to help fund their honeymoon, rather than asking for traditional home goods and items," she says.
If you're not sure whether you should create a traditional registry or a honeymoon registry, why not set up both? It might take more time to create two registries, but it gives more options to loved ones who are searching for the perfect gift for you and your partner. If Aunt Suzie wants to gift you your dream designer bikini for your tropical honeymoon and Grandma Edie is set on a blender, there's no reason one has to be excluded from buying from your registry. 
Traditional dresses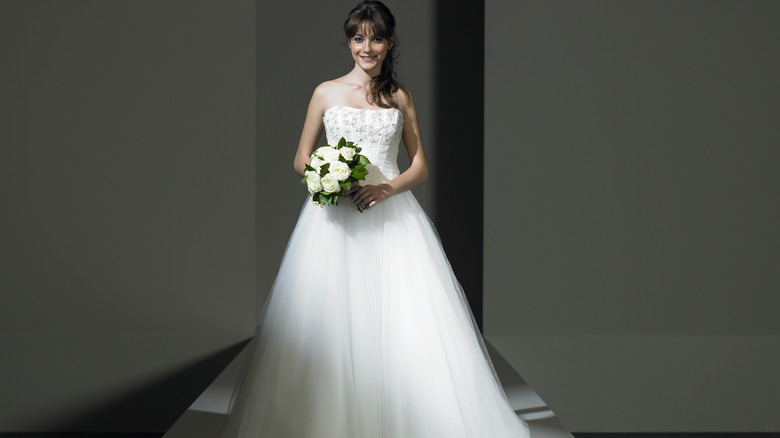 Ryan Mcvay/Getty Images
According to Fall 2023 Fashion Week, Nancy Barkley tells Glam, wedding dress trends are taking a turn toward the "conventionally surprising". She continues, "Basically, both upcoming and well-known designers unveiled dresses that encompassed traditional looks with a tad of novelty and uniqueness." This is good news for traditionalist and modern brides alike. Classic styles are always available everywhere at a variety of price points. No matter your budget, you can easily find the traditional style that best suits you.
When it comes to adding a unique touch to your classic wedding dress, the world is your oyster. You could accessorize with pops of color by adding colored lace, embroidery, or a belt or have the entire dress dyed. Add customized bling by incorporating crystal beading or sequins. Or, leave your traditional dress unaltered and pair it with an unconventional veil, handbag, or shoe choice. "My advice is always to stay true to yourself and own personal style," Barkley advises, and we couldn't have said it better ourselves.