The 10 Best Blue Shampoos To Banish Brassiness In Brown Hair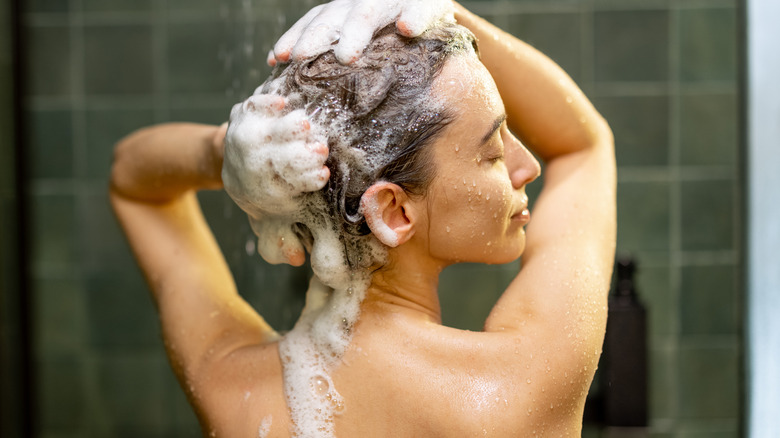 RossHelen/Shutterstock
We may receive a commission on purchases made from links.
People with brunette hair everywhere can rejoice because there is finally a product to help rid you of those brassy, orange undertones, and it's called blue shampoo. Don't worry: blue shampoo won't turn your hair blue, but it will help banish the brassiness and take your hair from looking dull to vibrant. If you've ever color-treated your hair, you may've noticed that, over time, your hair started looking brassy, or you've seen an orange or red undertone peeking through. Blue shampoo is meant to neutralize these undertones, as it acts like a toner and can leave your hair looking shinier and brighter like you just left the salon.
When shopping for a blue shampoo, you should first consider your specific hair type. Whether you're a natural or color-treated brunette or have highlights or balayage, numerous blue shampoos can work for your hair. Next, look for something that is hydrating and will help keep moisture in your hair. Lastly, you want to find a blue shampoo that won't strip the color from your hair. Here, we put together a list of the best blue shampoos for people with brunette hair so that you don't have to search forever.
How we selected the blue shampoos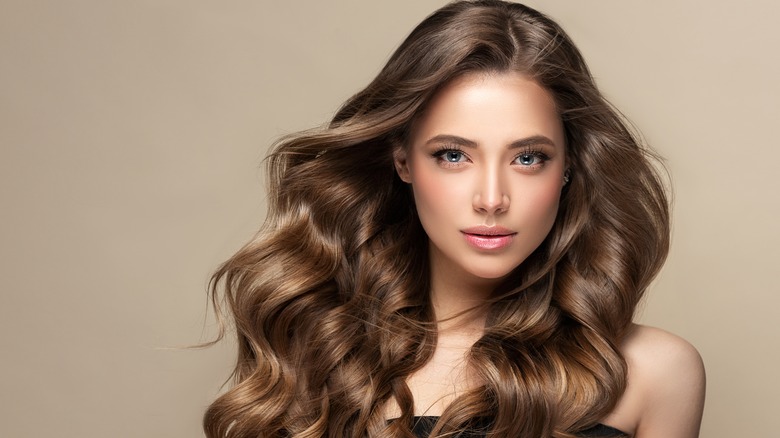 Sofia Zhuravetc/Shutterstock
With so many blue shampoos on the market, it's not always easy knowing which product works best for your specific wants and needs. One day, you may be browsing the aisles at the drugstore looking for an inexpensive blue shampoo, while another day you may be looking to splurge. To pick the 10 best blue shampoo products that will help keep your brassiness at bay, we considered many things. First, we researched buyer's reviews. Next, we looked at social media trends, as well as each brand's claims of what their product can do. We also looked at each brand's ingredients as well as the science behind their products. By considering all of these factors, along with their prices, we landed on 10 of what we think are the best blue shampoos to help banish the brassiness in brown hair.
Whether you're on a budget, looking to splurge, or searching for the best blue shampoo to keep your locks healthy, hopefully you'll find something on this list that will suit your needs.
Best overall blue shampoo
Matrix's Brass Off blue shampoo tops our list as the best overall blue shampoo to banish brassiness in brown hair. Over 28,000 Amazon reviewers rated this shampoo four stars or above. Formulated to help neutralize orange tones, this product stands out from the rest because it can help remove brassy undertones in just one wash. "It's totally amazing. Does what it's supposed to do real good. Doesn't dry out your hair or leave it feeling heavy. Absolutely loved it," says one satisfied customer.
Purchase the MATRIX Total Results Brass Off Color Depositing Blue Shampoo on Amazon for $20.
Best budget blue shampoo
If you're looking for something that won't break the bank, then Fanola's No Orange shampoo is the product for you. Formulated with blue pigments to help cancel out copper tones, this blue shampoo may just be everything you've needed. "Blown away by how well this works," captioned one review on Amazon. "I never write reviews. I am halfway through blow drying my hair and I am so thrilled with the results that I had to write this, right this very second!" That sounds like a rining endorsement to us!
Purchase the Fanola No Orange Shampoo on Amazon for $7.84.
Best drugstore blue shampoo
If you're at the drugstore and browsing through the aisles, you may want to give John Frieda's Blue Crush blue shampoo a try. Not only will it help to get rid of your brassiness but it's also budget-friendly. "Finally a blue shampoo for brunettes. Works great at keeping the brassiness from my hair even with hard water. This is gentle enough that I now use as my regular shampoo and extend the time between hair color," writes a happy buyer in her Walgreens review.
Purchase the Blue Crush for Brunettes Shampoo at Walgreens for $11.99.
Best splurge blue shampoo
If you're environmentally conscious and looking for a color shampoo that uses plants and flowers, then Aveda has a product that will suit your needs. While the brand's Blue Mava Color shampoo may come at a steep price, this luxurious formula will do its job and has had customers coming back for years. "I have used this shampoo for over 15 years. It's the best," says one Amazon reviewer.
Purchase the Aveda Blue Malva Color Shampoo on Amazon for $58.
Best blue shampoo for highlights
If you have highlighted hair, you may want to grab a bottle of Joico's Color Balance blue shampoo. This sulfate-free blue shampoo uses blue pigments and green tea extract to help keep brunettes free from those brassy undertones. Using this just two to three times a week you will get shiner, stronger hair that is free of those dreaded orange tones. From "brassy to classy," one Amazon reviewer titled her caption. While another raved, "The only blue shampoo I trust."
Purchase the Joico Color Balance Blue Shampoo on Amazon for $23.
Best blue shampoo for a professional look
If you want to upgrade your hair regimen and opt for a more professional look, then you should give Oligo Professionnel Blacklight blue shampoo a try. This vegan shampoo uses argon oil and 11 different amino acids to help combat brassy tones in brown hair.
"Will not be without this again. I had always used purple discount store shampoo/conditioner, but this blue shampoo is much better quality. I see a difference in one wash. It's more expensive than what I usually pay for shampoo but only takes a little bit, so it has lasted me months. Definitely worth it!" says one satisfied customer on Amazon.
Purchase the Oligo Professionnel Blacklight Blue Shampoo on Amazon for $23.25.
Best blue shampoo for light brunettes
It can be hard to find a blue shampoo that will cancel out those brassy tones and hydrate your hair at the same time. Lange Brunette Boost is a blue toning shampoo that not only cancels out those unwanted orange tones in your hair but also hydrates your locks at the same time. "I love this shampoo! It smells so good and truly helps my color treated hair look amazingly healthy!" one reviewer writes
Purchase the Lange Brunette Boost Blue Toning Shampoo at Lange for $23.00.
Best blue shampoo for healthy hair
Healthy hair is not always easy to come by, especially when it's color treated. Not Your Mother's Triple Threat Brunette Blue Treatment shampoo is a product made specifically for color-treated hair to help combat those brassy tones while keeping your hair moisturized and healthy.
"I love Not Your Mother's Triple Threat Brunette Blue Treatment Shampoo and how well it works with my hair. Finally we have a product that not only helps with brass reducing but also helps strengthen our hair. I have been using this product for week now and love how healthy my hair is becoming," says one Walmart reviewer.
Purchase the Not Your Mother's Triple Threat Brunette Blue Treatment Shampoo at Walmart for $8.51.
Best blue shampoo for long lasting results
If you have color-treated hair and are looking to get rid of the brassiness in your hair but need a product that will give you long-lasting results then you must try Redkin's Color Extend Brownlights blue shampoo. Formulated to help neutralize brassiness, this product will leave your hair feeling amazing. "Great shampoo! Smells and makes your hair feel wonderful," writes one buyer on Amazon.
Purchase the Redken Color Extend Brownlights Blue Shampoo at Amazon for $46.00.
Best travel-friendly blue shampoo
Keeping up with your normal hair routine while traveling can be difficult. However, in order to minimize any oranginess, we recommend bringing along Eva's Brass to Sass Brunette Shampoo. Free of sulfates, parabens, and phthalates, this product keeps your hair shiny and free of brassy tones. "Hands-down the best shampoo I have ever used for my hair! I am a dark brunette and the shampoo smells amazing! I get so many compliments on my hair, and it's all thanks to Eva!!" says one happy Ulta reviewer.
Purchase the Eva Brass to Sass Brunette Shampoo at Ulta for $12.99.