Why A Serum Shouldn't Be The Last Step In Your Skincare Routine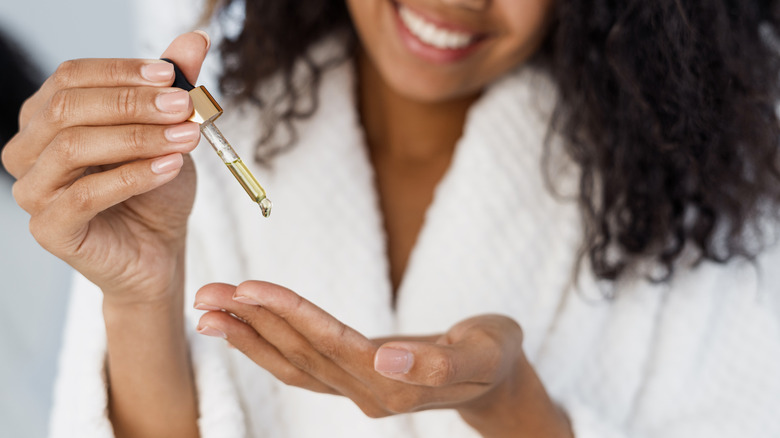 Brizmaker/Getty Images
Developing a skincare routine can be overwhelming at first. There are millions of products and even more ingredients, and some of them can't go together. And it can be difficult to know which products to use and where to put them in your skincare routine. One easy beauty item to incorporate, especially if you're a beginner, is a serum.
Serums are liquid products that allow you to add powerful ingredients and actives right onto the skin, according to Into the Gloss. Typically, the molecules of serum ingredients are smaller, which allows them to penetrate into the deeper layers of the skin. The active ingredients often have a high concentration, which allows them to be incredibly potent when targeting specific concerns.
Serums can moisturize, hydrate, and even out skin tone, depending on what the active ingredients are. But to get the most out of those ingredients, you have to put the serum in the right position in your skincare routine. So, if you're applying serum last, here's why you should move the step up.
The order matters
Lyubov Levitskaya/Shutterstock
The order in which you apply your skincare products can make all the difference in their effectiveness. Applying them at the right time means you'll receive the full benefits of the active ingredients. "Only a very small amount of these key ingredients can penetrate the skin even when perfectly formulated and perfectly applied," board-certified dermatologist Dr. Heather Rogers tells Dermstore. "If you don't apply products in the correct order, you will not see the best results from your skin care regimen."
In general, you want to apply your products from thinnest to thickest and apply them on freshly cleansed skin. That means after washing your face, start with liquid products and end with creams. Serums may be the first skincare product you apply–or second if you're using a toner. Because of all the active ingredients in serums, you want to be sure there isn't a barrier between the actives and your skin. Waiting to apply serums after moisturizers or thicker products will create that barrier that makes it harder for ingredients to penetrate, essentially rendering the serum ineffective.
Selecting your serum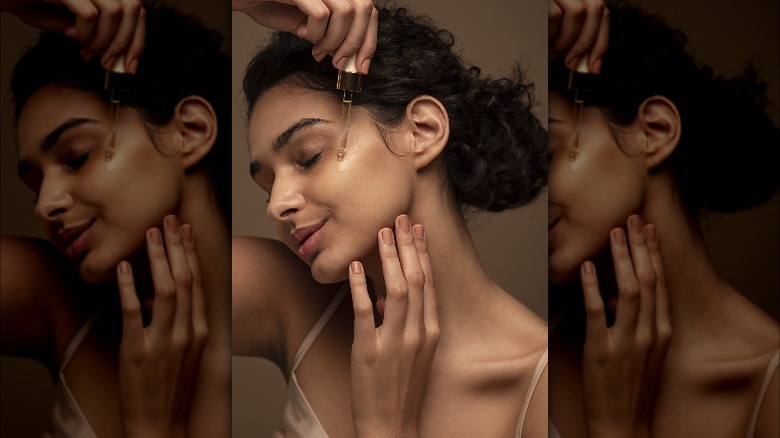 Pronamy/Getty Images
Putting the serum on early in the routine allows you to get the most out of the active ingredients. But that also means you should choose the right serum. There are tons of serums on the market and one isn't necessarily better than others. But it depends on your skin type and the skincare issues you are trying to address. Hyaluronic acid helps hydrate and moisturize, according to On the Air, which makes it great for dry skin. For oily skin, getting rid of the shine and calming down oil production may be a top priority. Niacinamide and enantia chlorantha extract are two ingredients that can address oil. Salicylic acid can help anyone who's prone to breakouts and blackheads.
But, of course, most people's skin isn't so cut and dry. Many people are trying to combat multiple issues like evening out their skin tone, staying hydrated, and preventing acne. Luckily, you can use multiple serums at once to address multiple issues. However, you do have to be cautious about the ingredients, as some combinations can cancel each other out or cause irritation. Always err on the side of caution and check out the ingredients in your serums and other skincare products.