The Best Hack For Rocking A Claw Clip If You Have Fine Hair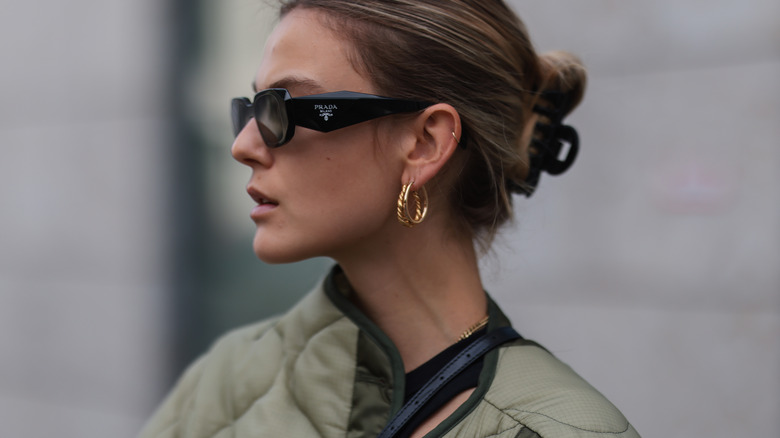 Jeremy Moeller/Getty Images
The claw clip is that girl. The trendiest hair accessory of 2022 (and probably for years to come), the claw clip has reigned supreme on the stunning heads of Hailey Bieber, Kendall Jenner, and Bella Hadid. While the claw clip had its moment back in the '90s and early 2000s, it's made a glorious comeback and is now a major fashion staple.
Hair secured with a claw clip is the new messy bun, except this hairstyle has an elegance that a messy bun could never fully achieve. Whether your hair desperately needs a wash or you're too lazy to attack your strands with hot tools, the reliable and oh-so-chic claw clip always saves the day. And while there are many ways you can wear claw clips, one thing is for sure: they look amazing when clipped into voluminous, full hair.
But that doesn't mean those with short, fine, or thin hair can't rock a claw clip hairstyle and make it look just as gorgeous as those with shampoo commercial-worthy locks. In fact, thanks to TikTok, there are countless claw clip hacks that evoke the '90s trend. And one, in particular, is catered toward fine-haired beauties, so you can easily achieve a glamorous-looking claw clip updo. 
Making your fine hair look voluminous in a claw clip has never been easier
While there are several techniques you can implement to secure a claw clip in your hair, TikTok creator @alyssarayelee has the best one for those with fine or short hair. In the video, she parts her hair in half horizontally at the top of her ears. Then, she takes the top half and secures it with an elastic hair tie, pulling the hair halfway through to create a loose bun with the ends sticking out (like Kim Kardashian's viral "flip bun"). She fans out the loose bun to add volume.
She then takes the bottom section and does the same thing, creating a loose bun right below the first one. At this point, you should have two very loose buns, one on top of the other, on the back of the head. Then, she secures the claw clip tightly underneath the bottom bun so both are sitting on top of the claw clip. The results? A hairstyle that looks like you have a naturally voluminous head of hair.
Although this hack will help secure that claw clip in place, you might want to reach for a clip that works well on fine hair, so no slippage ensues. You can use a claw clip with rubber or some texture to grip the hair better. Also, avoid using a wide-toothed clip so the hair doesn't slip through the teeth. 
You can do this as a half-up hairstyle, too
Claw clips can be used for super cute half-up hairdos, and this claw clip hack can create those, too. Southern Living shared a different variation of @alyssarayelee's viral TikTok hack, where only half of the hair is secured with the elastic, leaving the bottom half down. To create this hairstyle, you would only make one bun on the top, securing the claw clip underneath it. What's more, all hair types and textures can rock this half-up hairstyle.
To really make this style pop, try exchanging your basic claw clip with a fun-shaped one. This could be the Y2K-inspired butterfly or flower shape. Or reach for a clip that has a fun style, print, design, or color. In a separate TikTok video depicting the fine hair claw clip hack, @alyssarayelee uses a gorgeous silver glitter clip, which she says is "so perfect for the holidays." Don't be afraid to get creative! The early aughts were a time of fun prints and bright colors, so if we're bringing the claw clip back, we might as well go all the way with it.