We Have The Secret For The Perfect Cool-Toned Smokey Eye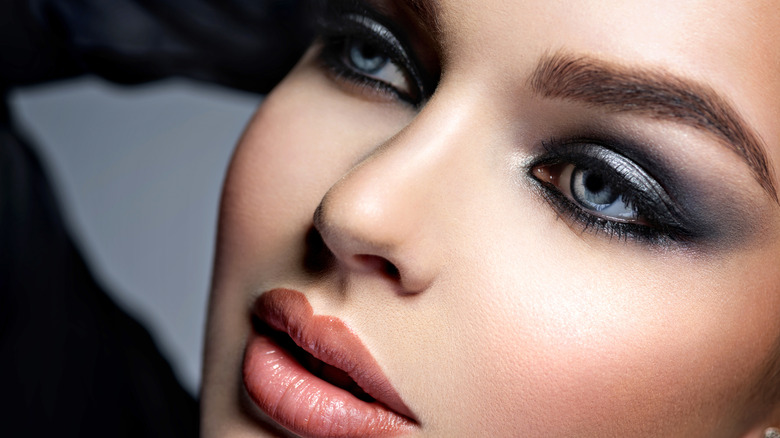 Valuavitaly/Getty Images
Most eyeshadow shades on the market seem to lean toward the warm or neutral toned. While you don't necessarily need to always match the tone of your eye makeup to your skin the way you should with foundation and concealer, a cool-toned eye makeup look can really make cool skin pop. The one area where cool-toned shadows do prevail is the iconic smokey eye look, which tends to be rich in white, silver, gray, taupe, and black shades. The look has reached such popularity that it now even appears on Dictionary.com, defined as "a style of eye makeup application in which dark eyeshadow is applied to the top and bottom eyelids and blended for a dramatic effect."
Advertisement
Perfecting the art of the smokey eye can feel a little intimidating, especially if you usually go for some iteration of a no-makeup makeup look. Here's how to nail the product selection and application to create a cool-toned smokey eye look. This look can be rocked by anyone with any skin tone, but it's okay to rejoice a little extra if you're one of many often-overlooked cool toned babes. Let's get started.
Select your products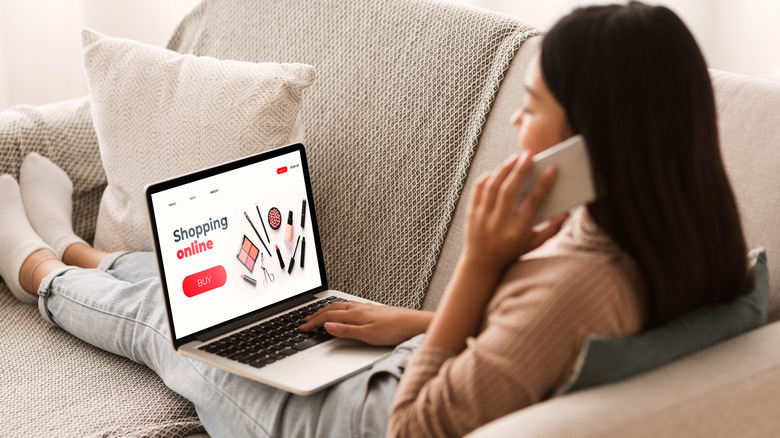 Prostock-studio/Shutterstock
Before you attempt to create your perfect cool-toned smokey eye look, you'll need to make sure that you have all the supplies necessary for success. If you'd like to get the ultimate pigment and staying power from your shadows, plan to use an eyeshadow primer. Then, select three cool-toned shadow shades. The first shade should be a bright white or nude for highlighting and blending. For the second shade, you'll need a mid-tone taupe, gray, or silver for building dimension. Finally, your third shade should be black or a very dark charcoal gray to bring the sultry smoke. If you'd prefer, you can select an eyeshadow palette that features shades pre-selected for a cool-toned smokey eye, like ColourPop's Blowin' Smoke palette.
Advertisement
To ensure the proper application of your smokey eye products, you'll need an eyeshadow blending brush and a smudging brush for maximum drama. Don't forget to have blendable, highly pigmented black eyeliner and dramatic black mascara on hand as well. If you'd like to incorporate a sharp winged look, grab a black liquid or gel liner too. 
Apply your smokey eye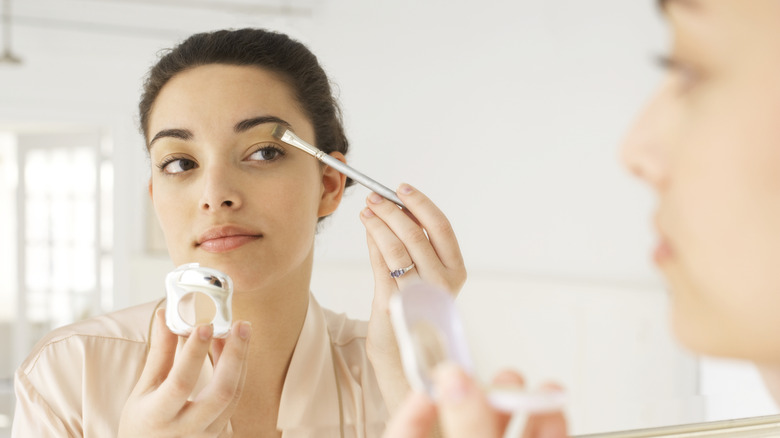 Christopher Robbins/Getty Images
For the most part, applying a smokey eye look isn't too different from any other basic shadow style. The secret is in the blending. Apply your eyeshadow primer, if you plan to use one. Then, as always, start with your lightest eyeshadow shade and apply it to the entire upper eye, from the base of your lashes (including the inner corner) to just below the brow bone. This will provide ample highlighting and a powder base that makes it easier to blend together all the shades you'll be using. Next, apply the second shade you chose to only the outer corner and outer half of the crease of your lid and blend liberally.
Advertisement
The darkest eyeshadow shade should be applied last and only to the outer corners. With a clean blending brush, blend the color into the outer corner and drag it into the outer crease without adding more product. Next, using a smudging brush, apply some of the third shade onto the lower lash line and blend until diffused and smokey. Just when you think it's too dramatic, smudge it some more. Add a black liner to your waterline, if you wish, and follow with a smudged pencil liner or a wing on your top lid. Apply mascara and the rest of your makeup as you normally would.