The One Place You May Be Neglecting With Your Sunscreen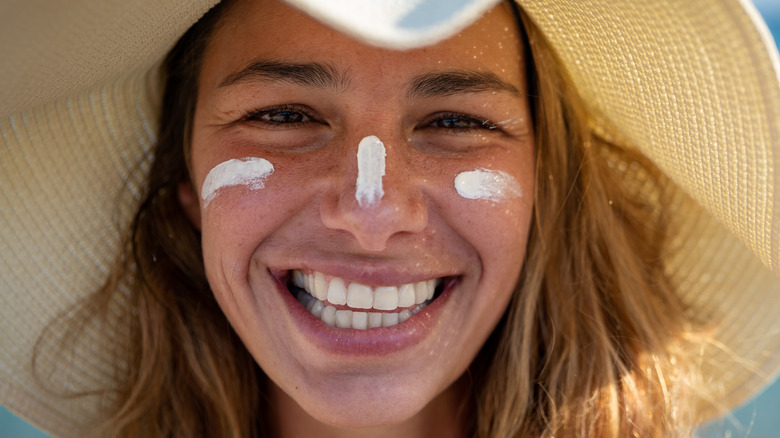 Kitreel/Shutterstock
At this point, you probably don't need to be reminded of the importance of wearing sunscreen, even if you have darker skin. It's a good step to take for your health, as it helps you avoid the development of skin cancers that can cause you even bigger problems down the road. Unfortunately, many people tend to make mistakes when applying sunscreen that can affect how effective the product they're using is.
One important tip to keep in mind is that you can't neglect any skin that is exposed, as noted by the American Academy of Dermatology. While we've previously explored the importance of protecting your lips from the sun, there's likely another spot that isn't getting the coverage of sunscreen it deserves. While you might be thinking that it's the back of your neck or somewhere else that might require you to enlist the help of someone else to ensure that it's shielded from the sun, it's actually on your face — and you're probably overlooking it without even realizing it.
Make sure the skin around your eyes gets sunscreen coverage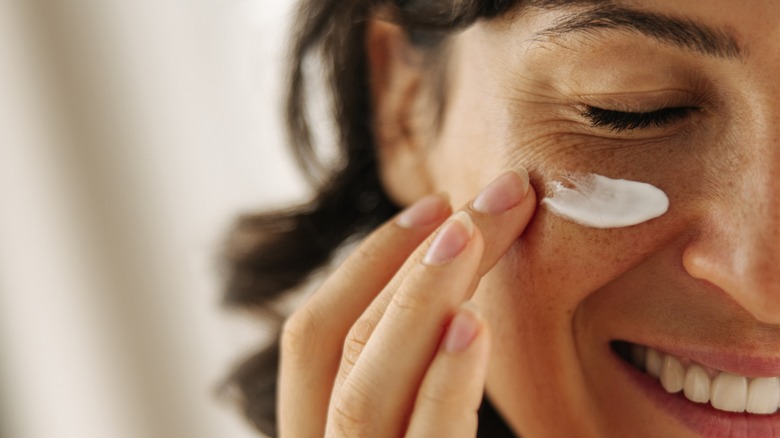 Look Studio/Shutterstock
Importantly, HuffPost points out that it's likely that you have been neglecting the skin around your eyes when it comes to applying your sunscreen. Dermatologist Dr. Hadley King was quoted by the outlet as saying, "It's important to apply sunscreen to all areas of skin exposed to UV radiation, and this includes the eyelids. We frequently see sun-related skin cancers in the eye area, and in some cases, skin cancers in the eye area can be more difficult to treat and more aggressive."
In a posting from New York City's Mount Sinai hospital, ophthalmic plastic surgeon Harsha Reddy, MD, also stressed this point and commented, "The eyelids are at risk for cancer because unlike other parts of the [body], the face is usually uncovered and exposed to the sun's harmful UV rays. Many people do not apply sunblock to the eyelid skin out of concern that it will get into their eyes."
Before you balk at the idea, allow us to clarify that this advice doesn't mean that you have to pour your sunscreen in and around every last crevice of your eyes in order to provide them with the protection from the sun that they deserve. Instead, you might want to add a few more products to your everyday routine.
Avoid eye irritation with certain products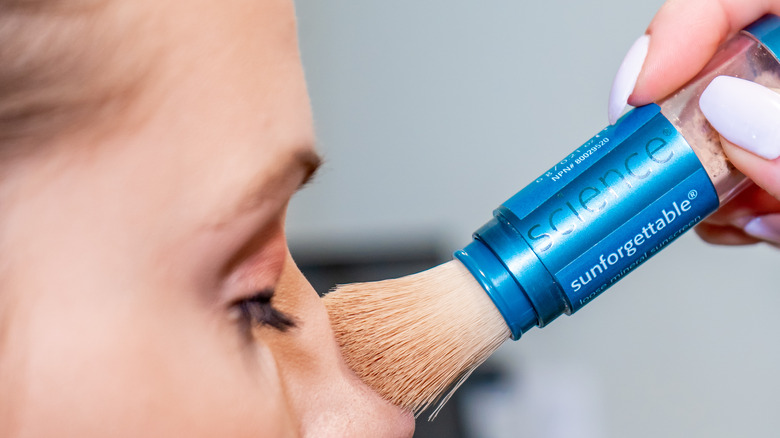 thoughtsofjoyce/Shutterstock
If you're worried about living with the feeling of having sunscreen in your eyes forever, you can put those fears to rest. There are products available with SPF in them that are less likely to cause irritation than your traditional liquid sunscreen. For example, ophthalmologist Dr. Ashley Brissette, MD, explained to Refinery29, "Powdered sunscreens are really effective. I recommend you close your eyes and use the powder with the brush and sweep it gently over your closed eyelids, that's a really good way to get the sunscreen in that area without it melting into the eye and causing irritation."
Although some eyeshadow products have also been formulated to include SPF, dermatologist Dr. Joshua Zeichner advised InStyle to use more caution with those, saying, "Eyeshadow with sunscreen in it can help protect eyelid skin. However, it should be used in combination with traditional sunscreen. Similar to facial powder sunscreens, eyeshadows need to be applied in a thick enough layer to offer adequate protection."
You've heard the experts: Apply your powdered sunscreen around your eyes. And make sure that you're applying it thoroughly enough to protect your eyelids from the sun's rays!