What Is Short-Contact Therapy And How Can It Benefit Your Skin?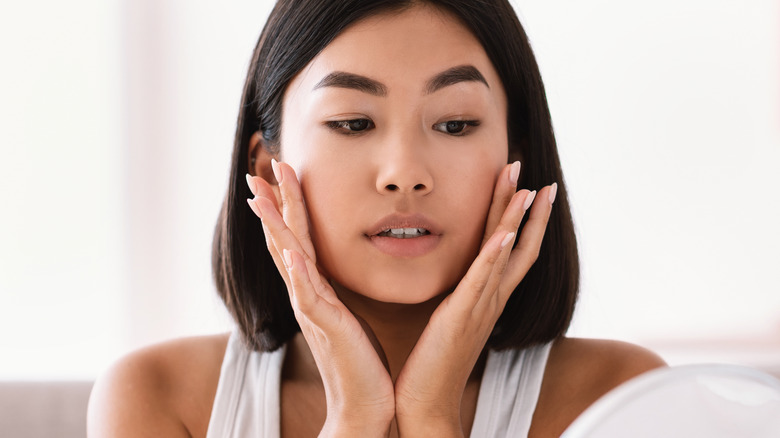 Prostock-studio/Shutterstock
When it comes to skincare, there's a deep-seated notion that the longer we leave a product on our face, the better. The thinking is that this maximizes the benefits of the product by giving the ingredients enough time to sink into the skin. This belief is why many skincare aficionados leave products on throughout the night or throughout the day. Many skincare experts, in fact, agree with this standpoint. As aesthetician Dr. Kaywaan Khan explained to Glamour, "Risks of not leaving sufficient time for each product to absorb include pilling (when flaky balls form on the face) and dilution of the products used."
Advertisement
While the theory of giving active skincare ingredients — like retinol, hyaluronic acid, and AHAs — enough time to sink in is legitimate, it may not be the optimal technique for your particular skin type. For those with sensitive or acne-prone skin, sleeping with a full face of active ingredients may do more harm than good. "It is a myth that you need to wait a long time for products to sink in," dermatologist Dr. Rachel Nazarian explained to Skin Care Geeks. Turns out, leaving skincare ingredients on for a shorter period of time — a practice known as short-contact therapy — might save your skin from irritation and a waste of costly ingredients. Here's what to know about short-contact therapy and how it can benefit your skin.
Advertisement
The principle of short-contact therapy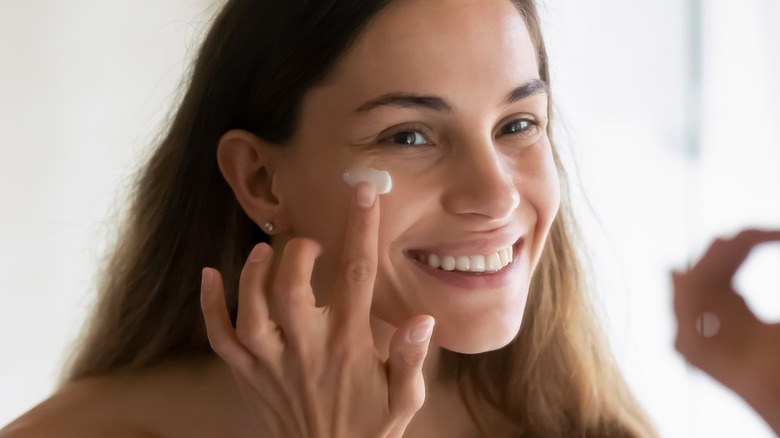 fizkes/Shutterstock
As its name suggests, short-contact therapy is the act of applying an active ingredient to your skin and rinsing it off shortly after that. Facialist and skin expert Charlie Perry explained to Who What Wear, "I apply the product for a short period of time — anywhere from 30 seconds to five minutes (depending on the client's skin) — and then rinse it off." The steps are no different than what you normally do with a rinse-off mask or a cleanser. By minimizing the amount of time those active ingredients spend on your face, you're also minimizing the chance of irritation. 
Advertisement
According to a 2013 study published in the Journal of Dermatological Treatment, irritant contact dermatitis — a side effect of topical retinoids — is found in about 95% of patients treated with tretinoin which is used to treat acne. In an attempt to minimize the incidence and severity of side effects, 74 patients in the study practiced short-contact therapy by applying 0.05% tretinoin cream to their skin for only 30 minutes once per day. Treatments lasted an average of 12 weeks. After completion of the treatment, researchers found a significant improvement in 41 patients, with only 13 patients developing mild skin irritation. The results show that short-contact therapy helps boost one's tolerability toward a product, which in turn helps the patient stick to their recommended treatment plan.
Advertisement
Benefits of short-contact therapy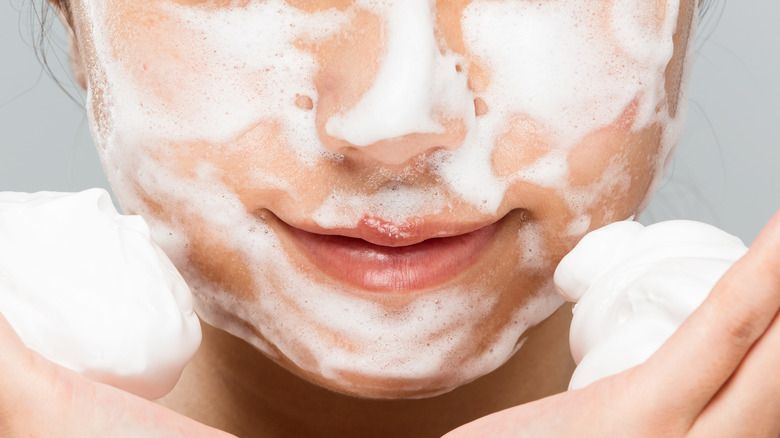 kei907/Shutterstock
For those with sensitive or acne-prone skin, short-contact therapy can make your skincare routine much less of a torture. No matter how careful you are at checking the ingredients on the product label, irritation can still happen with any potent product. Applying active ingredients to your skin for just a short period of time is a safe way to familiarize your skin with potential irritants and build its tolerance.
Advertisement
Such is the case of benzoyl peroxide — an active ingredient used to treat mild to moderate acne. A 2012 study published in the Journal of Drugs in Dermatology found that washing off benzoyl peroxide after two minutes of skin contact allows users to tap into the acne-fighting properties of the ingredient while lessening risks of irritation. As board-certified dermatologist and clinical assistant professor at Cornell Dr. Marisa Garshick explained to AEDIT, "Short contact therapy leaves less residue on the skin, which may be helpful for someone who finds it difficult to layer on products or cosmetics after certain active ingredients." Dr. Garshick also noted that while you can utilize the short-contact therapy with pretty much any skincare product, this approach has been shown to be particularly successful when applied to active ingredients such as retinol and retinoids, benzoyl peroxide, hydroxy acids, and vitamin C.
Advertisement