Try This Upgrade To The Viral Glazed Donut Manicure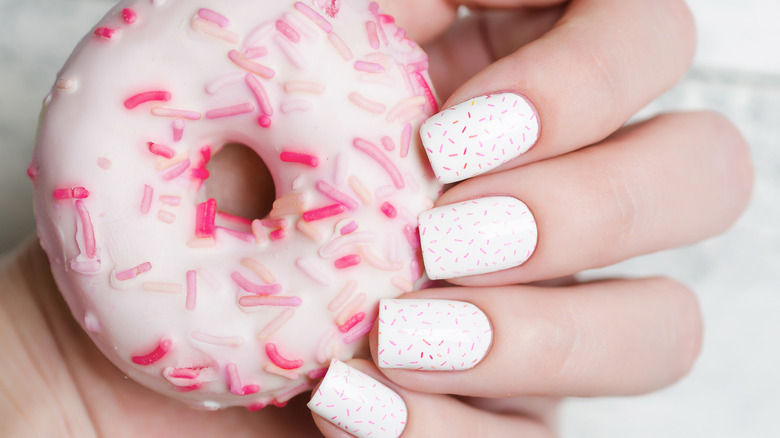 Marina mrs_brooke/Shutterstock
If you have not heard of Hailey Bieber's glazed donut manicure — the sweetest summer nail look of 2022 — you may be living under a rock. Taking the Internet by storm, Bieber's sheer, milky white glazed donut nails are inspired by the sugary coating of glaze on the top of the doughnut — that sweet, smooth, and scintillating, touch. The viral nail trend was created by nail artist Zola Ganzorigt, who styled the glazed donut nails for Bieber ahead of the 2022 Met Gala as a matching accompaniment to the media personality's creamy white Saint Laurent gown as well as an allusion to her sworn-by dewy "glazed donut skin."
Advertisement
The original look of glazed donut nails started out as a soft white shade with minimal sheer achieved by chrome powder. On this, Ganzorigt tells CNN, "Since it's really neutral, minimalist and chic, I can definitely see that these nails will be around." The Los Angeles-based nail artist was right. Not only has the viral glazed donut manicure been trending on social media non-stop, but it has also inspired many variations based off of the glazed finish trend. One upgrade to the look that many nail fans have been copying at home is the "chocolate glazed donut manicure" — a brown twist to the originally iridescent look that Bieber herself recommends for the colder seasons. Now, here's how you can recreate this flavorful glazed donut manicure at home.
Advertisement
Chocolate glazed donut manicure
If the original glazed donut manicure is all about nude nails topped with a soft luster for a glistening effect, the chocolate-hued twist boasts a moody autumnal tint with a velvety sheen. Both styles follow the semi-transparent glazed finish trend. In her tutorial for chocolate glazed donut manicure on Instagram, Ganzorigt uses OPI's Stay Strong Gel Base Coat, OPI Stay Shiny Gel Top Coat, DND gel polishes in Coffee Bean #319 and Spiced Brown #053, and OPI Chrome Effects Powder in Tin Man Can to conjure the look.
Advertisement
First, Ganzorigt applies the gel base coat to her nails. After curing her nails in the lamp, the nail artist mixes the brown gel polishes of Coffee Bean and Spiced Brown with a gel top coat to add a high-shine finish to the mixture. Then, she applies a coat from the mixture to her nails, adds another coat of top coat, and cures her manicure again. In the following step, she dusts a layer of shimmery chrome powder on top of her nails and rounds the look off with another layer of top coat for an extra liquid, reflective appearance. 
Lastly, she cures the nails in the lamp for 30 seconds, and voilà — the results are glossy nails in a translucent chocolate shade. The glazed donut manicure mascot herself, Hailey Bieber, shared on her TikTok: "I know we're tired of my constant color switch up but ... the chocolate glazed donut nails are really hitting for me for fall."
Advertisement
Strawberry glazed donut manicure
If autumnal palettes are too moody for you, reach for the more cheerful ones, like the strawberry shade. In fact, the strawberry glazed donut manicure is also Hailey Bieber's sworn-by mani look. As its name suggests, this manicure features pearly baby pink nails with a sheen for added dimensions. This bubbly pink spin is reminiscent of Barbiecore, a fashion trend emerging from the hype surrounding the upcoming release of the movie "Barbie." "Fun and girly, but still very classically chic," celebrity stylist K.J. Moody says of the Barbiecore-esque impression to CNN.
Advertisement
In a video posted on Instagram, Ganzorigt shares a step-by-step tutorial on how to achieve the original glazed donut design in a sheer pink color. To begin with, Ganzorigt coats her nails with a layer of OPI's Stay Strong Gel Base Coat, which serves as a protective layer between the nail and the polish to prevent chipping and breaking. Then, she adds a coat of sheer pink gel polish from Presto Color Gel #098 before applying OPI Stay Shiny Gel Top Coat to her nails. After that, she rubs her nails with some high-reflective powder from OPI Chrome Effects Powder in Tin Man Can and applies another layer of top coat for a metallic finish. 
"Little tips: if color doesn't seem sheer as this video, I'd highly recommend to mix it with clear gel," Ganzorigt notes in her video caption. Fresh and ever-sweet, this Bieber-inspired manicure is the perfect mani look no matter the occasion.
Advertisement