How The TikTok Generation Embraced Vivienne Westwood's Iconic Jewelry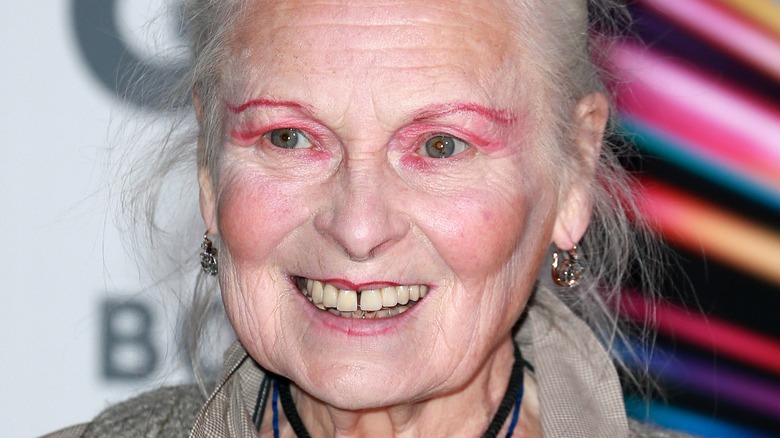 Fred Duval/Shutterstock
Fashion designer and industry legend Vivienne Westwood passed away at the age of 81 on December 29, 2022. The London-based style icon is, at large, the driving force behind the popularity of modern punk fashion. According to Encyclopedia Britannica, she and her partner, Malcolm McLaren, pursued their careers in fashion together. The pair opened a 1950s vintage clothing and record store in London. It was at this store that Westwood started to produce many clothing designs based on ideas thought up by McLaren. These ideas were often provocative, featuring grunge textures, rips, bondage looks, and anti-establishment slogans. After the couple split, Vivienne ventured out as a solo designer.
By 1985, she was creating designs that combined both femininity and provocative grunge that was never seen before. She took inspiration from classical sources while staying true to her love for punk culture and began producing a number of ready-to-wear collections along with accessories. Perhaps none of her accessories will ever be as iconic as the Mini Bas Relief Pearl Choker. First seen in 1992, the choker has become a staple of Vivienne Westwood's work and one of the biggest reasons the TikTok generation has come to know and love the designer.
Vivienne Westwood's Gen Z comeback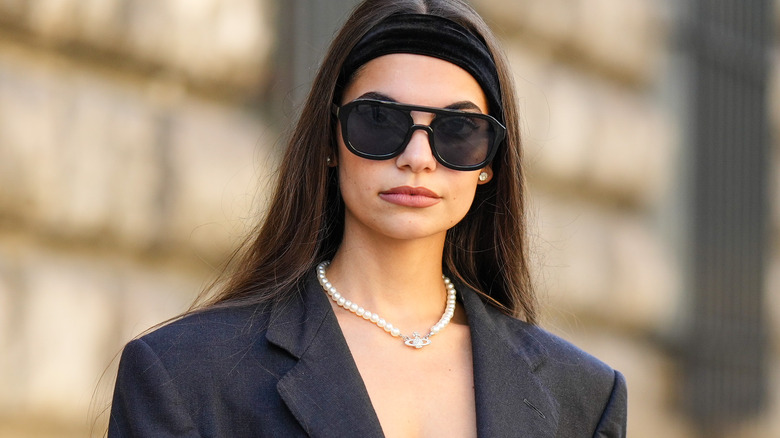 Edward Berthelot/Getty Images
Vivienne Westwood's styles rose to popularity once more on TikTok due to Gen Z adoring her pearl choker. The Swarovski pearl necklace with a crystal orb as its defining feature is different, which is exactly what Gen Z is looking for when it comes to a new piece of jewelry. While older generations may choose something simple and classic, Gen Z is all about rebelling against social standards, which is another thing the generation had in common with the designer. Westwood was never one to follow social norms. "It's simply that there's just nothing else like it on the market. Vivienne's designs were not fully embraced in her native country when she was making them; she was too ahead of her time," Johnny Valencia, vintage curator and owner of Pechuga Vintage, told Nylon about the late designer.
The aesthetic of the necklace also pairs perfectly with multiple modern internet aesthetics. Those who have labeled themselves as "e-girls" mesh well with the necklace due to its punk and rebellious nature, whereas the opposite "royalcore" also loves the necklace due to the femininity and upper-class feel of the pearls. Gen Z is typically thought to be chronically online, making the generation more susceptible to influencer marketing, so it's no surprise that once their favorite celebrities started rocking the necklace, we saw more everyday people wearing the necklace. Saweetie is just one example of a popular Gen Z celebrity that posted herself rocking the necklace on Instagram.
More notable pieces from Vivienne Westwood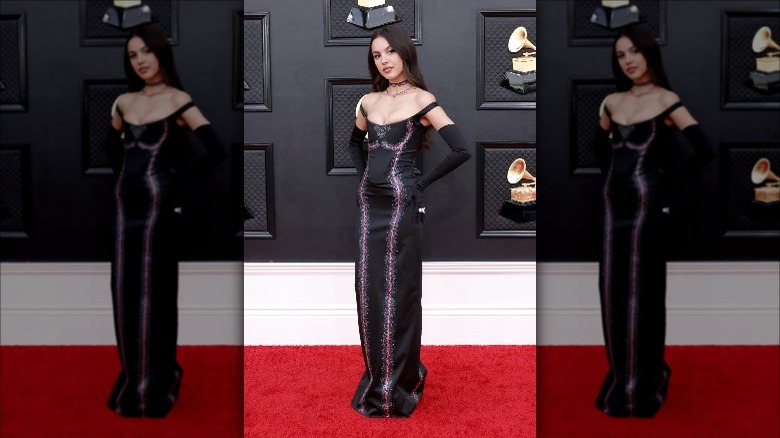 Frazer Harrison/Getty Images
Jewelry is not the only Vivienne Westwood item that has taken the TikTok generation by storm. Other items, such as her signature corset, have made their rounds on social media. Just a few years ago, you would be hard-pressed to find someone looking for Vivienne Westwood vintage pieces, as they weren't hot commodities. Now, Westwood's corsets are hotter than ever. While you can buy the corsets on the Vivienne Westwood website today, some of the hottest ones are vintage. Arguably the most popular corset is from Vivienne Westwood's F/W 1993 collection, featuring a kiss between Omphale and Hercules. The corset has been seen on supermodel Bella Hadid and is often re-sold for more than $5,000.
Vivienne Westwood was also a favorite designer of Gen Z popstar Olivia Rodrigo. Rodrigo wore the designer's creations on multiple occasions, including during her iconic 2022 Grammy's appearance (via Instagram). When asked about her choice of Grammy's attire by Laverne Cox, Rodrigo says she "wanted to do something fun and young" but also glamorous in an E! Insider clip now posted to YouTube. This shoutout only made the designer that much more popular among the TikTok generation. There are many things that can be said about Westwood, but what we'll leave you with is that her impact on the fashion world was great and has impacted generations much beyond her time.