How To Wear A High-Slit Dress Without Baring It All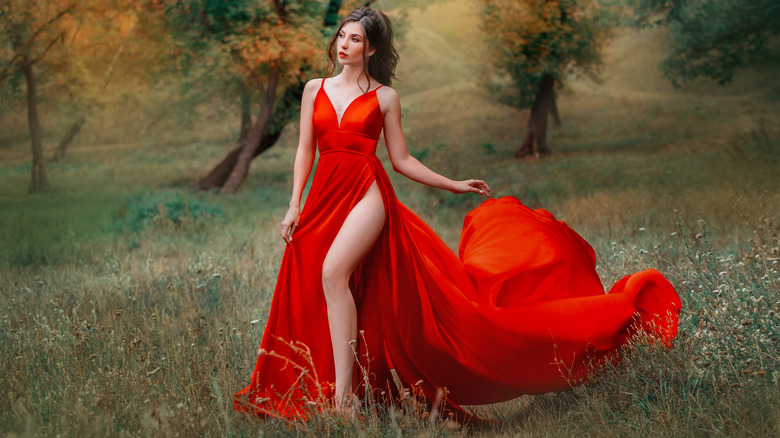 Kharchenko_irina7/Getty Images
Remember when we normal folk left the risqué, daring ensembles to the celebrities? See-through pieces, barely-there gowns, and basically anything Miley Cyrus wore on the red carpet in 2015. Well, those days are long gone because daring and seductive fashion statements aren't just for the Hollywood elite anymore. This includes the high-slit dress seen on celebrity fashionistas like Rihanna, Lizzo, Megan Fox, and even America's sweetheart, Hilary Duff.
Advertisement
The high-slit dress is an excellent option if you want to show a bit — or a lot — of those gorgeous legs. Perfect for your next girls' night out, a hot date, or even the office (kidding!), a dress with a high slit is a bold choice. But just because you're brave enough to rock a high-slit dress doesn't mean you're down to have an embarrassing peekaboo wardrobe malfunction. The good news is, there are ways you can rock such a fashion statement with intention, only showing the parts of your body that you expect to show without baring it all. 
Consider the location of the slit and wear the proper undergarments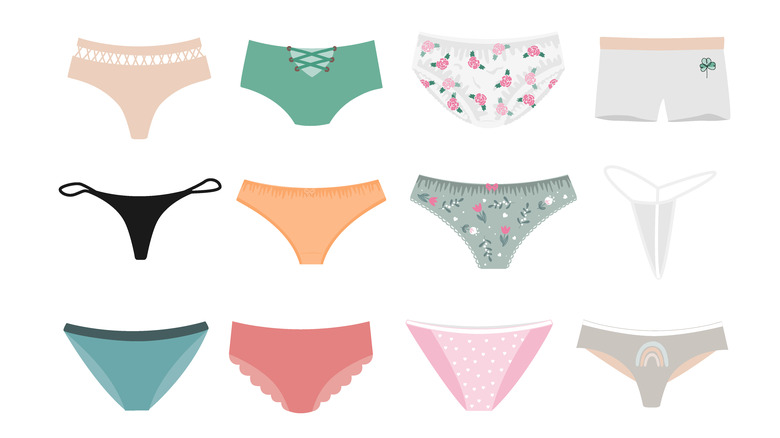 Toltemara/Getty Images
Traditionally, leg slits were often only seen on the left side of the dress, according to Curated Taste. But these days, thanks to trailblazing and progressive fashionistas, they can be on either side, both sides, front, or back. If the slit is high but doesn't go past your panty line, you could get away with wearing nude or flesh-colored panties. However, for a super high slit that travels into private area territory, you may want to consider strapless panties.
Advertisement
And no, we didn't make that up. They really exist. Fashion stylist Dani Michelle told InStyle that a strapless panty is a great option for "extra protection." "I use Shibue, a strapless underwear that goes from the front to back with no sides," she told the outlet. "It's kind of like a pasty, but it's really nice, high-quality underwear — and it's washable, reusable, and affordable."
While strapless panties are an option, some fashion experts, like stylist Naomi Isted, advise against it. She told the Daily Mail that they "aren't realistic for the public to wear" and can be dangerous "as it could go horribly wrong." Still, there are options depending on your comfort level so that you can head out with that high slit in confidence. We suggest giving strapless panties a try at home first before taking them in public to ensure they work for you.
Advertisement
Ensure your high-slit dress fits perfectly, and tape it down if you must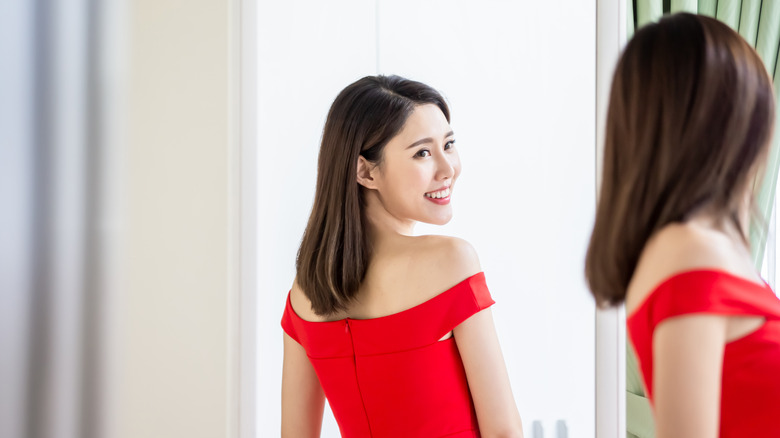 aslysun/Shutterstock
When selecting your high-slit dress, you'll definitely want to have one of those "practice" moments in the dressing room to ensure it fits you perfectly. Walk, sit, and dance with the dress on to make sure it fits like a glove without riding up, wrinkling, or pulling in any uncomfortable places. If you move around in the dress and feel like one wrong move will elicit an "oopsie" moment, it may not be the one.
Advertisement
Remember, even if the dress is skin-tight, it shouldn't be too uncomfortable to move in. "You want to aim for a normal range of motion in your clothes, including being able to lift your arms up or sit down without fabric straining against your thighs," James Thomson-Sakhrani, founder of Style Standard, told Insider.
Sometimes, no matter what you do, the dress will always ride up, which can be a little concerning when managing a high slit. In this case, reach for a fashion tape to secure the dress in place. Stylist Dani Michelle recommends taping "about an inch or more away from the edge" of the slit to avoid unnatural movement if placed too close to the edge (via InStyle). Fashion tape and strapless panties may seem like a lot of work for a dress, but it's the price you may have to pay to look red carpet-worthy.
Advertisement