Body Skincare Is About To Be As Important As Facial Routines In 2023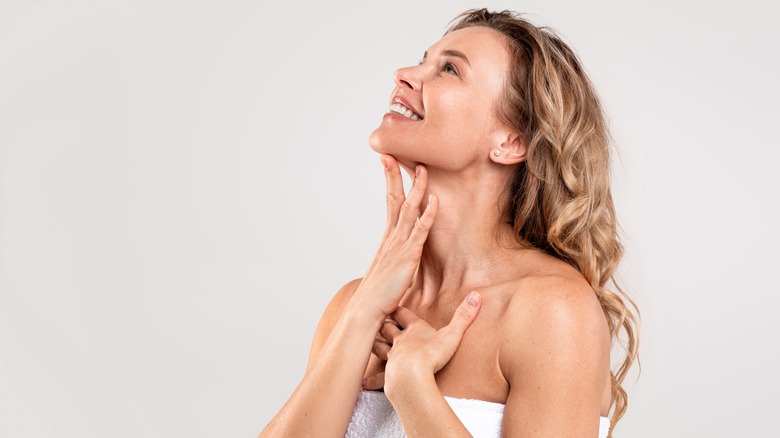 Prostock-studio/Shutterstock
While always being a part of our lives, strict facial routines have blown up in popularity over the past several years. Having a strict skincare routine is essential to have the healthiest skin possible. Skincare routines typically focused mainly on the face, which makes sense as that is often the most upfront feature about a person. The first thing you notice about someone is often their face. Common facial skincare products include moisturizers, serums, creams, cleansers, and toners, just to name a few. Some people even get regular skincare treatments performed by professionals. Though skin goes beyond the face, body skincare is something that gets little to no attention, especially compared to facial skincare.
It is safe to say that body skincare has been ignored and dermatologists can tell, as dermatologist Julie Harper tells HelloGiggles that "when an older patient comes in for a full-body skin check, the best-looking skin is on their abdomen and/or behind, which has been protected for the majority of their life, as opposed to their arms, legs, shoulders, and back of their hands, which have often been neglected." The skin across our bodies is susceptible to damage just like our faces, so in 2023 we're deeming body skincare just as important as facial skincare.
Why is body skincare blowing up?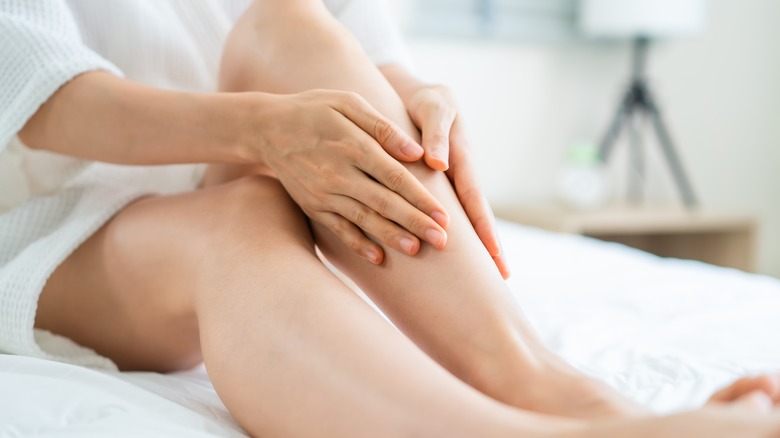 Hananeko_Studio/Shutterstock
The past several years have taught us that self-care is important and that we should carve out time for it in our schedules, which is probably why more people are focusing on full-body health, including full-body skincare. According to Boscia co-founder Lan Belinky, the company conducted a survey and "found 40% of adults were starting to feel like having a body care routine was as important as having a skincare routine" (via Refinery29). TikTok has also played a huge part in the popularity of body skincare, with brands like Truly going viral and getting over 61 million likes while advertising its body care products, including the Acai Your Boobies Polish and Buns of Glowry Smoothing Butt Polish.
"Everything you're doing for your face, from your masks to your serums, your exfoliant to your sculpting? Bring it on for the body," the executive director of VIOLET GREY, Sarah Brown, told Refinery29 when speaking of her skincare trend predictions for 2023. It seems that more people than ever are realizing that skincare doesn't stop at the neck and instead goes all the way down.
The benfits of body skincare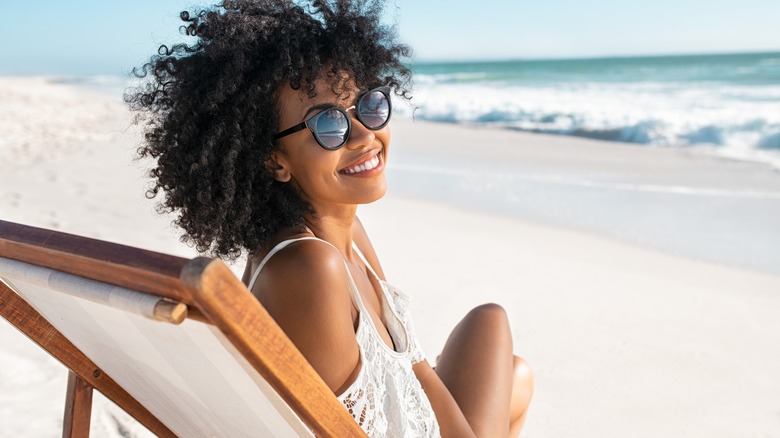 Ground Picture/Shutterstock
Body skincare has a multitude of benefits depending on the products you're using. While the body often requires less maintenance than the face due to the face's constant exposure, it still faces some of the same common issues. Just like your face, the rest of your body sheds skin cells as well — around 500 million cells every day, to be exact, according to ACS. Sometimes the body needs help getting rid of these dead skin cells, which is why exfoliation is helpful. Exfoliating your entire body as part of your skincare routine will give new cells a place to blossom, leaving you with softer skin and preventing body acne from clogged pores. Lotion is the most common product in the body skincare world and is great to use after exfoliating to keep the skin moisturized.
Many other body skincare products are specific to the needs of the user. Glycolic acid or salicylic acid are prominent ingredients in acne-fighting products for the body. Specific body creams have been created now for extra dry skin. Bump-erasers and oils exist to help fight Keratosis Pilaris and ingrown hairs. The list goes on. Just like with facial skincare, it is important to find a unique body skincare routine that works for you and targets your specific problems to create maximum benefits.