Practical Ways To Style The Naked Dress Trend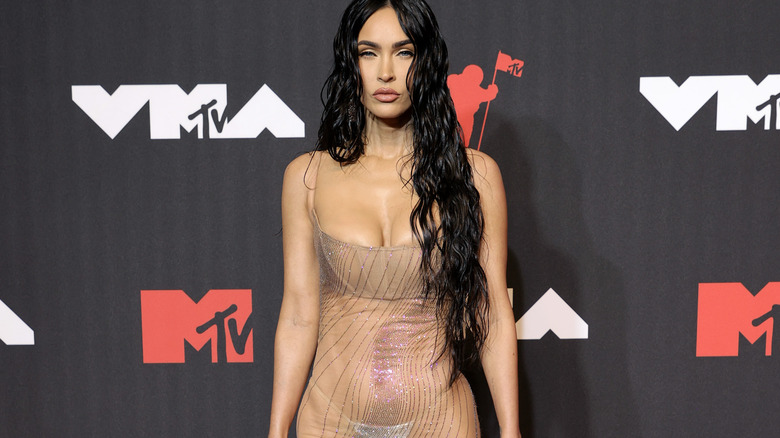 Jamie Mccarthy/Getty Images
Do you remember Megan Fox's highly widely-discussed see-through Mugler dress from the 2021 VMA awards? And do you remember the controversial interview where she explained that her beau, Machine Gun Kelly, gave her the idea, saying, "He was like, 'You're gonna be naked tonight.' 'I was like, 'Whatever you say, Daddy'." (via YouTube). As cringe as many people thought this quote was, the dress was unforgettable, making way for the naked dress trend.
But before the movie star rocked the epitome of the naked dress in 2021, Kate Moss wore a see-through dress over nothing but black underwear in the '90s, per Who What Wear. The famous supermodel flaunted another stunning sheer dress in 2022, proving that she's the queen of the naked dress and that this sexy look is trendy now more than ever. Another supermodel who made fashion history with a new spin on the naked dress is Bella Hadid. In 2022, the supermodel entered the runway for Coperni in nothing but her underwear and was sprayed with a material that turned into an elegant, white body-hugging dress, as seen on Instagram.
If Fox, Moss, and Hadid inspired you to experiment with naked dresses, we have some outfit ideas for you to explore.
Wear it over a dark bra and underwear
A naked dress over a bra and underwear is perfectly provocative for a night out! Wearing the sheer garment on top of your undergarments will show plenty of skin for a sexy vibe. Moreover, wearing the see-through dress over dark underwear will add more edge to the look and make it clear that you're not fully naked under the dress. Whether you opt for classic black undergarments or sultry burgundy under your naked dress, you'll make a seductive statement without showing your private parts.
Wear it over a thin mini dress
Who says you can't rock two dresses in one look? If you plan to wear a long, flowing naked dress, try wearing it on top of a lightweight mini dress for a layered look, making the sheer dress appear classier and more appropriate for fancier events. Try wearing a black mini dress under the see-through garment for an edgy vibe, a white mini dress for a playful look, a neon option for a bold contrast, or a nude hue to exude the naked look to the fullest.
Use it as a cover-up over a bikini
Cover-ups that look like sheer dresses are so much fun! Plus, they're perfect for anyone who wants to dip their toes in the trendy mermaidcore sea. The mermaid-inspired aesthetic is all about wearing pieces that you think mermaids would wear, such as scale-like details, netted garments, or seashell accessories. "Dark mermaid" is the trend to know going into 2023, and we can't think of a better way to explore the look than wearing a sheer cover-up dress over a dark bikini.
Flaunt it over leggings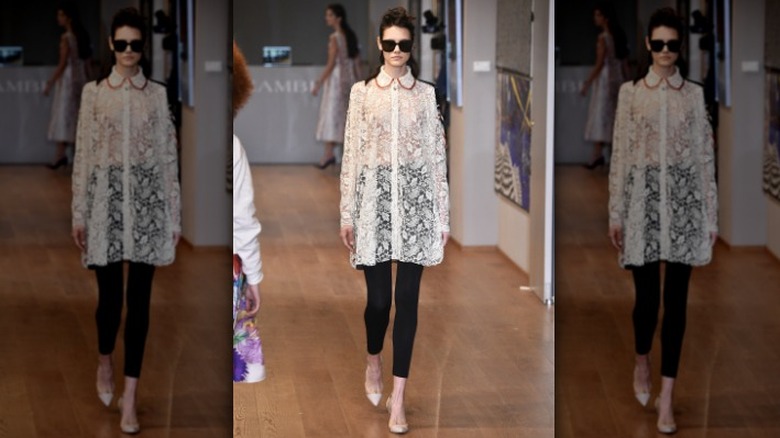 Pietro S. D/Getty Images
A creative way to dress down your naked dress is to wear it over a pair of leggings. For instance, wearing a long, sheer black dress over a daring pair of red leggings will never fail to exude cool-girl energy for a wild contrasty look. Or, for a more minimalistic ensemble, try pairing a nude pair of leggings with a naked dress for a monochromatic nude outfit. The combination possibilities are endless, so don't be afraid to experiment.
Rock it over jeans for edgy fun
This idea probably isn't for everyone, but if you want to put a casual spin on the naked dress trend, this is for you. According to the stylish YouTube channel Ten Ways to Wear It, a sheer babydoll dress will look stunning on top of a bra with jeans or denim shorts. Also, wearing this look with a t-shirt and ripped jeans is an excellent way to rock the offbeat yet trendy grunge fairycore aesthetic.
Wear it over a sleeveless top and boyshorts
One last ultra-cool way to style a naked dress is to wear it on top of a sleeveless top and boyshorts. The boyshorts will show less skin than more traditional underwear, making them a convenient alternative for people who want to look sexy but not too provocative. Plus, there are many options for sleeveless tops, so you should explore different sleeveless tops such as camis, basic tank tops, and sleeveless blouses under your sheer dress to see what you like most.