Tips That Will Help You Buy The Highest Quality Jeans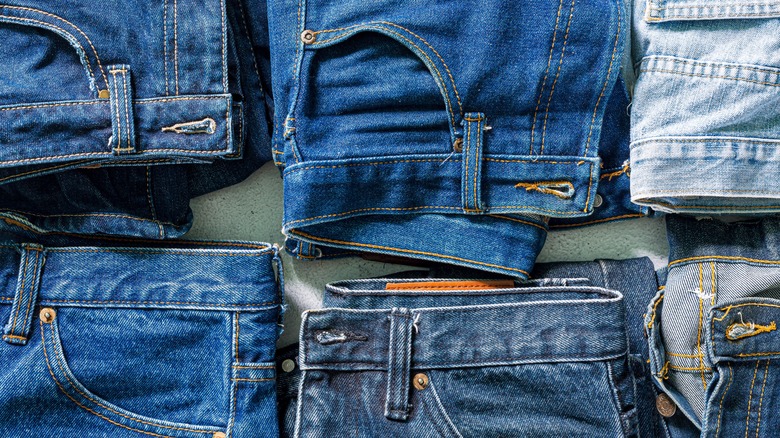 banjongseal956/Shutterstock
Finding the perfect pair of jeans can take some time if you are looking for the best quality at an affordable price. Heavy denim can range from $80 to over $100, depending on the style and brand. Even though more costly denim will last years until they've met their end, many dupes offer similar, if not the same, quality for a better price. The secret is the jeans themselves and the way they're made. It's best to try them on in-store, but if you live in an area where there aren't enough stores to shop, it can be challenging to search for them.
Advertisement
High-quality jeans are an investment, and if you look carefully for the right ones, you'll be able to hold onto them for a long time. Designer-made jeans are made in various sizes to fit your preference and body type. There are curvy styles, for example, that will hug everything in place. And instead of sticking with a standard size, brands will offer sizes by waist size and length to accommodate different heights.
While the more expensive jeans tend to be good quality, there are a few ways to tell if a more affordable pair is as highly rated. We've added a few tips to help you buy the highest-quality jeans.
Know the feel of high-quality fabric
The fabric quality of jeans will tell you immediately if they're high-end or low-end. Heavy and thicker denim is what you want to look out for when shopping at any store as they'll last longer than lighter-weight denim. When you feel the texture of the fabric, feel for a stiff material with minimal stretch. Don't worry, they won't always be stiff because they stretch out the more you wear them. According to Shaft, when jeans are made, they're designed with a 3-thread fabric, and how they're woven determines their texture. A right-hand fabric is stiffer, while a left-hand material is softer.
Advertisement
The number of threads in the fabric also establishes the weight of the material, which is ideal for the utmost-quality jeans. Anything less than 11 ounces is considered lightweight denim. The popular weight for most denim is 12 ounces, but the original weight is between 13 to 15 ounces. Looking at the wash tag inside the jeans will tell you the thread count and weight of the denim. It's the easiest way to differentiate between the quality of each pair of jeans you see.
Look for heavy stitching
The fabric of the jeans is significant because it's what you wear on your body, but the stitching in the jeans is crucial when it comes to their quality. Without exceptional stitching, the jeans will fall apart easily, thus reducing their life span. A jeans' stitch count is better when it's a higher number rather than a lower one because it creates a stronger seam, according to Heddels. Numerous brands take into consideration their stitches per inch, or SPI when they're making jeans. An ideal stitch count to look out for when shopping is anything between 10 to 12 SPI. The closer and shorter the stitches are together, the more elevated the jean's quality.
Advertisement
Because an elevated SPI count takes longer to produce and requires more advanced skills, it can make the jeans more expensive. However, you can get away with stitch counts between five to seven depending on the type of stitch made, such as a double stitch or chain stitch, making it more durable. If the jeans have a single row of thread, as long as they're stitched with a thick thread, they will be in stellar condition.
Remember small details matter
The smallest details are often the most important when making final decisions on items to buy. Designers will consider even minor features to show they care about the product they make. The buttons, pockets, and wash on jeans can determine whether you want to buy them. They also play a role in telling if a pair of jeans is of high or low quality.
Advertisement
Pay attention to the security of the buttons; if they feel loose from the start, they'll likely fall off sooner rather than later. Wiggling the buttons will show you if they're secured solid. You can always sew them back on, but that defeats the purpose of investing in prime jeans. A pair of jeans with one button or multiple buttons should be checked before purchasing. High-quality jeans usually have copper buttons and rivets. In addition, the jeans' waist label should be durable to the touch instead of fragile and easily bendable. Working with the zipper a couple of times to ensure it zips easily and isn't made of plastic will also determine its quality.
Account for stretch factor
There's nothing worse than buying a pair of jeans that stretch out so much that you end up with a bigger size or buying jeans with such minimal stretch that you're afraid they'll rip at any moment. Form-fitting jeans are excellent when you want your jeans to fit every curve and have some flexibility. Stretch jeans are mostly cotton with a small percentage of stretchy fibers, like Lycra or Spandex. Jeans with less than 2% stretch fabric is ideal if you want them to keep their shape. If the percentage is higher, the jeans will wear out faster and become baggy.
Advertisement
Stretch jeans are made in various styles, from skinny to bootcut to boyfriend, and you might want to try them on in-store to find the perfect size. On the other hand, if you're shopping online, buy two different sizes to get a feel for each size, or go down a size for a slightly tighter fit since the fabric will stretch over time.
Shop online if shopping in-store isn't a possibility
We mentioned how shopping in-store makes finding the best quality jeans easier. You'll be able to feel the fabric, check out the details, and try them on to ensure the size fits. In addition, the associates will be able to help you find the best style, wash, and answer any questions you might have about the product. Because retail stores are limited in some cities or small towns, online shopping might be where you have to turn to find jeans.
Advertisement
Online shopping for jeans can be stressful, but designer brands typically offer a list of everything you need to know about the product. They talk about the materials used, whether the jeans have a zipper or buttons, and their stretch percentage. Plus, they will break down how the jeans will fit — tight, loose, relaxed, midrise, high rise — and their style — bootcut, flared, boyfriend-style, and more. If the website has reviews, it's best to take advantage and read through more than half to make your decision since it'll give you an idea of how it will truly fit.
Understand they may be pricey but worth it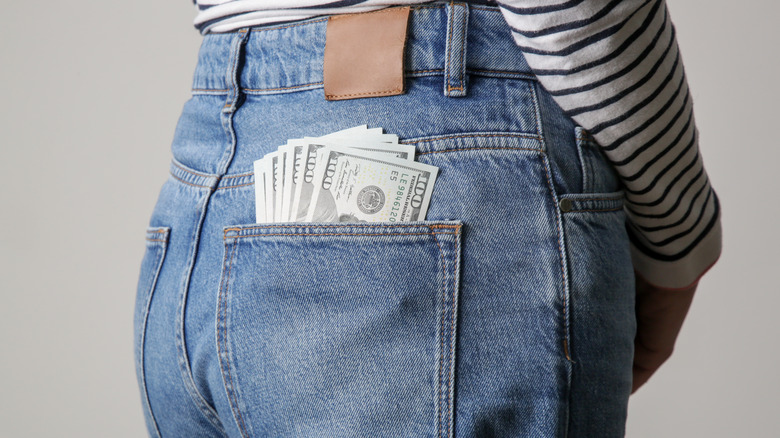 Triocean/Getty Images
The downfall with great quality jeans is their price, but they're guaranteed to last you for years. You pay what you ask for, and those are top-notch materials. You don't have to buy all the jeans you're looking for simultaneously to decide which ones will work out. Instead, start with one, and build your jean wardrobe from there. Buy a pair every few months, so your bank account doesn't get hit hard all at once.
Advertisement
On the other hand, if you prefer to buy a couple of jeans at a time, you can try on a few designer jeans to get a feel for how they're supposed to fit. Then, you can find similar well-fitting jeans at more affordable stores. Thrift stores are also superb places to find prime-quality jeans at a low price. Even though they'll be used, the best quality jeans will still feel as though they're brand new. Sometimes you can strike gold at thrift stores, so don't keep them completely off your search list.