Your Guide To Choosing What Your Contour Shade Should Be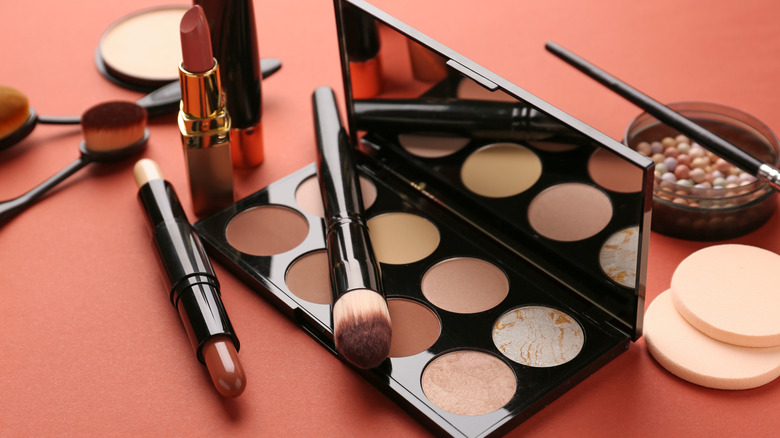 Pixel-Shot/Shutterstock
You might commonly associate contouring with modern makeup tutorials and celebrities like Kim Kardashian. However, the truth is that the practice of playing with shade and light as a way to enhance and subtly change our bone structure has been around much longer. According to Geti Cosmetics, it actually began in the 1500s as a way for stage actors to make their expressions more noticeable from far-off spots in the theatre.
From there, the cosmetics world always dipped its toes into slight reshaping with clever blush and bronzer placement. Nowadays, it's become a much more subtle art and the foundation of a full makeup routine, but it can still be a bit intimidating to get started. If you're looking for your perfect contour shade that won't leave you looking muddy or orange, look no further. There's a clever way to determine exactly what color you should be using to sculpt your face.
Determine your undertone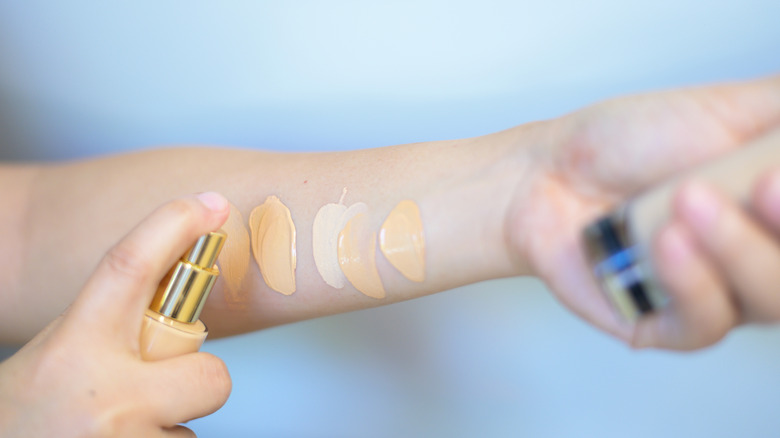 prachyaloyfar/Shutterstock
The first step in finding makeup that will look flattering on your face is almost always nailing down your undertone. The easiest way to determine this is by looking at the veins on the inside of your wrist — if they lean green, you're warm, and if they're blue, you're cool. If you feel caught in the middle, don't worry. Many makeup brands also offer neutral options if you find yourself in the center of the spectrum.
If you're planning to contour with concealer or are buying your product online, look for a color that's two shades darker than your natural skin tone with the same undertone. By sticking to the same undertone, you'll guarantee that the color blends smoothly with the rest of your makeup and doesn't look too orange or gray on your skin. A hue two shades darker is enough to provide some contrast without looking too extreme. This is the safest bet to guarantee you'll enjoy the product once you receive it, but it's always best to check products in-store if you have the chance.
Look to your natural shadows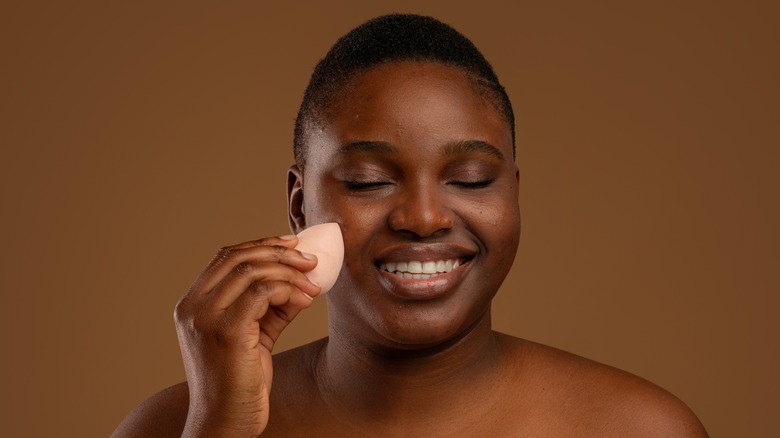 Prostock-studio/Shutterstock
Contouring is all about creating an optical illusion, so if you have the ability, it's best to color-match shades in-store to mimic the natural shadows on your face. To do this, take a picture of yourself in natural, consistent lighting with no makeup on, and use the hollows of your cheeks or your eyes as a guide. Look for a product that matches this shade to give yourself the most seamless finish possible. If you're stuck between two colors, go a bit lighter — you can always build up the product to give you a more striking effect.
If you're just getting started with contouring, it can be quite an intimidating process, but it doesn't have to be. Start small with more precise placement on areas like the cheekbones, jawline, and forehead using well-blended products and tools that you're already familiar with. From there, gradually build up, and you'll find yourself ready for a full sculpt in no time.