How To Apply Mascara Using The Wiggle-And-Pull Method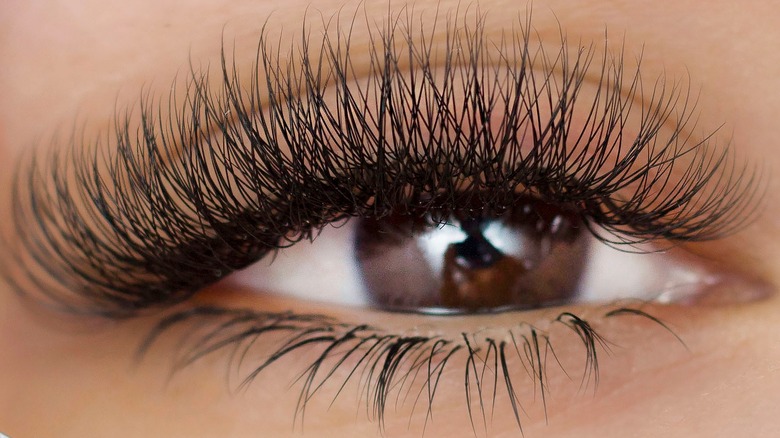 kkbs1707/Shutterstock
There are countless different mascaras available to lengthen those lashes, and all of them will do the job nicely to one degree or another. While most of us don't have a professionally trained hand, it's absolutely possible to improve the quality of your mascara application with the help of a few products or techniques.
The beloved makeup staple has come a long way since the oh-so-goopy days of the 1980s when it was more common than not to see lashes stuck together in unsightly clumps. This is thanks to both improved formulations, created specifically to separate and define lashes. Better-designed wands have also improved the product, although the look you're going for will factor into the type you use. For example, L'Oréal Paris suggests using a jumbo, or an oversized brush, if volume is what you're after. The smaller, classic oval-shaped brush is excellent for everyday use, as it coats lashes in a less dramatic effect. Coupled with optional steps, like lash-curling and priming, these wands are equipped to take lashes as far as you want them to go.
How to apply mascara using the wiggle and pull technique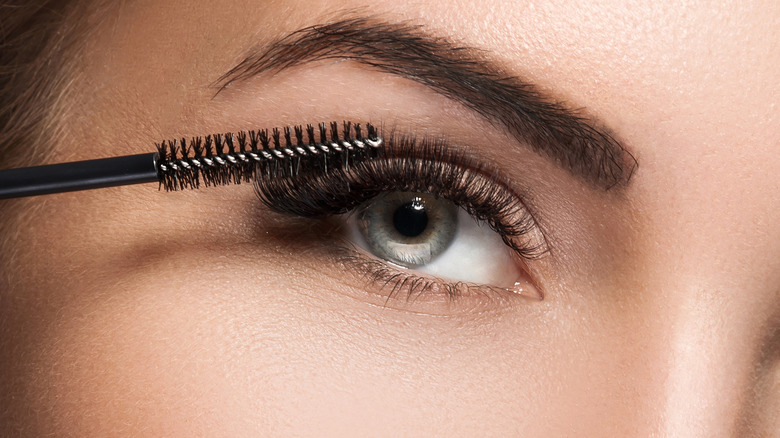 BLACKDAY/Shutterstock
The wiggle-and-pull method of mascara application is about as simple as it sounds. All the user has to do is position the mascara wand horizontally at the base of the lashes. Wiggle the wand from side to side, then pull straight upward along the lashes. Repeat as needed until the desired volume is achieved. Most people only do this to the underside of the lashes, as is the norm, but Bellatory suggests closing the eye and doing the maneuver on the top sides, as well.
Of course, for every right way there is to apply mascara, there are about a hundred ways it shouldn't be done. For example, in a YouTube video, makeup artist and beauty expert Wayne Goss advises people not to move in a zigzag motion, and also to avoid applying any pressure to the lashes when putting on mascara. Treat them delicately and with enough finesse, and you'll likely reap the benefits with long, lush, and practically false-looking lashes.
Here's what the wiggle and pull method does to lashes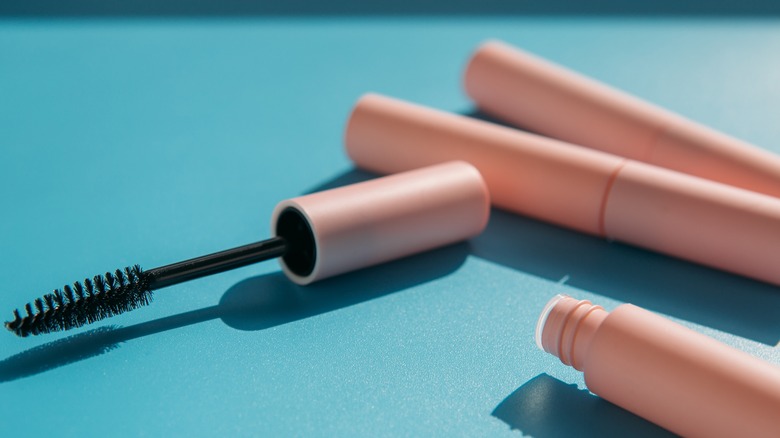 Alena Spasskaya/Shutterstock
The idea behind the wiggle-and-pull method of mascara application is to make lashes as long as possible without any unfortunate clumping. It'll also give the roots a nice, healthy boost. Who among us doesn't need or want that?
A couple of other steps will help to make this application hack turn out as pleasing as possible. For example, makeup artists routinely wipe the wand gently after removing it from the tube. This will keep the user from plastering way too much of the gooey stuff on, making lashes look too heavy and thick. Experts also advise against pumping the wand in and out of the tube. This only introduces air into the tub, which can prematurely dry out the mascara and also allow bacteria to get in.
Avoiding these mascara faux pas will make the wiggle and pull method work much better than it would otherwise. Fortunately, it's easy enough to master this application technique; it just takes some practice and a little bit of patience.