All About TikTok's Oval Lip Lining Hack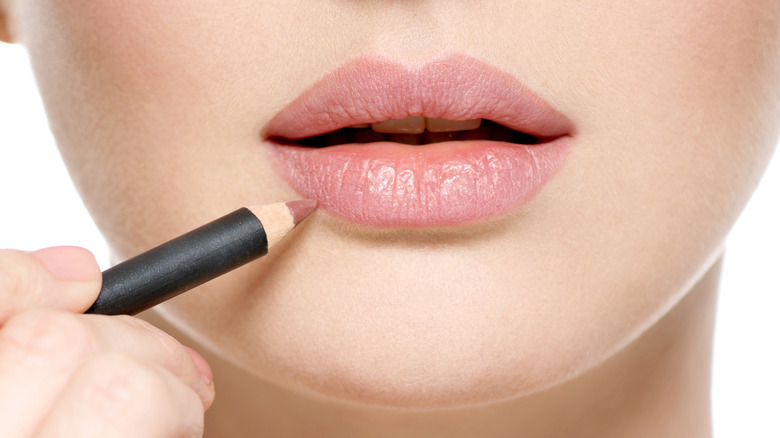 VALUA VITALY/Shutterstock
Thanks to social media, lip liner is having a moment in the 2020s. There are over 900,000 posts dedicated to #lipliner on Instagram, as makeup enthusiasts of all ages are using these products to define and enhance their lips. Many TikTok hacks have made social media users lip liner fans, such as the technique regarding overlining lips for a plumper look.
There's something so classy about precisely lined lips, so we're not too surprised that lip liner is back in style. And now, there are even ways to use lip liner to make it look like you have a lip filler in your lips for a dramatic, luxurious look (via TikTok), along with more specific techniques. One trend from the lip liner resurgence is the oval lip lining strategy. No, you don't need an oval face shape to rock this trend, and no, you don't need an oval-shaped stencil or anything like that. This glamorous-looking lip hack is simpler than you probably expect.
This strategy will make your lips look so full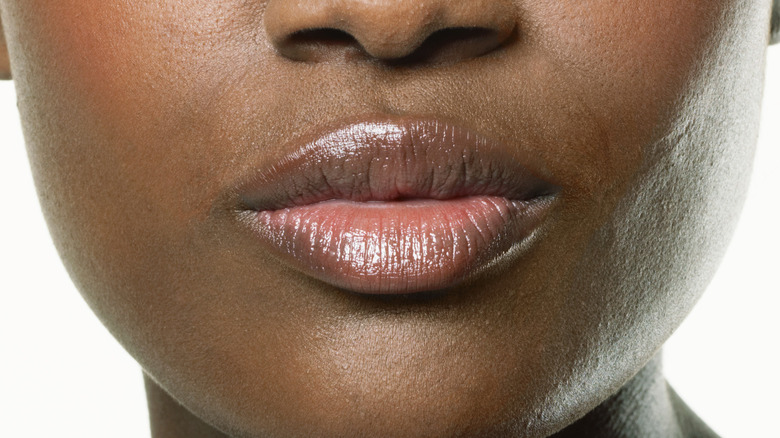 Marili Forastieri/Getty Images
The oval lip lining hack is all about enhancing your lips to make them appear fuller. A makeup artist named Eloise shared a TikTok explaining the steps for achieving this oval-inspired strategy. The first step is to mark the top center spot of your lips with lip liner between the two top points of your lips and do the same to the bottom point of the middle of your lips. Then, draw a circle to connect those two spots with your lip liner. Next, outline the rest of your lips with your liner, and fill it in with other lip products so that your lips give off an oval shape.
Moreover, another makeup-loving TikToker named Katia also shared a TikTok tutorial for this lip-lining strategy, explaining that your lips should be closed when you draw the connecting lines. The only overlined part of your lips should be the center when you use this strategy, making it a different technique from the overlining hack. Plus, adding lip gloss is perfect for this trend, as the idea is to create a sassy, sexy pout.
Some celebrities are already rocking oval lips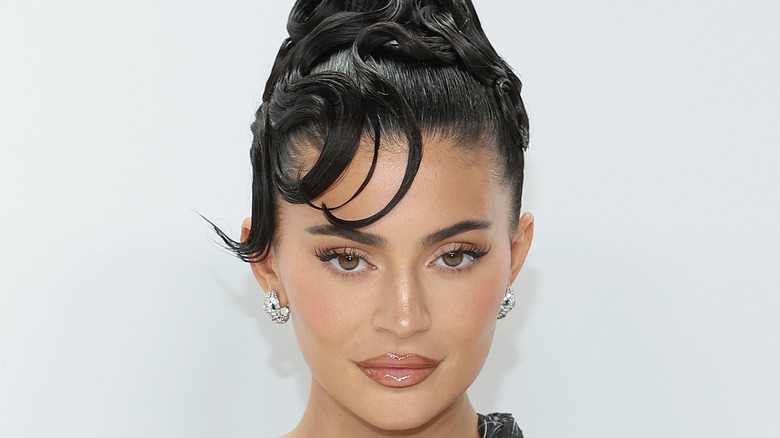 Dimitrios Kambouris/Getty Images
While oval lip lining seems relatively new and appeared to have been born on TikTok, we've noticed that some celebrities were already flaunting oval-shaped lips before there was a name for the look. For instance, Ariana Grande has posted pictures where her glossy lips appear to be oval-shaped, suggesting that she — or a makeup artist — likely used the oval lip lining strategy to create this cutesy look to complement the petite pop star's adorable image and doll-like features.
Furthermore, the supermodel Rosie Huntington-Whiteley often flaunts this pouty oval lip look on Instagram, drawing attention to her full lips. And another supermodel who uses this pouty lip look with a lot of gloss is Kendall Jenner, in addition to her sister, Kylie Jenner. While Kylie has received a lot of attention for lips and lip fillers, per BuzzFeed News, there's no denying she pulls off the oval lip look to perfection. And last but not least, the famously sexy Megan Fox has posted pictures of herself showing off an oval lip look. Therefore, TikTok is teaching makeup-loving viewers how to create oval-inspired lips like iconic celebrities.