The Glazed Donut Trend Has Come For Your Hair. Here's How To Get The Look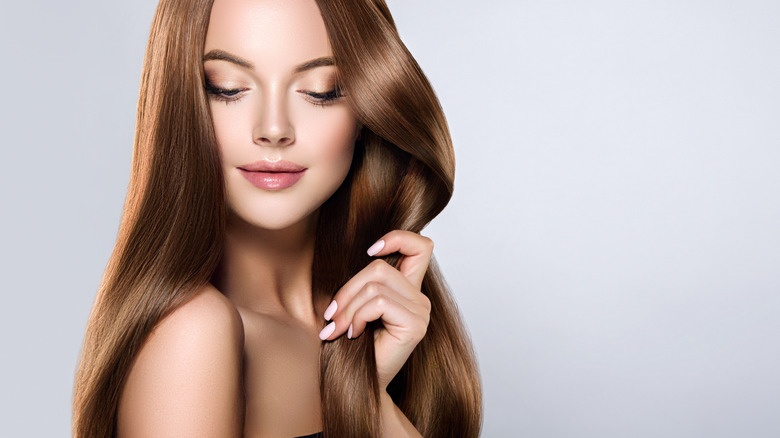 Sofia Zhuravets/Getty Images
If you're up to date on all the latest beauty trends, then looking like a delicious, sweet pastry might sound enticing. If the term "glazed donut" has taken over your local nail salon, with several Hailey Bieber-inspired beauty aficionados lining up to get the look, then you know exactly what we're talking about. Glazed donut nails had #BeautyTok users in a frenzy in 2022, with the hashtag #GlazedDonutNails racking up a whopping 164 million views. And if you thought it would stop there — surprise! It didn't.
Enter: glazed donut hair. Reminiscent of its gorgeous stepsister glazed donut nails, this hair trend involves the same shimmer and shine but for your tresses. Technically, this hair trend is nothing new, as hair salons typically call it a "French gloss," according to Mane Addicts. Still, the internet has a habit of giving affectionate names to basic beauty treatments, and glazed donut hair is no exception. Plus, the rich, juicy, and lustrous result is worthy of such a tasty title. If you want glossy hair that looks rejuvenated and shiny, then the glazed donut hair trend is the one for you. 
Glazed donut hair is a salon-provided service that you should check out ASAP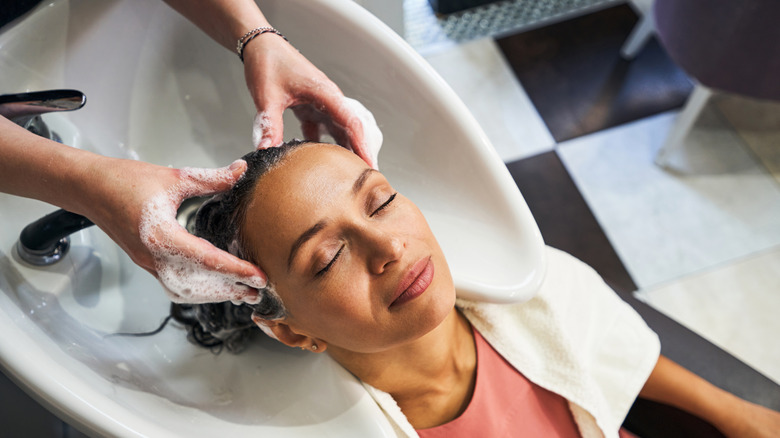 Yacobchuk/Getty Images
We have good news and bad news. The bad news is, although we love DIY beauty treatments, this isn't one of them. To achieve professional-quality glazed donut hair, you'll want to head to your salon, according to Hair.com by L'Oréal. The good news is, this treatment is really quick and easy! Your stylist will assess your hair to determine the best route since everybody has different hair history, health, and texture. Ask your stylist for a gloss or toner treatment for enhanced richness, and they'll know what to do!
Hair.com by L'Oréal posted a TikTok video showing how this look is achieved. "Glazed donut hair is all about shiny hair with dimension, warmth, and highlights through the lengths and ends," the text on the video reads. Stylist Alfredo Lewis then shampoos the model's hair, applying a "base break" to lift the hair and add shine, since she had some significant grow-out since her last treatment. Your stylist may also apply a wet balayage to add dimension and brightness to the hair. Then, a gloss is used for extra oomph.
If you want to achieve glossier hair at home without a trip to the salon, beauty and household company Adonis Manufacturing recommends incorporating nourishing haircare products like oils and serums into your regimen. Using a weekly hair mask may also be helpful, along with leave-in conditioners and a bi-weekly (or as-needed) at-home glaze treatment.
How to upkeep your glazed donut hair at home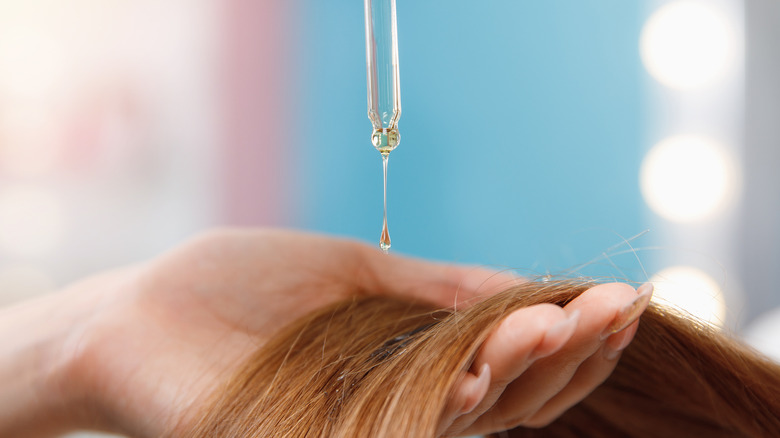 Parilov/Shutterstock
Heading home from the salon is always a thrilling experience, full of mirror glances and hair flips. But after a few days, once it's time to wash your locks, a wave of panic may rush over you. Can you achieve the same salon-quality style and shine at home? Absolutely!
To upkeep your glazed donut hair at home, ensure you use nourishing hair products, including masks and oils (via Mane Addicts). You can also spray a bit of shine spray on your strands after styling for added gloss. Make sure you aren't overloading the products, though, or a buildup can ensue.
You may want to schedule your next gloss appointment for six weeks out, as that's the maximum time they typically last, according to Healthline. If you are applying an at-home glaze treatment, that will need to be reapplied every few weeks or so. And ensure you use heat-protectant products when using hot tools to protect your strands! Shiny hair is healthy hair, so take great care of your tresses to maintain that delicious glazed donut gloss.