Here's How Often You Should Be Cutting Damaged Hair To Keep It Healthy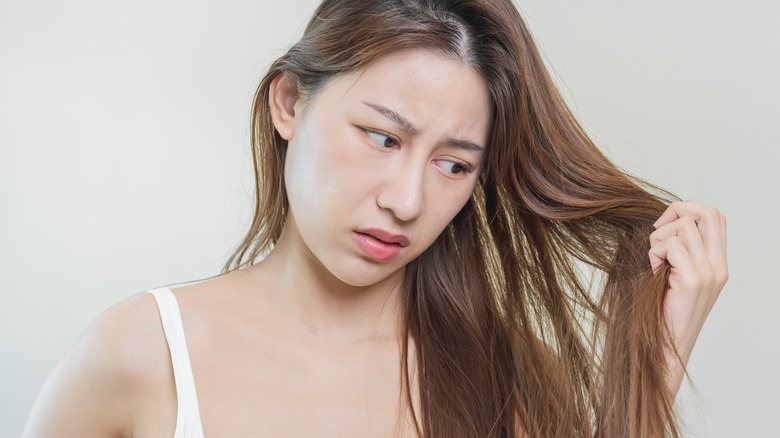 Kmpzzz/Shutterstock
Knowing when to cut your hair can be difficult, especially if you're trying to grow it out. Sometimes, we avoid the salon just because we want our hair to look longer. However, this may be causing you to hold onto locks with lots of damage. According to Paul Norton, founder of a hair salon in West Hollywood, there are a couple of things you should consider when trying to decide if you need a haircut. "Two key factors when wondering [if it's] time for a cut are as basic as this: 1) Can you no longer achieve the styles you desire? And 2) are the ends of your hair visibly damaged?" Norton told Byrdie.
There are a few reasons why your strands may appear unhealthy. Perhaps you've bleached your mane or gotten a chemical treatment — both of which could dry it out — or maybe you frequently use heated styling products. No matter what the case is, you may be wondering how often you should cut your damaged hair. Here is what you need to know.
How often you should get a cut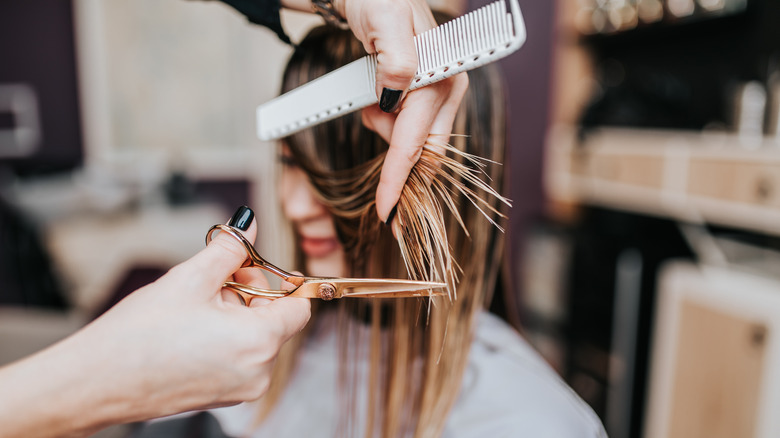 hedgehog94/Shutterstock
"If your hair is more prone to split ends or you have a lot of chemical treatments done, trimming every eight weeks will help keep your hair healthy," celebrity hairstylist Creighton Bowman told Byrdie. While this may seem pretty frequent, getting your hair cut once every two months (or six times a year) will make it appear much healthier. This is because most of the damage on our strands appears at the bottom. Since our hair grows from the scalp, the top of our head has the newest, most healthy hair. The bottom has the oldest hair and has therefore endured the most damage. Removing these brittle tips will make a huge difference in the overall appearance of your hair. 
If you don't want to get a haircut this often, try to avoid waiting longer than six months. If you wait longer than half the year, the damage will be much more noticeable. 
Other ways to maintain your hair's health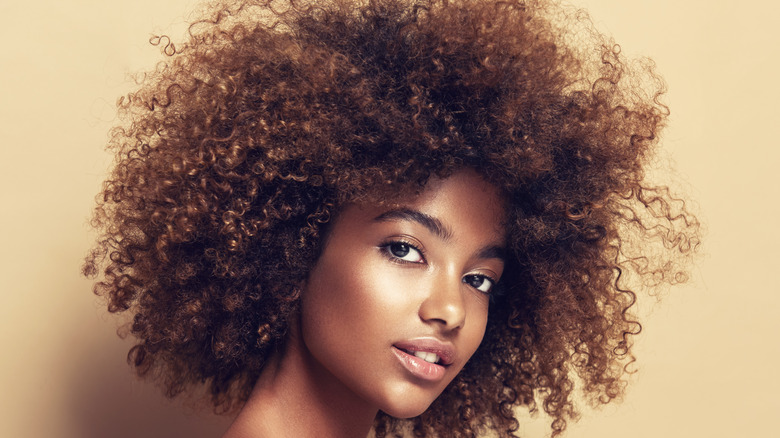 Sofia Zhuravetc/Shutterstock
If you really want to have the healthiest head of hair possible, you'll need to do more than just get regular trims. One of the best ways to maintain your hair's health is to keep it natural. This means that, if you often use a blow dryer, flat iron, or curling wand, it may be time to take a break for a while, or at least use these devices less frequently. Those who are truly prioritizing their hair's health will also leave it their natural color, as bleach and dyes can dry out and damage your locks. 
Hair treatments and leave-in conditioners can also make a massive difference. While they can't completely reverse split ends, they can make your strands appear more moisturized and shiny. For instance, you could test out Olaplex's Hair Perfector, which works to strengthen and repair damage. Before using a heated tool, it's also important to make sure you coat your strands with a heat protectant. This can prevent damage as well and keep your hair healthy.