Smokey Siren Eyes Give You The Best Of Both Worlds. Here's How To Pull Them Off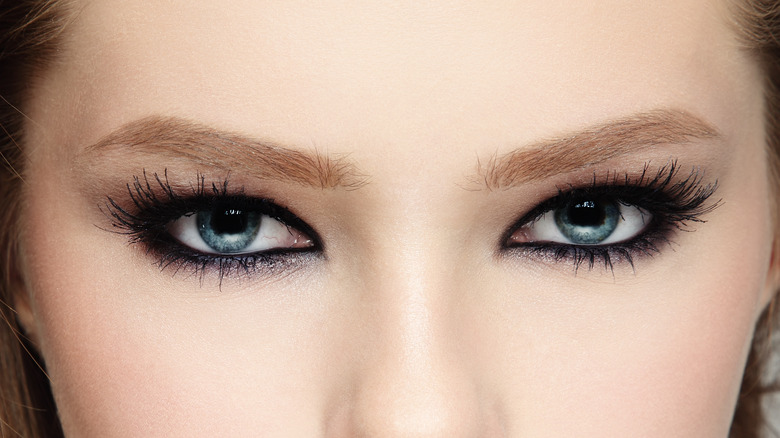 Maples Images/Shutterstock
Classic but edgy, simple but statement-making, and bold but effortless, the smokey siren eye is one of the greatest recent trends in makeup. Individually, the smokey eye and siren eye have been around for some time now. In fact, the smokey eye trend can be traced back to the 1920s, when actresses inspired by ancient Egyptians used the look to help their eyes really "pop" on film (via The Vintage Woman). The siren eye, on the other hand, is a relatively new makeup trend that became popularized on TikTok. Celebrity makeup artist Ash K. Holm explains the appeal of the trend, saying, "The siren eye trend is basically an elevated rebranded version of the cat-eye. It's subtle yet sultry in a concentrated area of the outer corner crease and eyelid" (via InStyle).
The modern "smokey siren" combines the soft edges of a smokey eye with the endlessly flattering effect of a siren eye to create a bold new masterpiece. The smokey siren eye gives a kind of lived-in party-girl vibe, as though you accidentally slept in your makeup the night before. At the same time, it doesn't deviate too far from the norm, sticking to classic shapes and eyeshadow shades like black, brown, and gray. If you're ready to remix your traditional eye look, here's how you can slay the smokey siren. 
Creating the smokey siren eye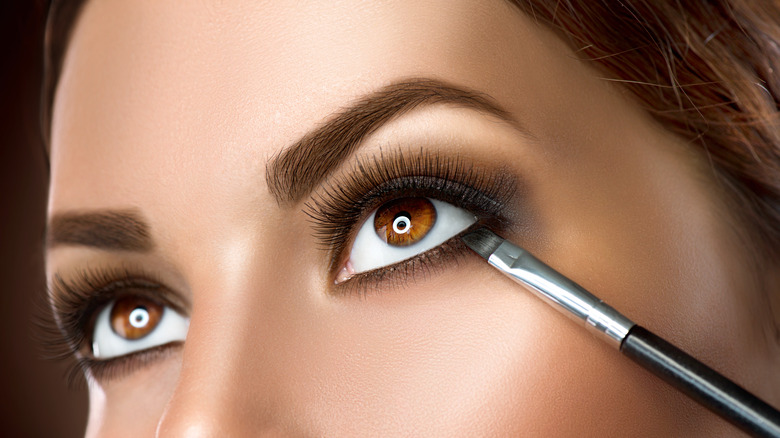 Subbotina Anna/Shutterstock
Start by applying a good eye primer and a light neutral eyeshadow across the lid. Next, tightline your upper and lower waterline with a dark eye pencil. In fact, Ash K. Holm says, "You can elongate the inner corner of your eyes by taking an angled brush with black eyeshadow and drag it downward to create an inner point" (via InStyle). Dip a small angled brush into a matte grey or brown eyeshadow, then smudge it along your upper and lower lash line. Follow up with a matte black, being careful not to drag it too far down the lid. Use the black eyeshadow to create a soft wing on the upper lash line, essentially treating the eyeshadow like eyeliner. 
 A traditional smokey eye blends into the browbone, but for this look, you'll want to keep your shadow focused around the rim of your eye. The goal is to elongate your eyes by following your natural eye shape outward. Once you've carved out your siren eyes, you can continue smudging the lower lid up into the wing. Follow up with a gel or pencil liner on the upper lid if you'd like, but stay close to the lash line; you don't want a bold wing to overpower this blended look. According to Maybelline, the trick to snatched siren eyes is not putting liner above your pupil; the wing should come straight out from the highest point of your eye's arch. Finish with mascara, and you're done! 
Styling your moody makeup look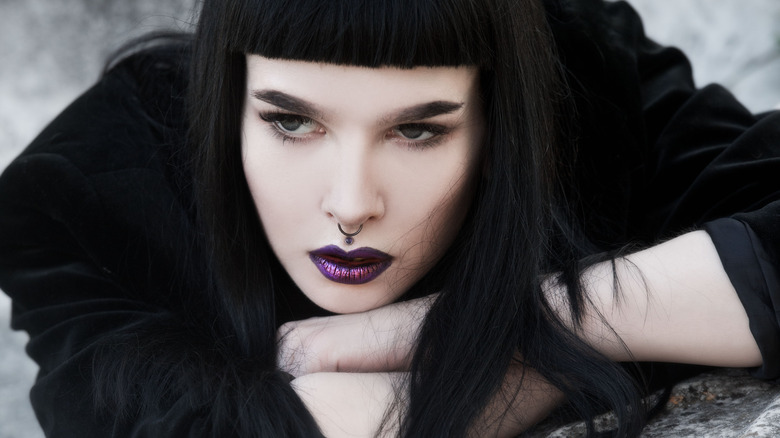 freya-photographer/Shutterstock
One of the beautiful things about the smokey siren eye is that it's endlessly versatile. For a clean daytime look, opt for a smokey siren eye with light eyeshadow like brown or grey instead of black. Keeping your eye makeup light and fresh will create the illusion of a naturally elongated eye shape. To make the trend more office-appropriate, compliment the light smokey siren with your favorite nude lip and a fresh, dewy face. For a timeless and classy look, the light smokey siren eye also looks incredible with a red lip, such as the NARS Velvet Matte Lip Pencil in Cruella. 
When it's time to dial it up for the night, the smokey siren eye is easy to adapt with smudgy black eyeshadow. But what should you pair with your smokey siren eye for an evening look? We generally tend to steer clear of dark lips when wearing dark eyes, but makeup guru Elsa Morgan tells The Carousel, "Especially in winter, I think we can get away with a little more makeup and an intense eye plus lip can look glamorous and sexy for a night out." For an unforgettable face, pair your smokey siren eyes with a burgundy or plum lip and metallic gloss. Keep the focus on your eyes with minimal blush, sharp brows, and tidy hair. This is the perfect makeup to play up an edgy outfit!