Your First Look At The Sephora Beauty Insider Birthday Gifts For 2023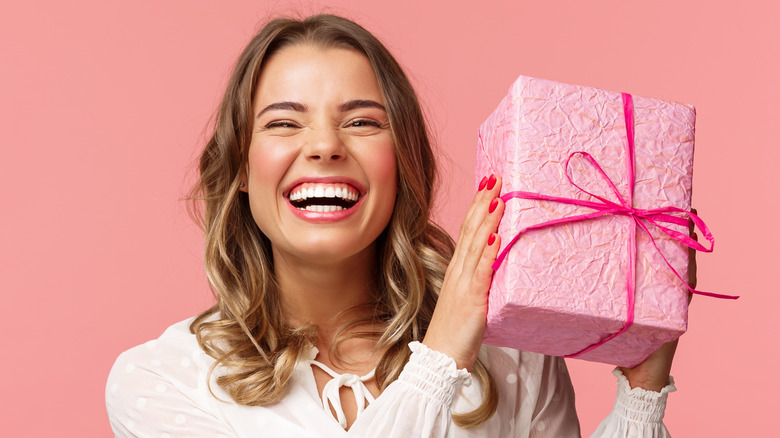 Mix and Match Studio/Shutterstock
We may receive a commission on purchases made from links.
If you frequently shop at Sephora, you're probably already familiar with the store's Beauty Insider rewards program. Now that it's 2023, Sephora has announced its birthday gifts for its Beauty Insiders, one of the many perks that come along with being a member of the program.
According to a press release published on Sephora Newsroom, Emeline Berlind, the vice president and general manager of loyalty at Sephora, explained of this year's birthday gifts, "Our Beauty Insider birthday gifts have always been a long-awaited treat for Sephora's clients, as they look forward to celebrating a small slice of their birthday months with us," adding that there's more for Beauty Insiders to look forward to than ever before. "We're especially excited to unveil this year's assortment of gift offerings, and provide even more options to choose from. For the first time ever, we will offer a fragrance core gift, available for all Beauty Insider members to redeem online and in store. We strive to ensure that our clients continue to feel energized about our ever-expanding birthday gift offerings!"
Beauty Insiders should note, though, that these gift offerings are available only in the United States and Canada. They are also available in Sephora locations inside Kohl's storefronts.
Sephora's 2023 Beauty Insider gifts unveiled
Sephora unveiled its Beauty Insider birthday gifts for 2023 on its official Instagram account, teasing, "Wait, don't look! We're still wrapping your new birthday gifts for this year." However, a list of the products from the Sephora Newsroom press release identifies these gifts. They are the Dior Fragrance Birthday Gift Set, which contains both Miss Dior EDP and Sauvage EDP; the Glow Recipe Watermelon Glow Clean + Planet Positive Skincare Birthday Gift Set, which contains both Watermelon Glow Niacinamide Dew Drops and Watermelon Glow Pore Tight Toner; the ILIA Makeup Birthday Gift Set, which contains both Limitless Lash Mascara in shade After Midnight (Black) and Multi-Stick in shade At Last (Mauve Rose); and the OUAI "The OUAI of Life" Birthday Gift Set, which contains Detox Shampoo, Leave in Travel Conditioner, St. Barts Body Cleanser, and Melrose Place EDP.
Exclusive to Sephora at Kohl's and Kohls.com is the Maison Margiela set, which includes three different scents. These are Beach Walk, By the Fireplace, and Jazz Club. The first online rotating gift, which is exclusive to Sephora.com, is the Farmacy Clean Skincare Birthday Gift Set, containing Green Clean Makeup Removing Cleansing Balm, Honey Halo Ultra-Hydrating Ceramide Moisturizer, and Honey Potion Plus Ceramide Hydration Mask.
How to get your birthday gift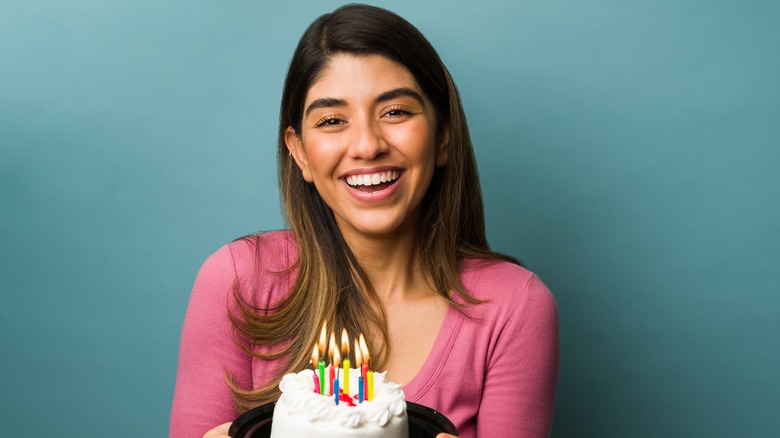 antoniodiaz/Shutterstock
As described in the Sephora Newsroom press release, you have to be a Beauty Insider with Sephora to be eligible to receive your birthday gift during your birthday month. You can sign up for the program on Sephora.com, provided that you meet the eligibility requirements, which are listed on a separate page. (For one, the terms and conditions on the Sephora website include that you must be at least 16 years old and a legal resident of the United States or Canada to sign up.)
Sephora's Beauty Insider program is free to join, but the webpage listing the Beauty Insider terms and conditions provides more information about the different tiers in the program and the requirements that must be met to reach each tier. The Beauty Insider birthday gift is, however, free to redeem once per calendar year, and the additional fine print concerning this gift offer is available from Sephora online.