Inside The Complicated Drama Surrounding Mielle Hair Oil On Social Media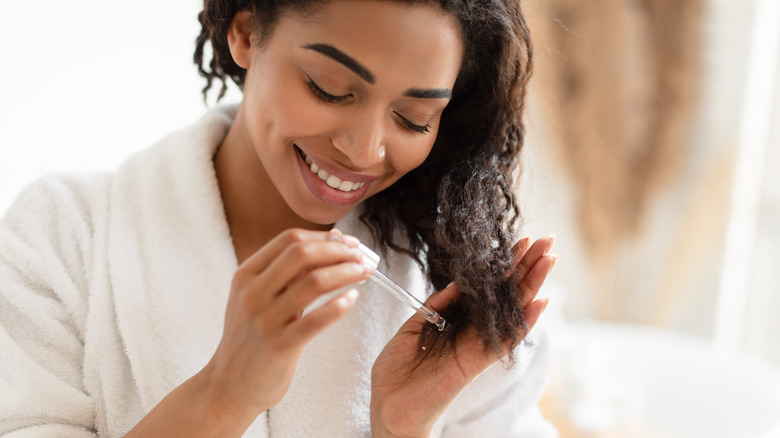 Prostock-studio/Shutterstock
Drama is no stranger to the beauty world. From scandals involving the private lives of some of our favorite beauty gurus to products being created in unsanitary conditions, we've seen it all. Most of the time, the drama starts from inside the house when it comes to the beauty world, but this time, a new scandal has brought about a war between consumers. What determines who should use a hair product?
In a video posted to TikTok on December 27, influencer Alix Earle shared her top favorite Amazon purchases for 2022. She included items like perfume, a camera, and hairspray, but one thing stood out to many of her followers: one specific hair oil. The Mielle Organics Rosemary Mint Hair Oil included in her round-up has a very passionate fan base who spoke out about the creator including the product in her video, with top comments reading, "If y'all sell out the Mielle Hair Oil I will riot," and, "Now Mielle is gonna be outta stock/expensive." Products go viral on social media all the time, so what makes the Mielle Rosemary Mint Hair Oil being the newest trendy product controversial?
Why the controversy?
A supposed miracle product going viral is nothing new, so what makes the Mielle Hair Oil controversial? Mielle was founded for Black women, as there have historically been limited products on the market that contribute specifically to their haircare needs. In fact, Mielle's website states that its products are intended to be used on protective hairstyles, such as braids and weaves, while adding that the products are suitable for all hair types. The creator of the TikTok video that caused the hair oil to go viral came under fire because she's a white woman, and the product's virality could cause it to go out of stock or experience a price or formula change, leaving the Black women that use the product without their lifesaving hair oil.
Many Black women came to Alix Earle's video and pointed out that white women have many more options for hair care than Black women. Thankfully, Mielle has managed to keep the product in stock while expanding its business, which has many arguing that this is great for the Black-owned small business, while others are still fearful their favorite product will change. To mitigate the feat sparked by the viral TikTok, the company's founder, Monique Rodriguez, commented to The Cut that "as a woman of color, founder and creator of Mielle, I promise that we have no plans to change the formula of the Rosemary Mint Scalp and Hair Strengthening Oil. We pride ourselves on being a brand that solves problems for the needs of our consumers."
What is Mielle Hair Oil?
Mielle is a haircare company specifically created to fill the gap in the market for women with textured hair. Mielle's collection features everything from vitamins to shampoo and heat protectant, but the Mielle Hair Oil is arguably one of the company's most popular products. "From nourishing hair follicles, smoothing split ends, and help with dry scalp, this hair oil uses natural, organic ingredients and essential oils to provide the care your hair deserves," Mielle says of its hair oil.
With proven ingredients such as biotin, rosemary, and mint, it's no surprise that consumers of all hair types have seen the benefits of this product. When reviewing the product in her TikTok video, Alix Earle says that she saw "tremendous hair growth." This isn't that shocking. Biotin stimulates keratin production and can increase the rate of follicle growth. This has caused a frenzy among women of all backgrounds to rush out and buy the Mielle Hair Oil,