What Is Orangetheory's Transformation Challenge, And Should You Participate?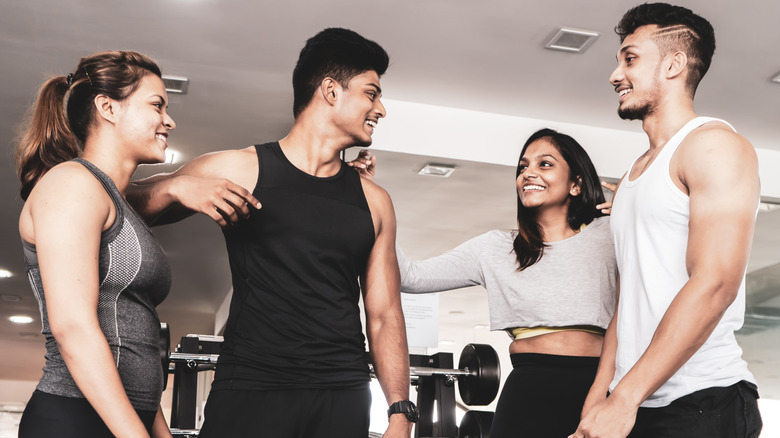 martvisionlk/Shutterstock
Every January, millions of people make New Year's resolutions to transform some aspect of their lives. Some take up a new hobby or set a goal to read more books. Others resolve to make smarter financial decisions or to quit smoking. Statista claims the top aspirations for 2023 involve being healthier by exercising more, eating more nutritious foods, and losing excess fat. No surprise there.
Orangetheory Fitness knows these resolutions all too well, which is why it created the annual Transformation Challenge. This boutique fitness studio franchise has been challenging people to transform their bodies with its 60-minute total body group workout classes since 2010 (via Forbes), but this challenge is different.
It involves more than just increasing your speed or incline when running on the treadmill, increasing your watts on the rower, and lifting heavier on the strength floor. The Transformation Challenge takes all of that and mixes it in with tangible incentives within a specific amount of time to motivate you to achieve your fitness goals and have fun doing it.
Losing weight could mean gaining a lot of cash
In the simplest terms, Orangetheory Fitness' Transformation Challenge is an eight-week physical challenge, as Orangetheory Fitness explains. It's designed to help you start the new year off strong and motivate you to achieve your health-related resolutions. At the end of the challenge, the three men and three women who lose the most fat or body fat percentage at each studio are rewarded for their efforts.
Prizes for the "biggest losers" vary by studio. A Reddit thread from the 2022 Transformation Challenge revealed that some studios awarded $250 for first place while others gave a hefty $1,000 prize. One member commented that their studio waived the membership fee for six months to the top two winners. To join, you have to be a member and register in person, over the phone, online, or via the app. The registration fee this year is $35, as members confirmed in another Reddit thread.
At the start of the challenge, you're required to do your first weigh-in at the studio in front of a staff member. Some studios also use an InBody scanner, which also calculates fat and muscle percentages. You must then attend an Orangetheory class at least three times a week for six of the eight weeks of the challenge. At the end of the challenge, you're required to do a final weigh-in or InBody scan.
Should you participate?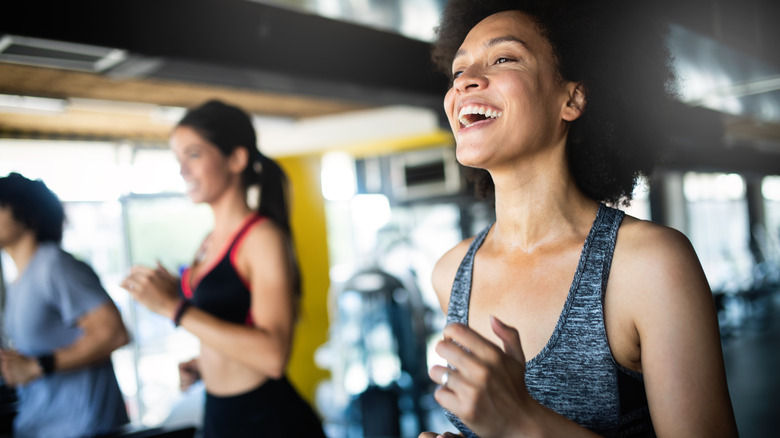 Nd3000/Getty Images
If you want to get fit in a motivating, positive environment with the chance to win some serious cash, then yes, you should definitely participate. Jeanne Croteau, a mother of six, shared her success story with Forbes. She won the grand prize of $500 at her studio in 2018 after losing 28.2 pounds. She said the challenge was, well, challenging, and that what fueled her success was prioritizing her health and well-being. Rachelle Reed, Orangetheory's director of fitness, echoed Croteau's remarks about focusing on yourself. She told Orangetheory Fitness that the challenge is "a chance to do something for yourself to re-engage with your Orangetheory community to slowly establish really good health behaviors."
One of Orangetheory's biggest winners was Phil Matz, who lost 51 pounds in 2022 — 25% of his body weight — at his South Chandler studio (via Facebook). He was also the overall winner in the Chandler, Arizona, region among participating studios. The prize? A whopping $10,000. He told SanTan Sun News that the challenge helped him cut back on alcohol and eating at restaurants, and motivated him to increase his time with exercise.
The eight-week challenge this year begins on January 16 for most studios, according to Reddit users. If you're not an Orangetheory member, but you're interested in accepting the challenge, you're in luck. The Orangetheory Fitness website claims studios are waiving the Transformation Challenge registration fee if you purchase the Premier Membership package by January 30, 2023. Check with your home studio for details.