Ginseng May Be The Missing Ingredient In Your Winter Skincare Routine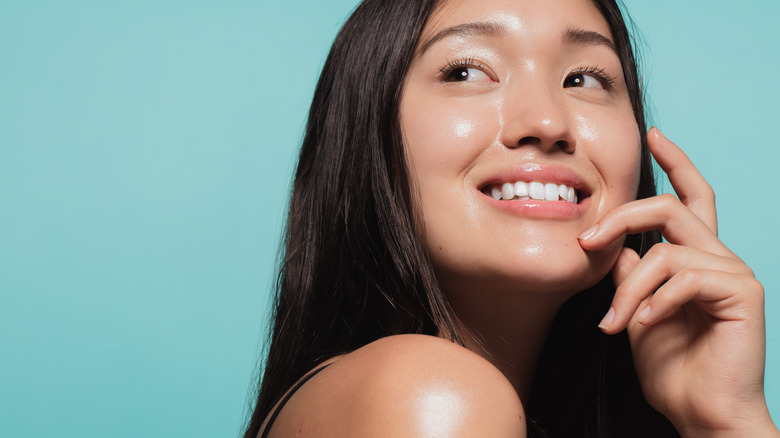 Jacoblund/Getty Images
Discovered over 5,000 years ago in the mountains of Manchuria, China, ginseng was among the most sought-after herbs in ancient China, Korea, and Japan, a 2022 study in the Journal of Ginseng Research points out. Today, ginseng is still considered the epitome of tonic herbs and a must-have in many people's preventative care routines. The two major components found in ginseng are ginsenosides and gintonin, which work together to reduce body inflammation and speed up the healing process. Packed with antioxidant and anti-inflammatory properties, ginseng can help improve a wide array of health conditions.
Advertisement
Aside from boosting the immune system, ginseng can ramp up brain function, lower blood sugar, and diminish symptoms of erectile dysfunction. To illustrate, one study polling 6,422 senior citizens published in the journal Alzheimer's Research & Therapy discovered that regular ingestion of ginseng for a minimum of five years was associated with improved cognitive performance later in life. Numerous studies also indicate that this slow-growing plant with thick roots may have significant benefits for skin health, nourishing the skin from the inside out and keeping one's complexion naturally youthful-looking. Now, let's get into the reasons why you might want to start incorporating ginseng into your daily skincare routine.
Advertisement
Ginseng can slow down premature skin aging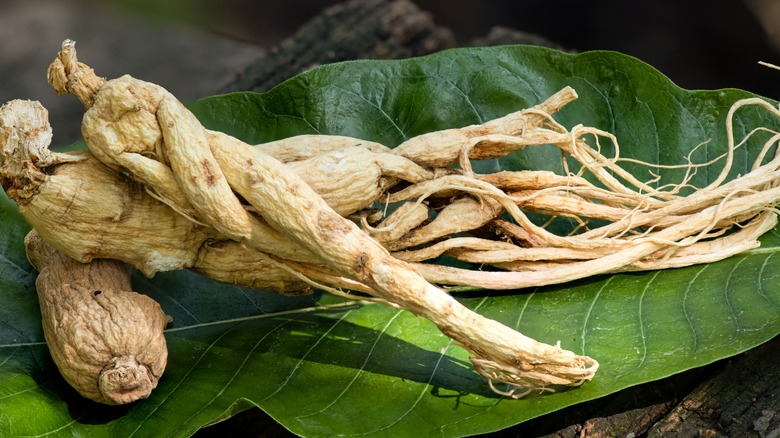 wasanajai/Shutterstock
According to dermatologist Dr. Zion Ko, ginseng can improve a host of skin concerns on a deep level. The herb can promote skin elasticity and enhance skin radiance and texture, giving the skin barrier a chance to be rebuilt, rejuvenated, and regenerated, Dr. Ko tells Insider. There are various types of ginseng, but Panax ginseng, or Korean red ginseng, is widely acknowledged as the gold standard in K-beauty skincare and the star ingredient in many beauty products. Loaded with anti-aging elements, Panax ginseng has been proven to be effective in boosting the production of collagen, repairing the damaged skin barrier, facilitating wound healing, and giving the skin an extra burst of moisture and elasticity. Aside from preventing wrinkling, ginseng can also alleviate atopic dermatitis and allergy symptoms.
Advertisement
According to a 2017 study published in the Journal of Ginseng Research, 21 Korean participants aged 30 to 65 with crow's feet wrinkles reported an increase in skin moisture and inhibition of wrinkle formation after using products containing Panax ginseng and Crataegus pinnatifida, or Chinese hawberry. As cosmetic chemist Ginger King pointed out to Allure, ginseng can aid in enhancing the circulation of the smallest blood vessels in the skin, boosting the production of collagen and reducing the appearance of fine lines and wrinkles while also firming up the skin. The antioxidant properties in ginseng also offer an extra layer of protection by curtailing and counteracting the impact of free radicals and other environmental aggressors on the skin. This is especially important during winter when our skin is drier.
Advertisement
Ginseng can also relieve acne symptoms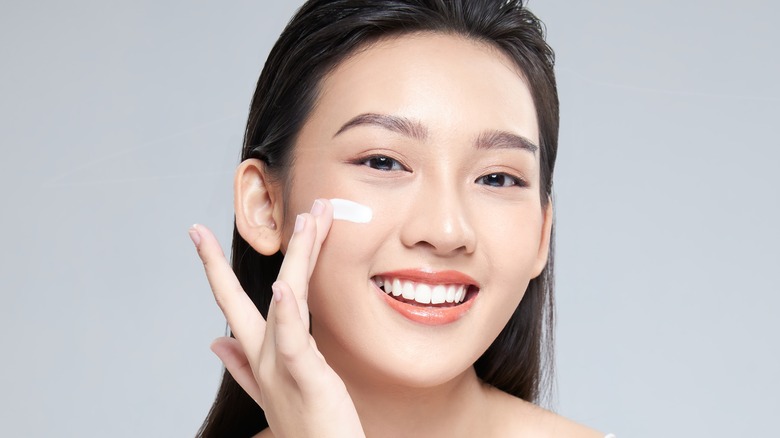 Minh Mi Goi/Shutterstock
In addition to tackling symptoms of aging, ginseng can be helpful for those with acne-prone skin thanks to its high antimicrobial effect on P. acnes — a gram-positive commensal bacterium responsible for causing acne on the skin. Although more experiments need to be done to decide whether ginseng can actually improve acne, Annet King, the director of global training and development for Dermalogica and the International Dermal Institute, tells Refinery29 that new research is full of promises. "In addition to anti-aging benefits, recent research points to ginseng reducing over-active oil glands," Dr. King explains.
Advertisement
In a 2019 study published in the journal Phytotherapy Research, 20 people with mild to moderate acne symptoms reported a considerable reduction in the oxidized sebum contents and skin redness after applying creams containing three milligrams of red ginseng ethanol extract for four weeks. The study concludes that the use of red ginseng extract containing panaxynol and panaxydol can effectively manage acne symptoms. Since ginseng is quite gentle on the skin and suitable for all skin types, it can stand those with sensitive or dry skin in good stead during winter months when the skin is easily dried out due to cold and dry weather. 
Generally speaking, ginseng can be used both topically and orally to benefit your skin. However, it's best to speak with your dermatologist first to determine which ginseng-containing product is ideal for you before purchasing or using any such item, but this ingredient may be just what you need this winter, so don't hesitate to reach out to your dermatologist if you think it could be handy.
Advertisement