Aesthetician Versus Esthetician: What's The Difference?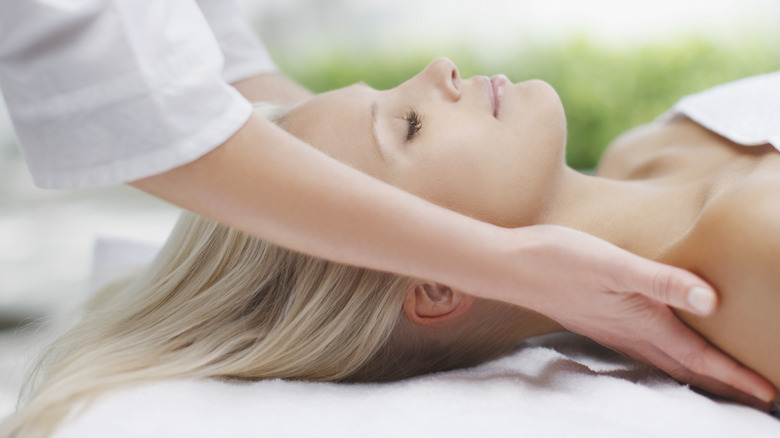 Tom Merton/Getty Images
The skincare market is one of the most lucrative ones in the world, thanks to global consumers' consistent interest in skin health and the continuous introduction of cutting-edge skincare technology. The worldwide skincare industry is anticipated to reach $145.8 billion in value by 2028 with a 5% compound annual growth rate, according to a Fortune Business Insights forecast. Meanwhile, a report from the U.S. Bureau of Labor Statistics points out that the number of job vacancies for skincare professionals will increase by 29% between 2020 and 2030, generating about 19,800 new job opportunities.
For skincare enthusiasts who love to assist people on their hunt for the fountain of youth, a career in skincare is something to think about. However, once you've started researching high-paying jobs in the cosmetology fields, you'll find it much more complex than what it looks on the outside. Turns out, dermatologists and plastic surgeons are not the only professionals working on the skin. Aestheticians and estheticians are also experts in the skin science and are trained to attend to a host of skin problems. The interesting thing about these two roles is that they often get mixed up due to their similar spelling, and many people think that they are the same. Well, they are different — in both job titles and duties. If you're looking for a career in skincare, or you're a consumer seeking someone to help you with your skincare needs, you might as well learn the difference between these two types of professionals.
An aesthetician typically works in a clinical setting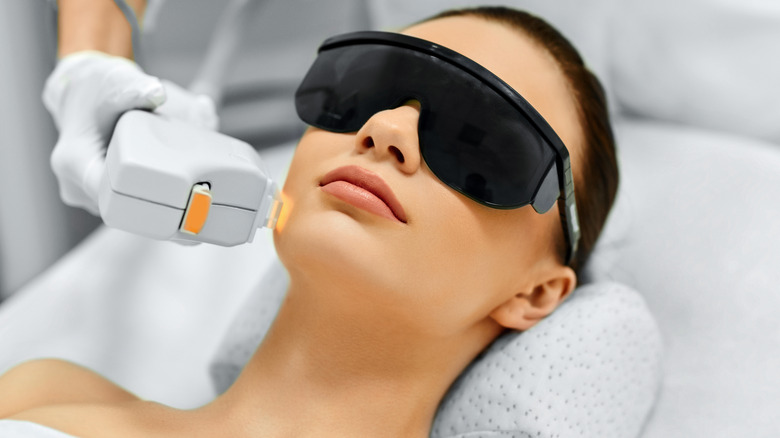 Puhhha/Getty Images
According to employment website Indeed, an aesthetician typically works in a clinical setting and treats patients with facial skin damage from chemotherapy, burns, surgery, or other health issues. In particular, some procedures that are included in an aesthetician's job responsibilities are acne treatment, skin rejuvenation, skin resurfacing, microlaser peels, unwanted hair removal, and skin tightening therapies. Hospitals, burn centers, dermatology clinics, medical spas, and health centers are some typical working environments for aestheticians. To practice as an aesthetician, one must obtain a cosmetology degree, get a license from the cosmetology board in the state where one works in, and take further studies if necessary. Working as an aesthetician entails a variety of skills, including attention to detail, time management, and client service.
Dermatologists and aestheticians usually work in the same place, but their training and job responsibilities are different. According to dermatologist Dr. Peggy Fuller (via Everyday Health), most dermatologists have to go through 12 to 14 years or more of advanced education and medical training before they can become practicing experts in hair, skin, and nails. Meanwhile, aesthetician training varies from state to state and usually requires a one- or two-year training course with a focus on skincare, facials, and non-invasive procedures, Dr. Fuller explains. In a dermatologist's office, aestheticians usually work under the supervision of dermatologists. They only deal with non-invasive procedures, such as administering Botox, fillers, laser treatments. 
Duties of estheticians are largely focused on cosmetic procedures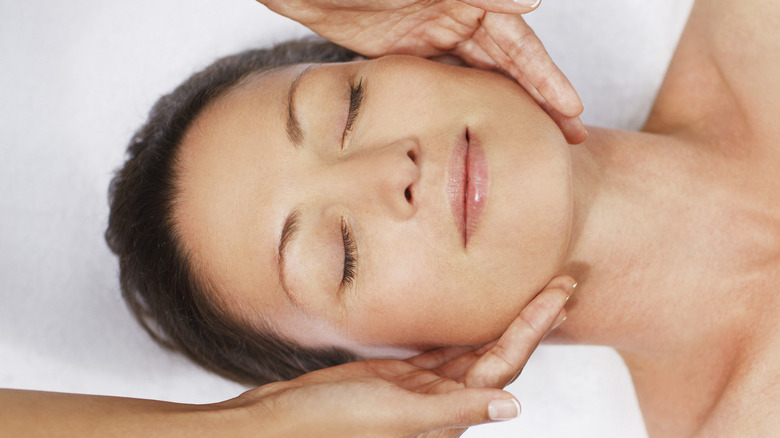 Tom Merton/Getty Images
If an aesthetician's job responsibilities are typically medically inclined, an esthetician's job responsibilities are more cosmetic-focused. Workable defines an esthetician as a skincare professional — a facialist in a sense — who provides treatments designed to enhance the skin's external appearance, such as assessing customers' skin conditions, recommending treatments, and administering cosmetic treatments such as facials, exfoliation, and hair removal. Well-trained estheticians can also help customers formulate skincare routines that are best suited to their needs, and help patients maintain progress with their beauty goals, FACE Medical Supply points out.
Compared to an aesthetician, an esthetician deals primarily with minor skin issues, including acne, sun damage, age spots, and predominantly dry or oily skin. Like aestheticians, estheticians are not trained to diagnose specific skin conditions, prescribe medications, or perform treatments requiring ultra-advanced equipment. Estheticians, though, typically work in cosmetic spas, salons, and fitness centers as opposed to medical settings.
To become an esthetician, one must have a high school diploma or GED certificate before proceeding to complete a state-approved cosmetology program at a cosmetology school. After earning one's associate degree in cosmetology and completing about a year of apprentice training, one can apply for a license from a state's cosmetology board. Proper training aside, to become a competent esthetician, one must have outstanding customer service skills, as well as the ability to transmit empathy and a pleasant spirit to customers.