What To Know About The Lip Wings Makeup Technique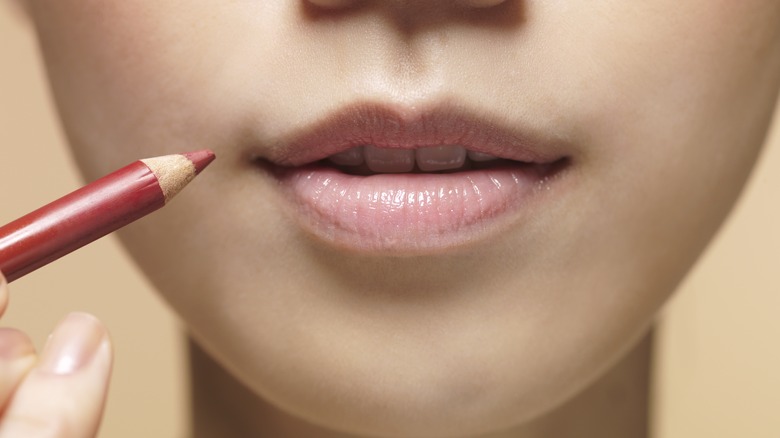 Image Source/Getty Images
At the start of the pandemic, eyes held the spotlight. While our faces were half-covered by masks, graphic eyeliner, glossy looks, and shimmery shadows became our main means of self-expression. It seems like it's been a while since our lips were the focus of a new makeup trend, but as many people have started masking less and going out more, the focus is shifting back to our smiles. 
Along with the return of bold lip colors and glosses, Cat Quinn, the executive director of global trends at MAC, predicts via Who What Wear, "You'll also see the return of lip liner in a major way." She continues, "consumers are realizing there is a world of possibility with lip liner — from contouring to inner-lip lining to filling in the whole lip to creating crisp edges or 'bow lips' to pairing two liners for a two-toned or ombré lip." So far, Quinn's predictions seem to be ringing true. If there's one bold lip liner trend that's taking the makeup world by storm, it's lip wings. Are you ready to mix up your lip routine? Here's everything you need to know about the trend and how you can pull it off.
What is a winged lip?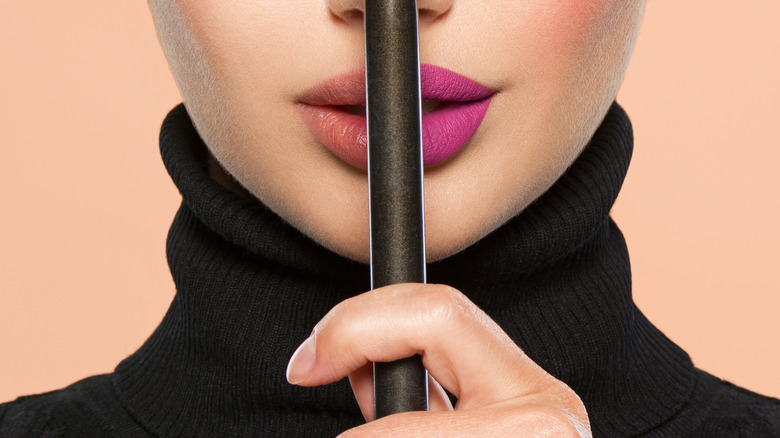 VALUA VITALY/Shutterstock
In recent years, we've seen an uptick in the number of lip plumping and shaping procedures like lip flips, lip fillers, and even permanent lip blush. According to Newsweek, the hashtag #lipflip has garnered more than 162 million TikTok views, and those numbers are still going up. Lip wings are a much safer, cheaper, and less permanent way to get the look without going under the knife or needle. Lips wings are essentially what they sound like: a bold lip that features a "winged" lip liner at the corners of the mouth.
Overlined lips are nothing new, but lip wings are here to push the envelope of traditional makeup, inspired by the ever-glamourous Bratz dolls of the early 2000s. Like many other recent makeup trends, this trend really came to life on TikTok, where users have posted numerous tutorials on how to achieve the doll-like look. For the last decade or so, lip makeup has mostly focused on creating a plump and round pout, so the winged lip look is a totally fresh take. The possibilities are endless and totally customizable with this trend; a subtle lip wing can imitate a natural smile, but we've also seen people push the trend to an almost Joker-like extreme!
How to get the look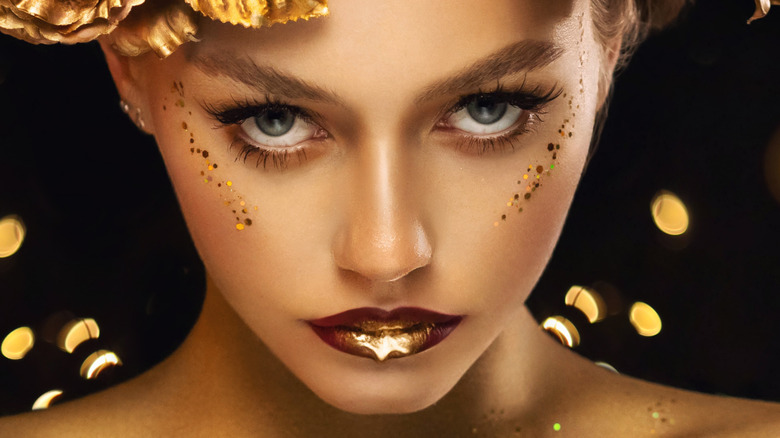 Ironika/Shutterstock
Another great thing about the winged lip trend is that it's easily achievable. To create these dolly lips, you'll just need your favorite lip color and a dark lip liner or mouth-safe eyeliner. There are a few methods you can follow to get impactful lip wings. TikTok creator Wah Meko does her lips in a more natural way; starting with a soft brown pencil, Weko lines both of her lips and her cupid's bow. When she reaches the corners of her mouth, Weko gives a slick flick, extending the edge of her upper lip. For a naturally plump look, she blends the dark lip liner into her lips and applies a gorgeous gloss (via My Imperfect Life). 
If you're ready to go full Bratz doll, winged lip liner also looks incredible when paired with a bold berry or juicy plum lip color. Start by extending the corners of your mouth out and slightly upward with a dark brown pencil. You can make the smile as wide or subtle as you'd like! Next, overline your lips with a shade slightly darker than your chosen lip color. Connect the lip liner to your drawn-on smile lines in a wing shape. Use a small brush to blend the dark brown pencil in toward your mouth until it looks like a seamless extension of your lips. Finish with lipstick and gloss and you're ready to stun the crowd with your sexy smile.