Glossy Eyes Are All The Rage. Here's How To Get A Creaseless Look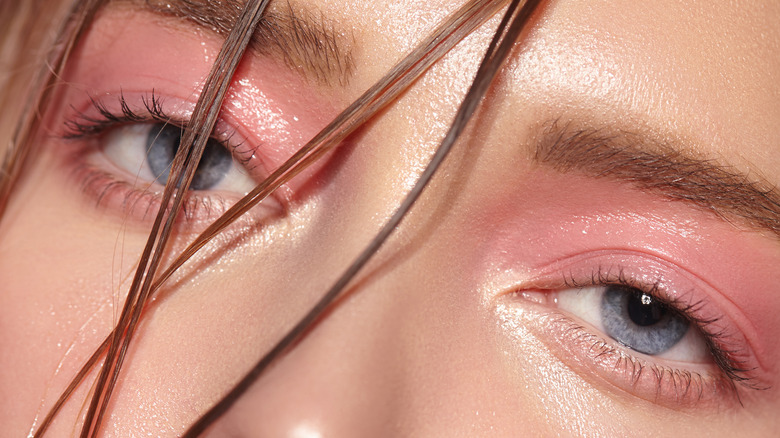 nizas/Shutterstock
The wet makeup trend revolves around a dewy look, not only with your foundation but with other products in your makeup routine as well. This will leave you with a fresh out-of-the-shower look. "Bright, hydrated, plump skin is associated with the idea of youth — and people never get tired of that," said makeup artist Isamaya Ffrench when speaking of the wet makeup trend to The Wall Street Journal. The wet makeup was featured in many fashion shows this year, including the fall 2022 Giambattista Valli show, which Ffrench was the makeup artist for.
Looking young and fresh is on every celebrity's mind, so it is no shocker that our favorite celebrities were some of the first to try the look. While the trend may not be as dramatic as Kim Kardashian's 2019 sopping-wet Met Gala look, it is still noticeably glossy and includes a common wet makeup feature — the glossy eyes. At times, glossy eyes can be forgotten, even though they're essential to a completely wet makeup look. However, here's how to go about the glossy method.
How to get glossy eyes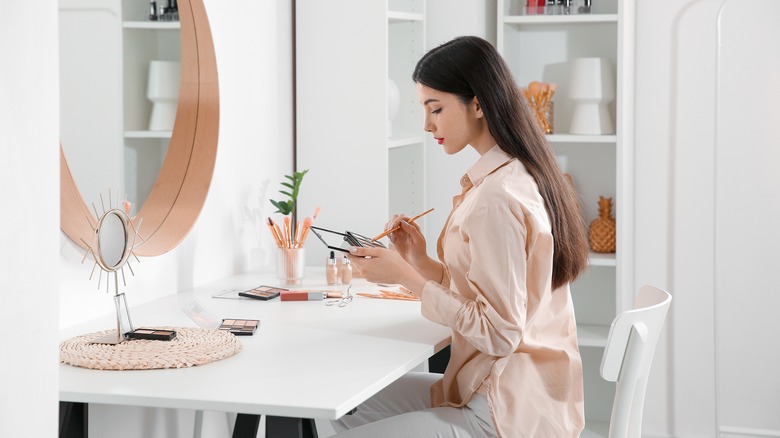 Pixel-Shot/Shutterstock
Unfortunately, the glossy eye look tends to be so wet that it slides around and creases. To prevent this, you first need to apply an eyelid primer. A smudge-proof eyeshadow base, such as the Urban Decay eyeshadow primer potion, is essential for an even and lasting glossy eye look.
Next, apply a skin tone-colored shadow to your crease. This provides yet another solid base for any upcoming eyeshadows. Then use a colorful eyeshadow and begin "pressing the eyeshadow in," explains celebrity makeup artist and podcast host, Jaleesa Jaikaran, in a tutorial with Byrdie. In other words, don't focus on blending the colors on the eyelid yet. Instead, make sure the colors are in place. After this is complete, take some of this same color, and apply it towards the bottom of the lash line.
Now it's time for the actual gloss. "Whether you're going for a light, neutral eye or a smoky eye, add the gloss as the very last finishing step," celebrity makeup artist Ash K. Holm tells Vogue. Once you've picked out the gloss, use a blending brush to blend it on your eyelids. Be sure to diffuse the edges of the gloss around the eye as well to avoid an apparent line where the gloss ends and your skin begins, explains Jaikaran via Byrdie. Add a touch of mascara, and voila! You have a red-carpet-worthy eye look.
How to round out your wet makeup look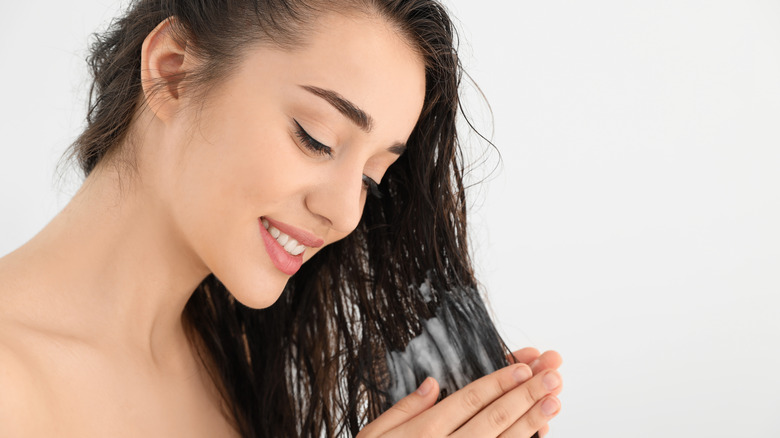 New Africa/Shutterstock
Having wet and glossy makeup is only one part of a much larger look. There are multiple ways to style the makeup trend. The most common way is with what's known as the clean girl aesthetic, which has trended on TikTok for the past year. The self-proclaimed clean girls want a natural and dewy look, with Ipsy stating that the clean girl consists of "glowy, dewy skin, slicked-back hair, defined lashes, and fluffy brows," making for a fresh out of the shower look. Sound familiar? It bounces off the dewy and wet makeup trend we have seen. 
Another popular way to wear the wet makeup look in everyday life is arguably the more fashion-forward style. It's the high-end style we've seen on all the runways this year. A variety of models looked like they were fresh out of the shower. In fact, hairstylist Cyndia Harvey told Vogue, "It's definitely a bold look, but it can be surprisingly wearable." To complete the wet look, use a high-shine spray, gel, or wax to give your hair a damp look without it actually being wet. Style this with everyday clothing, such as trousers, gold jewelry, and an oversized sweater.