How To Rock The Ultra-Glowy Shower Makeup Trend
Ground Picture/Shutterstock
We may receive a commission on purchases made from links.
Of all the unique, specific, and somewhat strange makeup trends we've seen on social media lately, crying makeup has been one of the oddest yet most relatable. It's beautiful, but in a sad way — hence the name. To clear up any confusion, you don't have to be genuinely crying to flaunt this look; the crying makeup is all about a soft look with glassy, tear-inspired details by your eyes and cheeks. The trend can help you exude either an angsty vibe that's edgy in a relatable way, delicate damsel in distress energy, or somewhere in between. And as specific as the concept seems, the trendy wet makeup look doesn't stop at the crying theme.
Advertisement
If you're not about the sad girl vibe, the similar yet happier ocean-inspired dolphin makeup trend might be a better fit for you. "Your face should look like you just stepped out of the crystal clear ocean, gleaming and glistening," Nick Lujan, the global director of artistry for Kevyn Aucoin, told Get the Gloss. And now, in addition to the crying and dolphin-inspired makeup trends, we have the wettest look yet: the shower makeup trend.
Make your face look as glossy as possible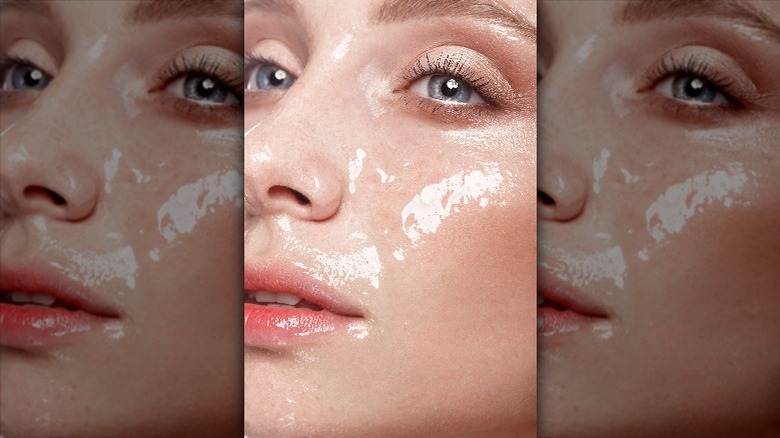 Kobrin_photo/Getty Images
Believe it or not, the shower-inspired makeup trend is 100% what it sounds like: makeup that looks like you're still in the shower. In other words, your face should look glossy to the point where it seems wet. If you're still trying to wrap your head around the idea, or are considering attempting the look, you should check out a video by a TikToker named Matthew in which he creates a shower-inspired look. While the TikTok user shared many steps for achieving the trend, we think his first step is one of the most crucial; he applied a gel to his eyebrows for an in-the-shower look. Next, he added some products to his skin, did some contouring, and enhanced his eyelashes by curling them and putting on a lot of mascara. Then, he used a product to add some intentional redness near his cheekbones, eyes, forehead, and neck to create the illusion of being in hot water.
Advertisement
If you're intrigued by this trend but don't want to do so many steps at first, you should be able to achieve the idea with a brow gel and a product to make your face look glassy, such as the Morphe 2 Gloss Pop Face & Eye Gloss, available at Ulta Beauty for $12. This vegan product helps your face look as dewy as you want and has 4.2 out of five stars.
Don't forget about lip gloss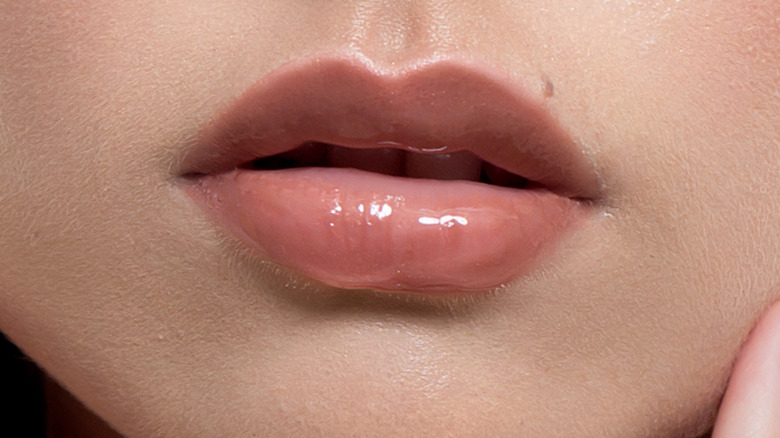 Juta/Shutterstock
Once you're done making your skin and eye area look glossy for a wet effect, remember to pay attention to your lips. Don't make the mistake of overlooking the underappreciated magic of clear lip gloss when attempting this trend; a clear lip gloss can give your lips that shiny, splashed-with-water effect you get when you're in the shower or pool. So, you should consider purchasing the Lime Crime Wet Cherry Lip Gloss in Extra Poppin' (glossy clear — juicy sheer), available at Ulta Beauty for $14. This vegan, cruelty-free lip gloss has 4.1 stars and a 78% recommendation rate, making it the perfect product to help you achieve wet-looking, shiny lips.
Advertisement
If you're not a fan of plain lip products and prefer pink, you should try using pink lip gloss instead. A glossy pink lip gloss will still give you the shower-inspired look, as sometimes our lips turn more pink or even reddish when we take hot showers. The Revlon Super Lustrous Lip Gloss in Sky Pink sells for about $10 at Ulta Beauty and provides a glossy effect. With more than 3,500 ratings, the product has 4.3 stars with a 92% recommendation rate.
So, once you make your eye area, skin, and lips glossy enough for an in-the-shower vibe, why not complete the style with the popular wet hair look?