Mood Rings Are The Latest Nostalgic '90s Trend Making A Comeback
From the widely adored Rachel haircut to chunky platforms and slip dresses, we've seen a lot of '90s comebacks in recent years, and they don't seem to be slowing down. If you were a '90s kid, the scrunchies, butterfly choker necklaces, and Pogs likely bring a wave of nostalgia over every part of your being. The low-tech '90s were simpler times, and it's no mystery why the decade's aesthetics are making a comeback in today's world of complete digital overflow. And with that, we can't leave out the reemergence of the iconic mood ring.
Almost akin to a prehistoric Fitbit, mood rings tracked our innermost feelings and changed color with our temperature through their thermochromic liquid crystals (via Thought Co). Your ring might turn amber when your crush walked by, indicating you were feeling nervous, or violet when you were feeling super joyful and at ease. It was a powerful form of expression. "Mood jewelry, in particular, offers an easy way to show a piece of who you are in your everyday accessories and is also great for mixing and matching, giving you the ability to customize a look that feels most you," Claire's chief marketing officer Kristin Patrick told Refinery29. Now, here's how you can style your mood ring in 2023.
Pair your mood ring with matte nail polish
The iridescent glow of the mood ring is a bit like a fortune teller's orb — somehow all-telling and mysterious at the same time. It deserves to stand out, and a black matte manicure is a great way to do just that. The contrast will give the mood ring space to shine and sparkle. Also, as the ring shifts its coloring, you won't risk any clashes with the simple black polish. Plus, what's a better excuse for a trip to the nail salon?
Pair with other retro accessories
While mood rings certainly scream the '90s, they were actually first created in 1975 by Maris Ambats and Josh Reynolds in New York (via Thought Co). And the crowd went wild — another reason their reemergence in the '90s and again in 2023 is no mystery. We sure do love to personalize our mood and internal emotional landscape with a piece of beautiful jewelry. As a tip of the hat to the era in which the mood ring first emerged, try pairing yours with a colorful headscarf for a completely retro look.
Personalize your mood ring with the zodiac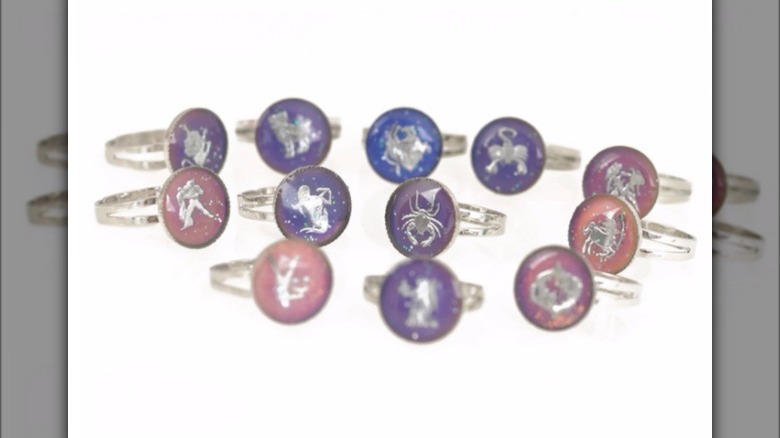 The Pulp Girls
If you get a little giddy at the thought of buying a new mood ring in 2023, we're willing to bet you're also a bit of an astrology fan. So, why not merge the two? The Pulp Girls offer fantastic zodiac mood rings on its site for just $8.00. Choose one for yourself and your bestie, as they're the ideal friendship jewelry for astrology lovers. Or, if you know you simply have to have more than one, make it a trio with your sun, moon, and rising signs.
Keep it minimal
Some may love the idea of seeing their changing mood reflected in a ring throughout the day, but the oversized, colorful gem just isn't the style they're after. If this is you, check out some of the more subtle options. Petite, delicate mood rings paired with simple sterling silver bands are the perfect trend interpretation for the minimalist. Wear your mood ring with neutrals and a clean makeup look for a balanced take on the '90s trend. You could also opt to stack your dainty mood ring with other thin bands for a more updated look.
Opt for fun shapes
If you're ready to go full-on '90s and get creative with some iconic shapes of the decade (hello, smiley face and daisy), then these mood rings were designed just for you. Yin-yang, dolphins, moon, and stars: the avenues for your expression are vast and will have you reliving your wildest '90s adventures. Plus, donning one of these could also be quite healing for your inner child. Pair your youthful piece with a fun manicure to fully rejuvenate and elevate your mood.
Invest in a quality mood ring
Maybe you're really loving the reemergence of the mood ring and feel you're ready to carry this trend for the long run. If so, then investing in a higher-quality mood ring made to last is a wise bet. While we love how fun the adjustable, lower-price tag mood rings are, a well-made ring crafted with fine metal is truly a thing of beauty. Madewell's Merewif Feelings Ring is the perfect modern take on the '90s fad, and we're here for it.
Interchangeable mood rings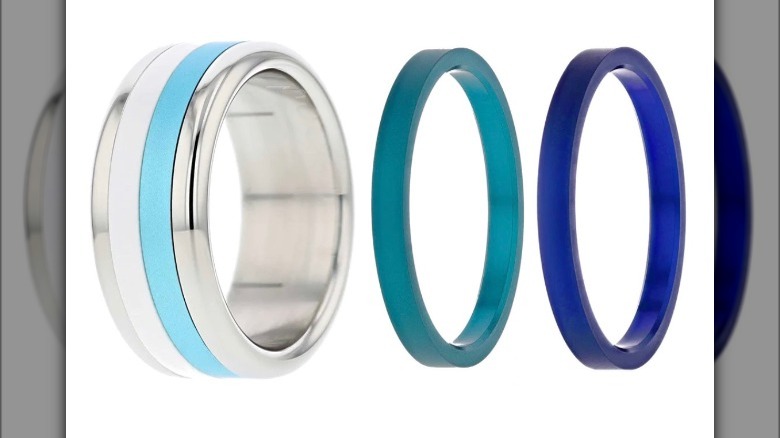 Mood
A bit of a twist on the original concept, interchangeable mood rings may not change with your body temperature, but you can choose your colored band at the start of the day to match your emotional state. This is a great option if you're looking for a sturdy, well-made ring and wouldn't mind having a bit of a say in your mood for the day. Mind over matter, right?
Wear vintage rings
Vintage lovers know there's nothing quite like the original. If you're wanting to hop on this '90s trend and don the adjustable, bendy mood ring complete with the corresponding cardboard mood cheat sheet, be sure to check Etsy for some deadstock options. Your local thrift store may be another unsuspecting gold mine when it comes to '90s jewelry. Or, hey, could it be possible that you still have your original '90s mood ring somewhere in the bottom of a long-forgotten moving box packed away in the attic? It's certainly worth a snoop.