Your Guide To The Perfect Wedding Guest Makeup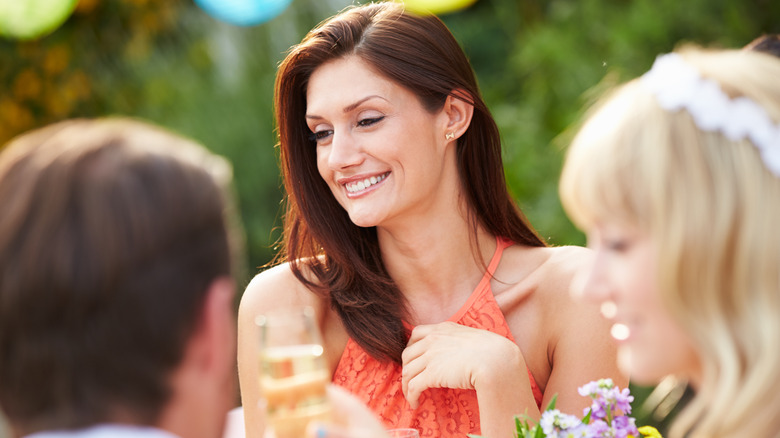 Monkey Business Images/Shutterstock
Weddings can be exciting occasions filled with emotional memory-making moments, tear-filled toasts, and, of course, wonderfully fashionable ensembles that suit the particular dress code. From the couple who happens to be saying "I do" to friends, family members, and co-workers who show up to celebrate, those who attend weddings tend to opt for fabulous outfits. That's not to mention the makeup that's often just as stunning. If you've recently received an invitation to watch two people you care for get married, then you might be wondering how to put together your own perfect look that includes a stellar makeup routine.
"Makeup for weddings should have that extra pop so it looks great in all the photos but also, at the same time, should look natural and fresh to the naked eye in real life," celebrity makeup artist Nick Barose tells Glamour while discussing wedding guest makeup that's both flattering and practical. Pointing out that you'll want to look appropriate while still opting for a look that captures your unique essence, Barose adds, "There's a misleading concept that you have to do a lot more makeup for weddings for the cameras, which is true to a degree, but that doesn't mean a drastic makeover where you end up looking unrecognizable."
With that in mind, you'll surely be curious to check out a few simple yet effective tips on how to nail the perfect wedding guest makeup.
Stick with sturdy primer and foundation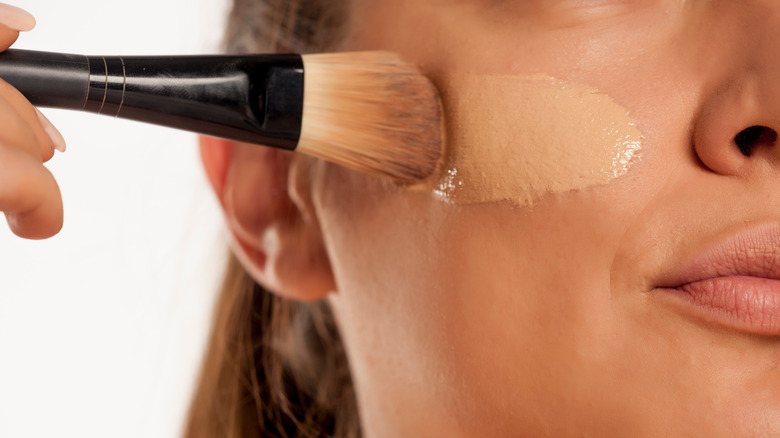 Vladimir Gjorgiev/Shutterstock
As a wedding guest, you might be in for a long day — and possibly evening and right into the night — of socializing, dining, and dancing. You'll surely want your makeup to stay in place and look as good as possible for as long as possible. Using both a reliable primer and a sturdy foundation will help you do just that. Be sure that the products promise to last for hours, and use a decent layer of each while ensuring to apply the primer evenly first before your foundation.
Use dual-purpose contouring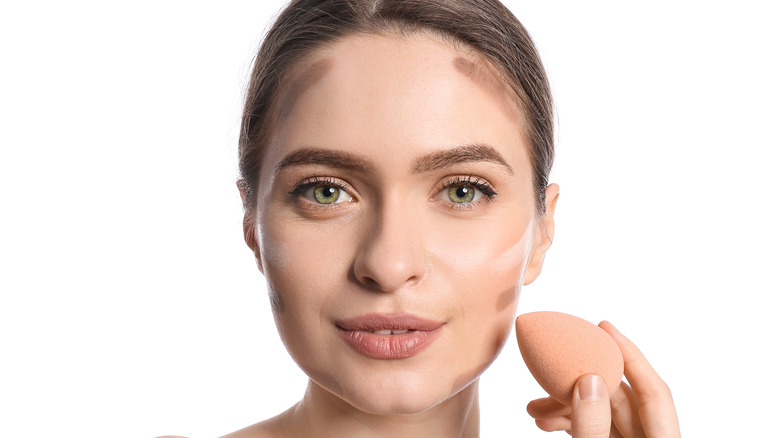 Pixel-Shot/Shutterstock
Using contour can enhance the shape of your face and give it a little extra definition. However, there are different techniques that you can use with these products when it comes to crafting a look that's suitable for an in-person event as opposed to what might be captured on camera, as well as something that might work for both. For a wedding, you need the latter. That means using enough contouring to achieve what you need for the photos without overdoing it so that your makeup doesn't look strange to those standing in front of you.
Rely on cry-proof eye-makeup
Prostock-studio/Shutterstock
When you sit down to do your makeup to attend a wedding as a guest, your eye look might involve various aspects, including mascara, eyeliner, and eyeshadow. While you'll obviously want these to be long-lasting as well, you may also want to make sure that you're using waterproof products. Although this will certainly come in handy if the event takes place on a rainy day, it can also help to prevent smudges under your eyes and streaks down your cheeks if you end up shedding a few happy tears during the romantic ceremony.
Opt for natural-looking brows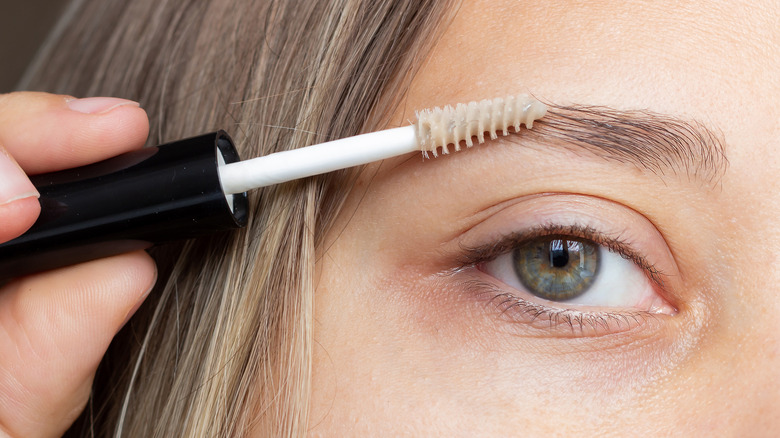 Marina Demeshko/Shutterstock
Unless the wedding that you're attending is meant to be a dramatic event that will see guests dressing in extravagant outfits, it might be best to opt for brows that lean toward a natural look. Along with the fact that this tends to complement a number of wedding-worthy looks and will mean that you look fabulous without outshining the couple who is getting married, your brows will also look better if they happen to wear off a little as the ceremony goes on. To achieve a clean and lasting look, consider an eyebrow gel.
Add a glow with highlighter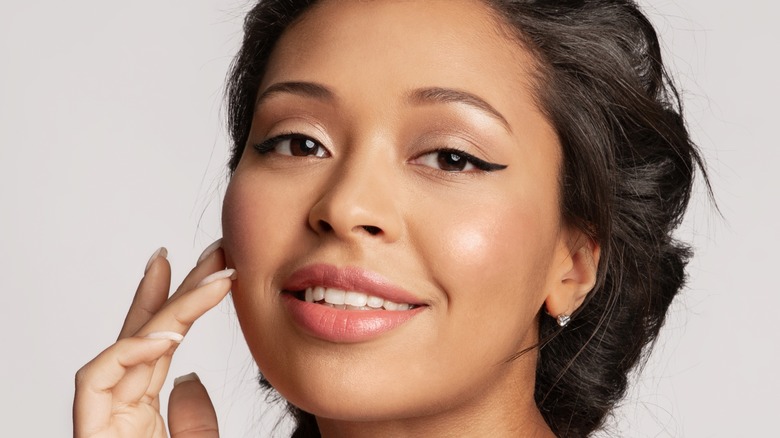 popcorner/Shutterstock
Shine your brightest at the next wedding you attend with the help of highlighter. Choose your favorite shade — from a hint of a golden champagne-like glow to a slightly snowy tinge — and then apply it to a few choice spots. Consider using it high up on your cheekbones, your cupid's bow, below each brow, or on the tip of your nose. Use a little or a lot depending on the level of glittery elegance or fairy tale ibe the event will have and how much you want your makeup to help you radiate.
Choose a long-lasting lipstick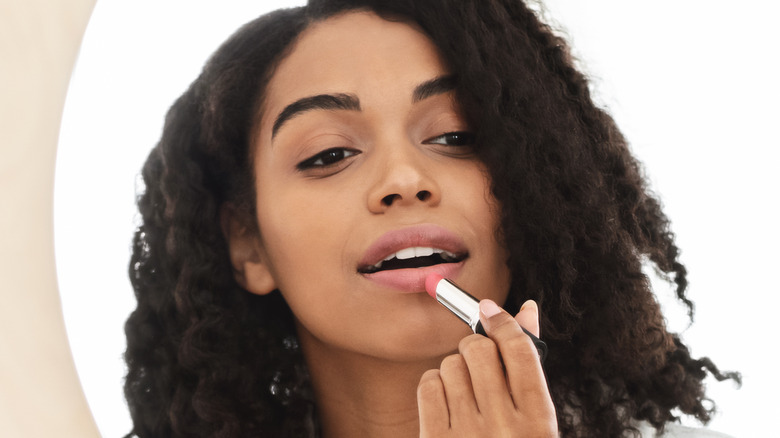 Prostock-studio/Getty Images
Whether you're blowing kisses to the happy couple, sipping on a glass of wine, or smiling for photos, you want your lipstick to look good and stay in place. As a wedding guest, you'll definitely want to use lipstick that boasts a long-lasting formula that you can trust, ideally one that doesn't get faded, patchy, or dry. As for the shade, a subtle or nude option might work best if it's a daytime event and a bold or dark color could be just the thing you need if it's a fancy, nighttime event.