The Cost-Effective Product Perfect For Eyebrow Tinting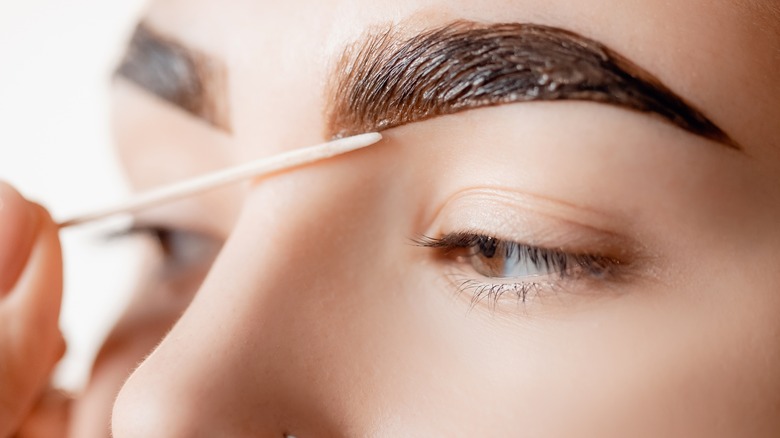 Parilov/Shutterstock
Eyebrow tinting is a popular cosmetic procedure that helps your brows stand out without makeup and adds more contrast to your features. But, if you get it done professionally, it can cost a pretty penny every four to six weeks for touchups (via HD Brows). Because of this, many people have opted to take on the challenge at home, but finding products that are safe for use on the face and pre-portioned for such a small area of hair can be a bit of a struggle.
While it may be tempting to just use a bit of your regular hair dye to change the color of your brows as well, the ingredients found in permanent dyes designed for use on your scalp are usually much more harsh than what your face can handle. The National Capital Poison Center specifically warns against using hair dye anywhere near your eyes and says that the powerful ingredients can cause irritation and even blindness in some cases. Now, people are turning to a product specifically designed for use on the face — just in a different way.
The best product to tint your own brows
As it turns out, Just For Men Mustache & Beard dye is more than living up to its name. This product was designed to tint facial hair and cover up grays, but its low price point, safe ingredients, and convenient included tools have made it a popular choice for eyebrow tinting as well. It comes with a mixing tray, two-part base and developer, and a small brush, perfect for detailed application. At just around $10, it's much cheaper than heading to the esthetician for a monthly cosmetic procedure, and the small tubes of product can be used again and again because you're working with such a small area.
Because Just For Men is made for use on the face, it has a gentler, ammonia-free formula, unlike most permanent hair dyes. It's still a good idea to keep this product out of your eyes, but you can rest assured that it's a safe and easy-to-use alternative to traditional brow tints.
How to apply this product at home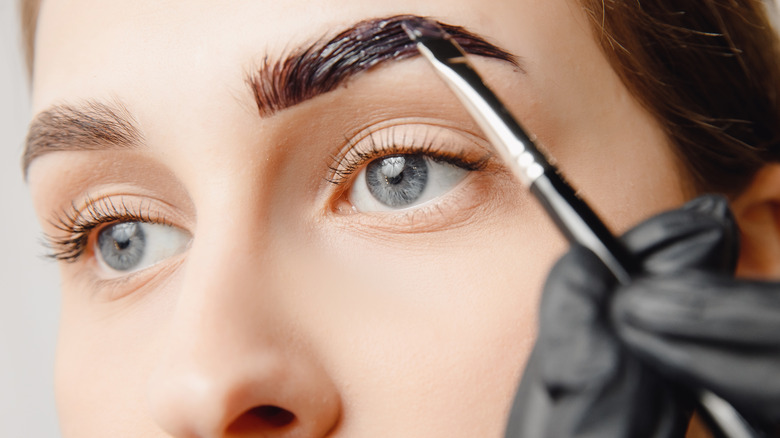 Parilov/Shutterstock
If you're looking to tint your own brows at home to keep up with the latest brow trends, you can rest assured that it's an incredibly simple process. Before you try out any new products, it's best to do a patch test to ensure you aren't allergic to any ingredients, so mix up a bit of the developer and dye and apply to an inconspicuous spot on your skin for a few minutes, keeping an eye out for any irritation or burning. Once you confirm you're not allergic, you can move on to the actual process.
To begin, grab some petroleum jelly and apply around the borders of your eyebrow to protect your skin from any unwanted staining if you do color outside the lines a bit. Mix up a small amount of the formula on your tray and either use the included brush or grab an eyebrow brush for a more precise application, the way Nikol Concilio does in this TikTok. From there, just work the product into your brows, making sure the hairs are evenly coated. Rinse after about five minutes, and you'll be left with a precise, at-home tint for a fraction of the price.