Outdated Bridal Shower Traditions You Should Honestly Just Skip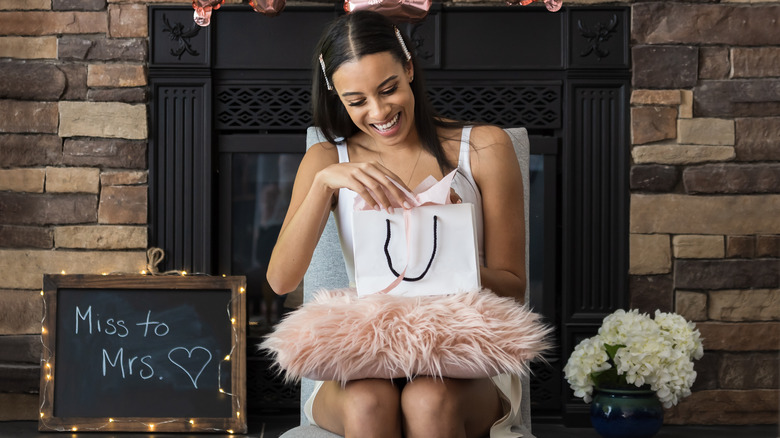 Traci Beattie/Getty Images
Even if you've never attended a bridal shower, you likely have some idea of what they traditionally entail. A group of well-dressed women gathers to celebrate a soon-to-be bride, playing silly games and sipping cheap mimosas while they watch the guest of honor open presents she'll theoretically use in her married life. Think dishes, hand towels, bedsheets, and towels. At some point, everyone plays games under the guise of getting to know one another, while the bride is forced to awkwardly smile and profusely thank anyone who comes within five feet of her for attending.
Bridal showers can be a lovely gesture from friends and family who want to wish you well in this next stage of your life, which is why many brides agree to have them even when they don't want one. Despite this, many bridal shower traditions are outdated and worth being skipped over. In fact, the purpose of a bridal shower itself is largely irrelevant, considering most couples already live together and don't particularly need the appliances or dishes they register for. The formality of this rite of passage is also something plenty of modern brides don't care for, feeling that there are better, more fun ways to celebrate their upcoming marriage. If you're a bride thinking of having a bridal shower, consider skipping the following outdated traditions for something more you.
Where did bridal showers come from?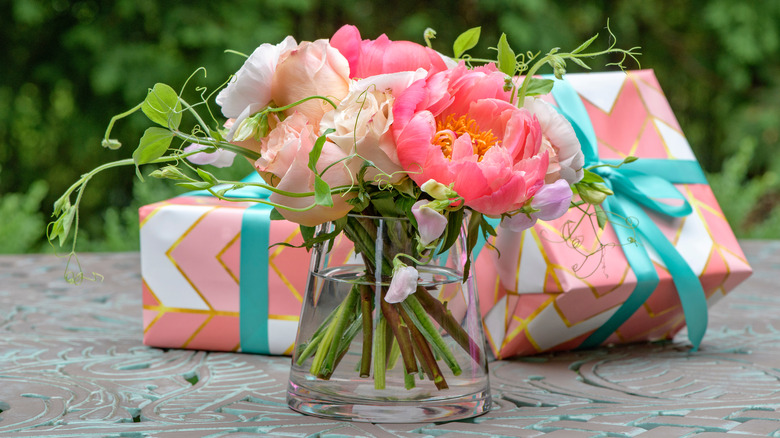 LCRP/Shutterstock
Brides have been celebrating their upcoming nuptials with showers for centuries. According to Forever & Company, bridal showers date back to 16th century Holland. The tradition originated with a young Dutch woman who had been betrothed to a wealthy pig farmer. Women who were too poor to have a dowry or who entered marriages without their father's approval during this time would struggle to start their married lives on the right foot. The woman's friends would often bring gifts to make up for her lack of a dowry and help her start her home.
In the United States, the bridal shower became popular during the late Victorian era for upper-class brides. Prior to the wedding, elegant tea parties were thrown to celebrate, eat, give small gifts for use in the home, and gossip about the bride's upcoming role as a wife (via World Bride Magazine). During these parties, it was tradition to write well wishes on scraps of paper, which were put into an open parasol and "showered" over the bride at the end of the party. These affairs were traditionally attended by the bride's female friends and close relatives.
Opening gifts in front of guests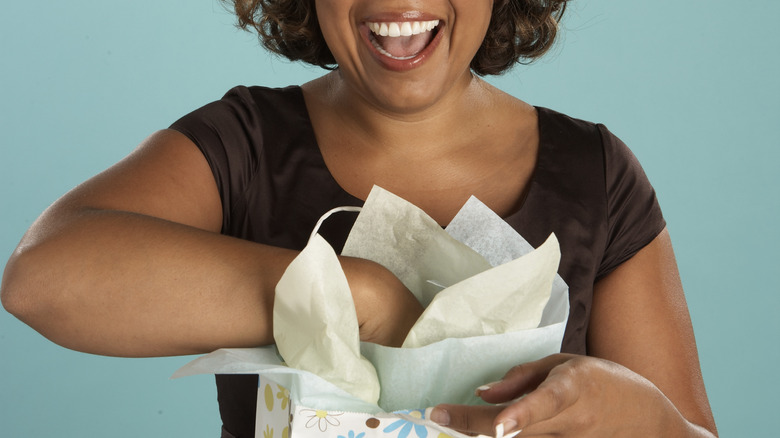 Thomas Northcut/Getty Images
It is a time-honored tradition to open gifts in front of your shower guests. However, more and more brides are choosing to skip opening presents altogether. Not only is it a semi-awkward affair but it also brings the party to a screeching halt for both the bride and her guests. "Ask 100 people what their favorite part of a party is, and not one of them will say 'watching someone else open their presents.' At best it's not fun; at worst, it's anxiety producing," Tendr CEO Jeff Beil tells The Knot. "Unless there's a way to have all of your guests interacting with the bride and each other, individuals will start to feel left out."
Some couples don't need or want gifts to begin with. According to the Pew Research Center, people are marrying later in life and cohabitating beforehand which means they already have the things they need to live together. "While couples may not need to register for items the way they did years ago when they were only first acquiring the things they needed for their married home, wedding gifts aren't going away — even when couples ask for charitable contributions in lieu of presents, the tradition of gift-giving is here to stay, and so is the registry," Amy Shey Jacobs explains to Vox. Brides who still need or want gifts but hate the thought of opening them in front of people can still register and open them at home with their partner afterward.
Having the maid of honor make a ribbon rehearsal bouquet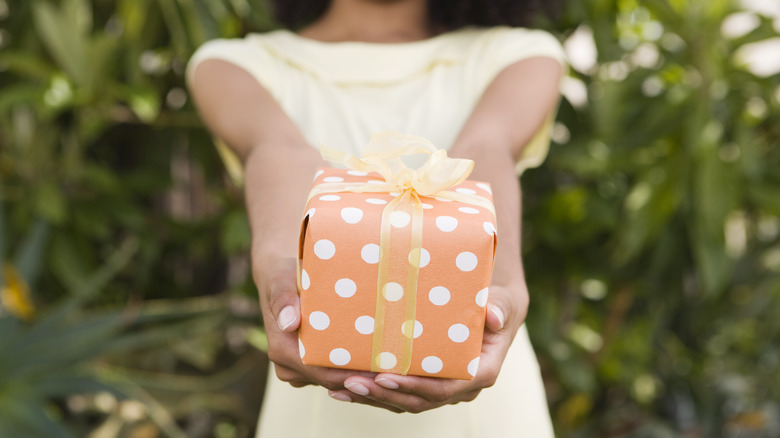 Jupiterimages/Getty Images
Bridal showers are as full of superstition as the actual wedding day. One such superstition is the ribbon rehearsal bouquet. At a traditional bridal shower, the maid of honor sits next to the bride with a paper plate. As each present is opened, the bride hands the ribbon or bow to the MOH who affixes them to the paper plate in a bouquet-like fashion (via Apropos Creations). This is done so that the bride can have something to carry during the wedding rehearsal and is a symbol of love, support, and friendship from the women present at the shower.
According to Boston Magazine, the order of the ribbons and the presents they belong to carry cringy superstitions and symbolic weight as well. For example, every ribbon that breaks as the bride opens presents is thought to equal the number of children she will have. What's more, going to the rehearsal without the cobbled-together bouquet is thought to bring bad luck to the bride and her marriage.
There are a number of reasons to skip this outdated tradition. Maybe you don't want to open gifts at the shower or would prefer people didn't wrap them at all. Maybe you don't take stock in the superstitions surrounding each plastic bow or feel the need to carry a handmade bouquet at your rehearsal. Whatever your reason, if this bridal shower tradition doesn't resonate with you, feel free to skip it.
Cheesy bridal shower games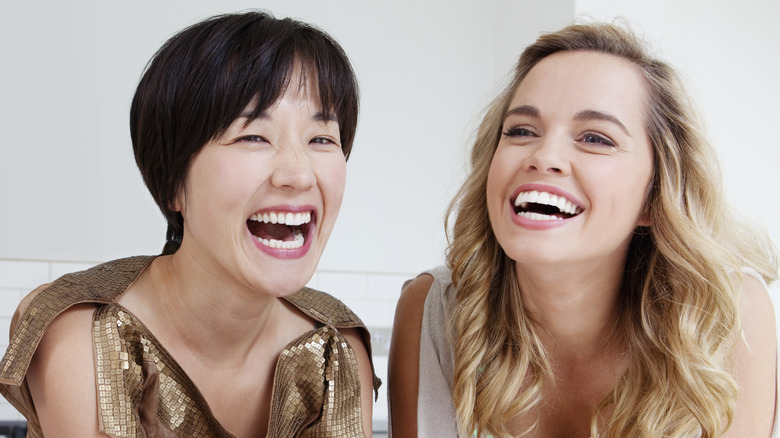 Dirk Lindner/Getty Images
Most bridal shower guests play a number of games throughout the event. These games primarily serve as icebreakers, helping people who don't know each other mingle more comfortably while also ensuring that everyone has fun. There are dozens of shower games that run the gamut from lively to relaxed, including scavenger hunts, passive bridal bingo, guessing games, and the consistently popular newlywed game. Some brides choose to give out prizes to game winners as an additional thank you for participating. Typically, the bride and the hosts of the shower do not participate in these games, facilitating between three to four games for the duration of the shower.
Bridal shower games can be a good time or they can be really, really cheesy and uncomfortable, especially if the group is already familiar with each other and knows all of the answers to the answer-based games anyway. Many modern brides despise the idea of being publicly embarrassed with weird games they don't even want to play in the first place. While they can offer a way to kill time between lunch and the opening of presents, they also aren't necessary. If you don't want to play games, opt for spending more quality time and having good conversations with your guests instead. Swapping out silly shower games that don't feel right to you for meaningful activities is also an option.
The toilet paper dress competition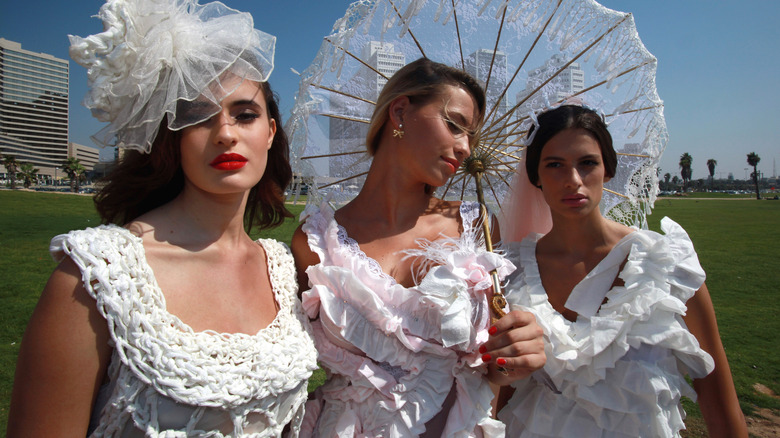 David Silverman/Getty Images
The toilet paper dress competition, a staple at most bridal showers, is thought by many brides to be one of the strangest group activities to ever be forced upon a group of relative strangers. According to Brides, this game involves splitting up guests into small teams of three or four. One person from each team is designated as the model while the remaining team members are tasked with creating an original wedding dress design out of toilet paper. Tape, pins, and glue are not allowed. When time is up, each model presents their group's gown to the bride, who judges them all based on predetermined criteria and picks her favorite.
Theoretically, the toilet paper dress competition is a fun way for guests to joke and laugh together while also getting to put their creativity and imagination to the test. It's also an activity suitable for all ages. However, it isn't exactly an environmentally-friendly game and causes a boatload of unnecessary waste. Very few guests will blame you if you choose to skip this competitive fashion show.
Members of the bridal party host the shower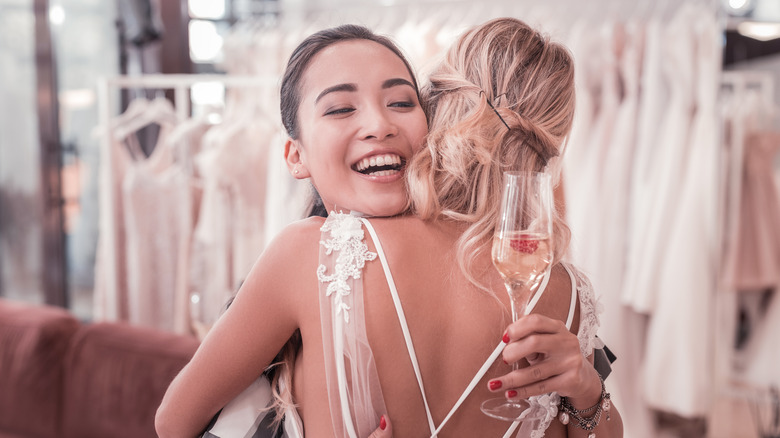 YAKOBCHUK VIACHESLAV/Shutterstock
Traditionally, bridal showers were hosted by a member of the bridal party or the maid of honor in lieu of the bride's immediate family members. It was considered an impolite breach of etiquette that bordered on tacky because it gave the impression the bride's family was asking for gifts on her behalf. Furthermore, it was expected that the bride's acquaintances would be responsible for hosting, cutting out the groom's side of the family completely.
Thankfully these outdated expectations and etiquette traditions have faded with time. Nowadays, anyone who wishes to can host a bridal shower for a bride. The groom's mother is also welcome to host or co-host a shower. No matter who hosts the shower, it is important that all parties involved recognize the importance of the day for the bride. "At the end of the day, the shower should be about the bride," wedding planner Alicia Fritz tells MarthaStewart.com.
Brides often wonder if they can throw themselves their own bridal shower, but technically that is still considered a faux pas for the same reason family members were traditionally prohibited from throwing one. "Without turning into a bossy bride, certainly the bride can offer her favorite foods and color theme if asked by the hosts. However, her role is somewhat limited or passive in the planning process," Diane Gottsman tells Southern Living. That being said, if you want to throw yourself a bridal shower buck tradition and do so. Despite evidence to the contrary, there are no rules.
The shower is a brunch or daytime event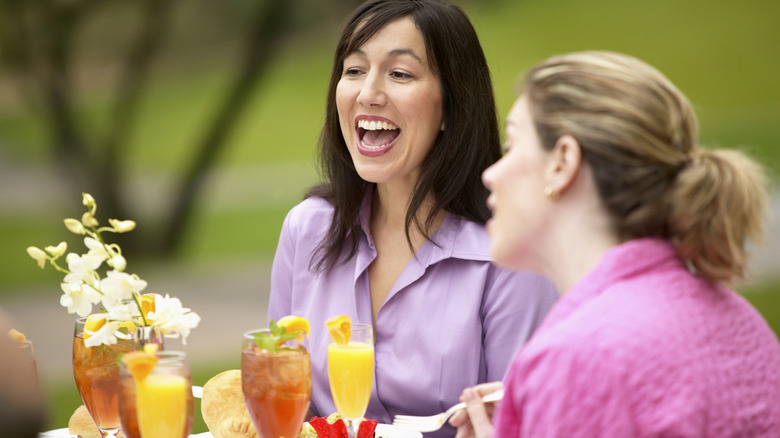 Creatas/Getty Images
Bridal brunches and daytime tea parties are common themes for bridal showers. These feminine affairs often feature dainty appetizers, bite-sized desserts, and glasses of sweet, bubbly champagne. The decor is also ladylike so as not to clash with the tiny plates and mini-quiches. While there is nothing inherently wrong with this traditional bridal shower setup, this style of event just doesn't suit the tastes and personalities of every bride.
According to the wedding planning website Zola, bridal showers don't need to fall within the framework of a brunch or daytime event. They also don't need to have a special theme. You can plan a group activity or rent out a private room at your favorite restaurant, organizing an event where you can eat, drink, and mingle comfortably in lieu of a formal daytime luncheon. If you do prefer to have an evening or nighttime bridal shower, we recommend serving your guests a real meal, especially if you plan to serve wine or cocktails. However, no one will care if you have your bridal shower in the evening or at a venue like a restaurant. The purpose is to celebrate your marriage and shower you with love and attention.
Only women attend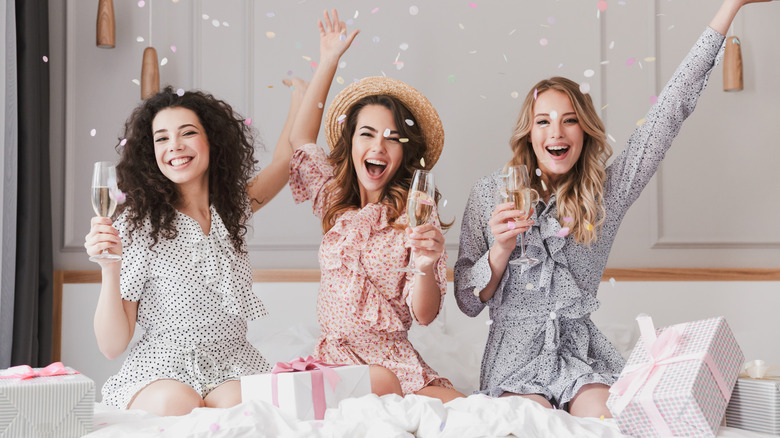 Dean Drobot/Shutterstock
A bridal shower, which was created in the days when women were only homemakers and wives, is normally a women-only affair. "Historically, the bridal shower was an opportunity for guests-typically the female friends and family members of the bride-to help her assemble what she might need to set up her new home: kitchen items, linens and bedding, and china and flatware," Melissa Weiler tells The Knot. "Nowadays, with many couples already living together before the wedding, showers have evolved to become a celebration of the couple, shared by friends and family of both."
In lieu of a women-only bridal shower, many couples are deciding to host wedding showers that allow both the bride and the groom, as well as all of their friends and family, to be present regardless of gender. These co-ed showers are a chance for the couple to share the spotlight equally and celebrate their upcoming marriage together.
Co-ed wedding showers are not only more inclusive, especially for same-sex couples, but they also tend to generally be more relaxed and fun. Instead of a stuffy brunch or uncomfortable tea party, couples can throw a chill backyard barbecue or invite their guests to enjoy craft cocktails at their favorite bar. It's also an excellent opportunity for both sides of the couple's family to meet and interact prior to the wedding, which makes everyone feel more comfortable. This could help the relationship on all sides in the long run!
Your future spouse shows up at the end with flowers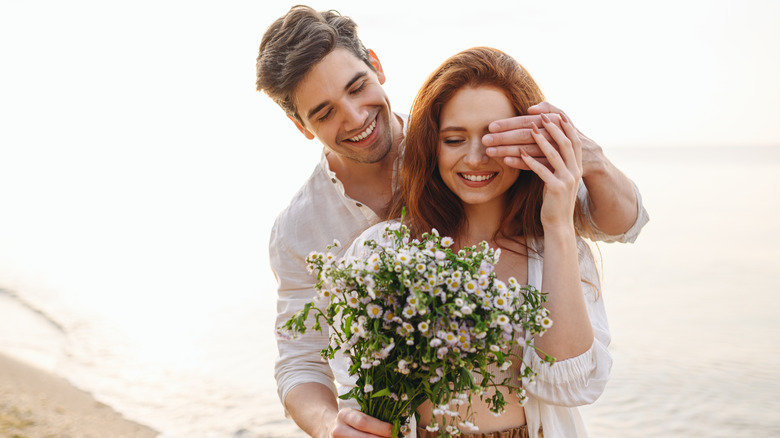 ViDI Studio/Shutterstock
Old-school tradition dictates that the groom should show up at the end of the bridal shower with a bouquet of flowers for his blushing bride. This is supposed to be a lovely "surprise" turn of events that conveniently allows guests who haven't met him yet to do so. It was also historically a way to include the groom in the shower festivities and remind all of the single ladies in attendance of who was getting married.
Some brides find this concept cute and romantic, while others loathe the idea entirely. Even if you don't want your fiancé showing up with a bouquet to whisk you away, he can still be involved. The groom can (and probably should) make an appearance at the end of the event to help transport the gifts, break down the party, and say thank you to the attendees. But if you don't want your groom to be involved with this bridal-focused event, he doesn't have to and likely won't mind at all.
Having only one bridal shower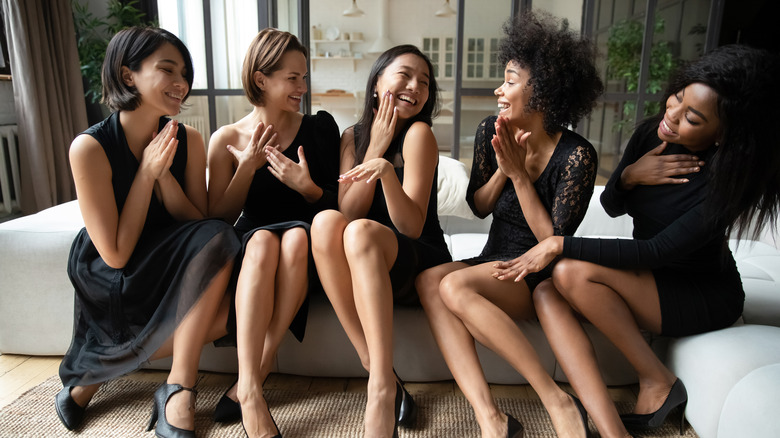 fizkes/Shutterstock
Most people think of bridal showers as being a one-and-done kind of affair. After all, the event traditionally had to be held by a distant relative or friend so as not to come off greedy or impolite. What would etiquette say about being the guest of honor at more than one shower? However, having multiple showers is becoming increasingly common. The rules around who can throw the bride one have relaxed significantly in recent years, which means lots of people want to show their love for the bride by throwing her a gift-driven party. In addition, not everyone can always attend a single event due to work or travel.
Some brides worry that all of this is too much or that they will be judged for agreeing to multiple showers, but it really isn't a big deal. Simply enjoy your parties with the people you care about, but take care to avoid inviting the same guests to both parties.
Opt not to have a shower at all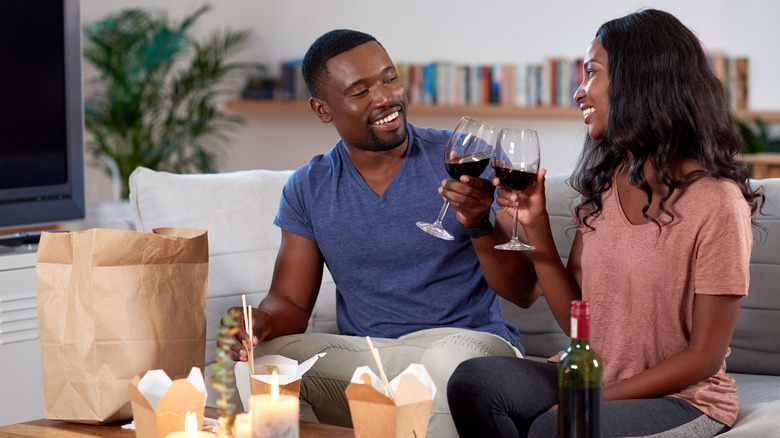 Daxiao Productions/Shutterstock
For some brides, the entire premise of a bridal shower is enough to send anxious shivers down their spine. Whether they loathe the spotlight or simply despise the idea of smiling for three hours straight, the truth is that this outdated wedding tradition isn't for everyone. If you find yourself dreading the idea of having a bridal shower instead of feeling excited about it, why not consider skipping it altogether?
"[Brides] no longer want to put themselves through the Julie Roberts rom-com ideal of a shower," Stone Fox Bride founder Molly Guy tells Racked. And who can blame them? Weddings are stressful enough as is without throwing a party you don't care about into the mix. Some brides don't want their friends and family to spend the money, others don't want the gifts, and, still, others don't feel like they have the time to devote to an afternoon playing games with their mother's friends.
If you want to get together with close friends and family to celebrate, you should. You don't have to call it a shower or include any of the normal shower traditions in your event. Consider planning a present-free, tradition-free, and non-obligatory style event like a potluck or spa day. And if that isn't your style? You could always buy a nice bottle of wine, cozy up with your fiancé on the couch, and watch a movie to celebrate instead.