Self-Tanner Application Tips That Will Get You The Perfect Bronze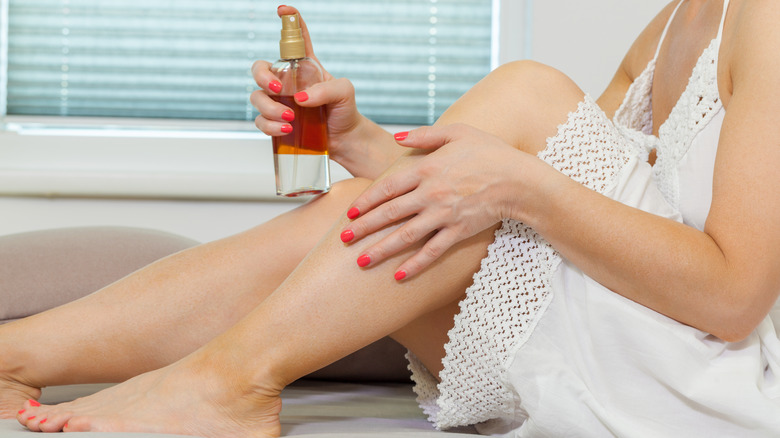 Stock video footage/Shutterstock
We may receive a commission on purchases made from links.
Throughout the years, opinions on color-depositing self tanners have been mixed. Some maintain that you'll look more orange than sun-kissed, while others routinely use these products as a way to add some color to pale skin without harmful UV exposure. Thankfully, products have seen quite the revolution recently, altering their undertones to look more natural on the skin instead of providing the stereotypical neon cast frequently seen in television and movies.
Because of these changes, the self-tanning market has seen some significant growth. According to Fortune Business Insights, the self-tanning industry was valued at $1 billion in 2021, and is expected to continue booming as brands release even more creative and easy-to-use products. That, however, doesn't mean that getting started with this product isn't intimidating. You may not have to worry about looking orange, but other problems like patchy coverage, oversaturated spots, and hard-to-reach areas can often deter people from testing out self-tanners at home. Luckily, there are ways to avoid these issues that will leave you with a seamless, streak-free glow.
Choose a product that works for you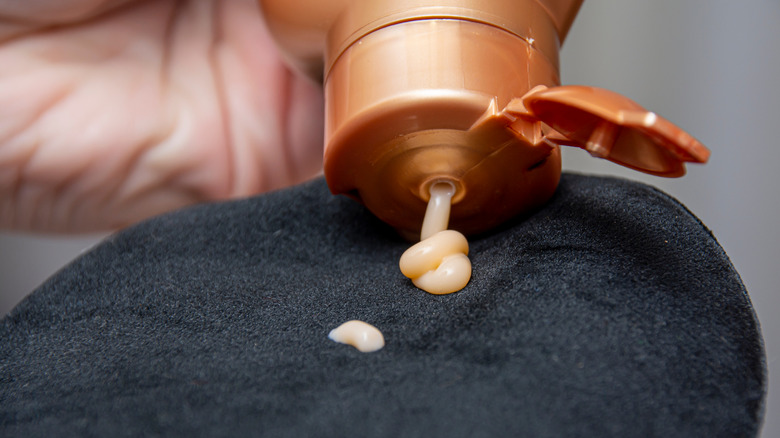 Gaviai/Shutterstock
Nowadays, the options for self-tanners are nearly endless. Different brands have developed unique formulas that are specific to individual needs, so looking for a product that aligns with your goals is always the first step of the application process. For a super-easy, no-fuss application, look to in-shower lotions and gradual, color-depositing options like the Jergens Natural Glow Wet Skin Moisturizer. These products are great if you're new to tanning and want to test out the bronzed look, but you're willing to wait a bit to see results.
On the other end of the spectrum, there are fast-acting formulas that promise a tan in only an hour or two, like the St. Tropez Express Bronzing Mousse. Across brands, you'll see a variety of different development times, product types, resulting shades, and undertones to pick from. A bit of experimenting with products is the best way to guarantee you will enjoy your final look, so shopping around for a self-tanner formula that works for you should always be your first step in the process.
Pick a product with included bronzer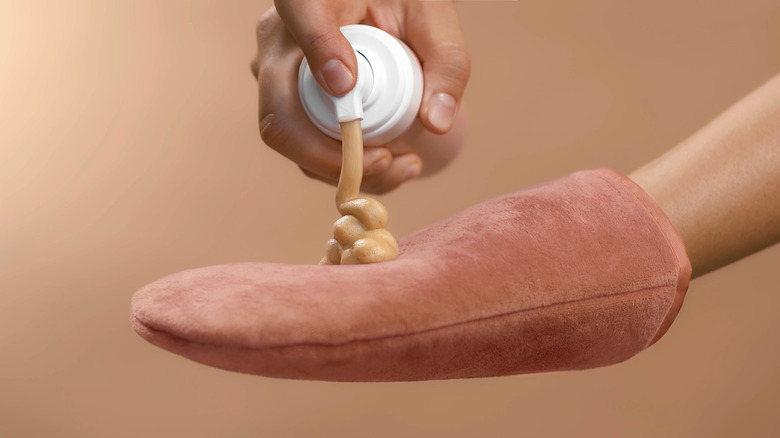 Beauty Stock/Shutterstock
One of the newer innovations in self-tanners is self-tan waters and clear mists. These products are fantastic if you're experienced and want to reduce that annoying stickiness after applying tanner, but, if you're new to tanning, they might not be the best bet. With clear formulas, you're not able to see the product as it goes on your skin.
Normally, self-tanners include color in the formula, known as a bronzer. This initial, sometimes intimidating, color is designed to wash away once you shower off the product, but during application, it acts as a guide to show you where you've applied your self-tanner. With bronzers, you're able to guarantee you get an even coat, especially when it comes to hard-to-reach spots like your back and the backs of your legs. This way, there won't be any surprises once the product develops, and you'll be able to avoid annoying streaks and unevenness.
Shower before application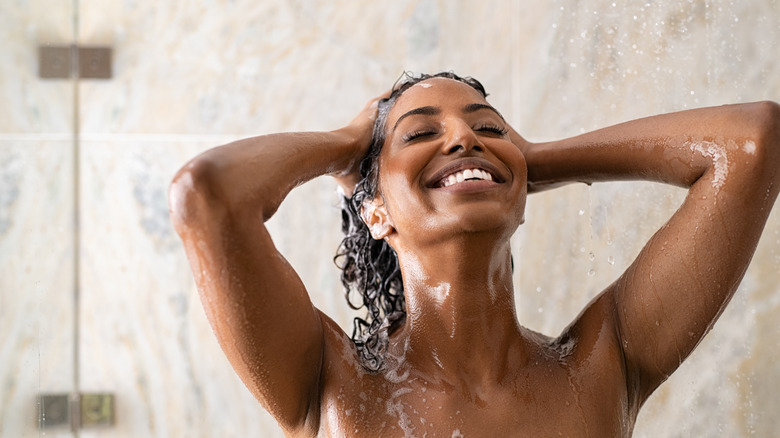 Ground Picture/Shutterstock
The application process to obtain a sun-free bronze on your skin should always include a shower. You want to create a clean, fresh canvas for your tanner, free from any perfumes, lotions, and dirt that may have collected throughout the day. Be careful not to apply any products that are extra-moisturizing. These are great for guaranteeing supple skin once you step out of the shower, but when it comes to self-tanning, you want your skin to be a bit dry so it properly absorbs the product.
While you're in the shower, it's also a good idea to exfoliate your body, especially around notoriously dry areas like elbows, knees, and ankles. Self-tanners only absorb into the top layer of your skin, so you want to guarantee a fresh, smooth slate. If you shave, now is the time for that as well. Shaving actually acts as a form of exfoliation, so doing so after your tanner has already developed might cause it to fade or look streaky. Before you step out, finish your shower with a blast of cold water to close your pores, and you're ready to apply after you fully dry off.
Moisturize dry areas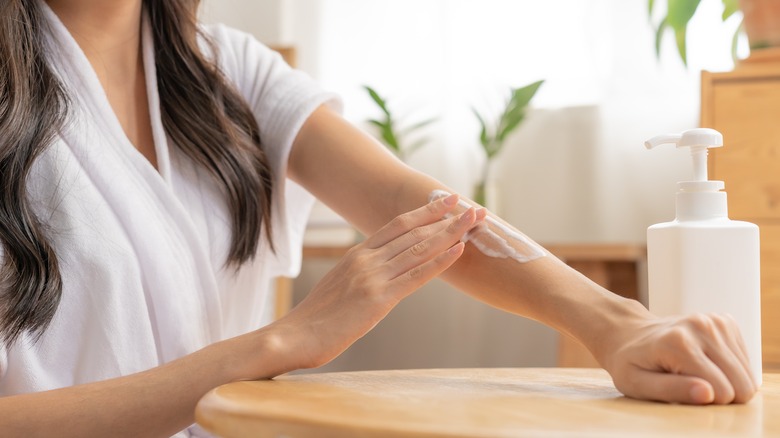 Kmpzzz/Shutterstock
After your shower, you're going to want to skip the full-body moisturization that might be part of your every day routine. Lotion can act as a barrier for tan, so instead, use it sparingly on any drier patches of skin. This will help to prevent those areas from absorbing too much product and looking oversaturated. Popular spots include ankles, palms, knees, and elbows.
If you have light-colored hair, lotion can help protect you from unwanted staining, too. The main ingredient in self-tanners, dihydroxyacetone, more commonly known as DHA, is designed to react with proteins found in the outermost layer of the skin, developing into a bronze that only fades as the body naturally sheds dead skin cells (via DermNet). Because of this, it will also react with the proteins in your hair. To avoid this, apply lotion over your brows and along your hairline if you plan to tan your face to avoid an accidental dye job.
Cover your hands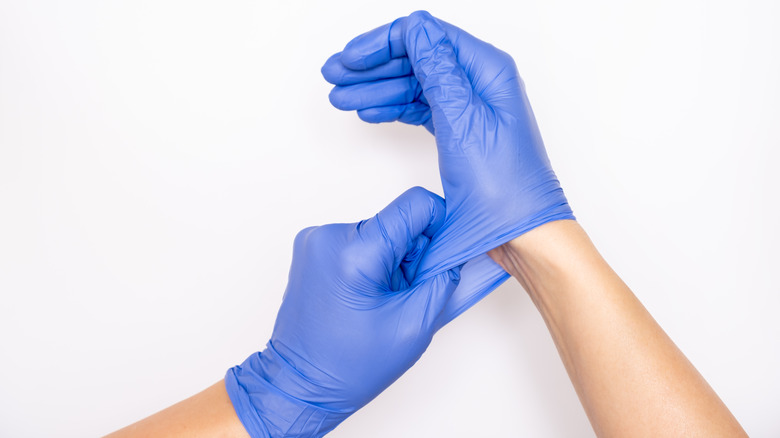 Nadezhda Mikhalitskaia/Shutterstock
There are a few methods you can use to avoid staining your hands while applying tan, but the easiest is just covering them up until you've already coated the rest of your body. Self-tanning mitts can help with this and also prevent streaking during the rest of your application, but something as simple as a pair of latex gloves will do the trick, too. After you're done, add a swipe of tanner to the back of your hands and any previously-covered areas on your wrists, making sure to avoid staining your fingernails if they're unpainted.
If you find yourself in a situation without gloves or a mitt, you're going to have to rely on old faithful — lotion. Make sure your palms are lathered up and extra-moisturized before using your product to reduce the amount of staining on your palms, then rinse or wipe them with a washcloth. You may still face a bit of staining, but product on your hands can be easily removed if you notice it after your tan develops.
Apply your tanner liberally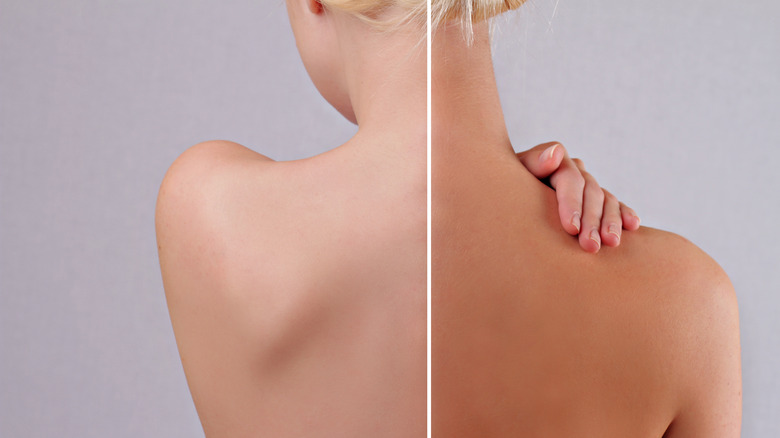 Albina Gavrilovic/Shutterstock
Contrary to popular belief, the amount of tan you use won't affect the color or make you look orange — that's all up to the product and how long you leave it on. Instead, it's actually beneficial to err on the side of excess. Not applying enough product might make you look streaky, so adding more can help ensure you get an even coat and avoid any light spots.
After you're done with your application, you can go back in with a soft, damp rag or paper towel to gently wipe away any excess around dry spots and other areas you want to prevent from overdeveloping. Just be careful with this — you don't want to fully wash away the color unless you enjoy the look of pale elbows and otherwise bronzed arms. This way, you'll be left with an even, all-over color that doesn't cling to the more thirsty parts of your skin.
Ask a friend or partner to help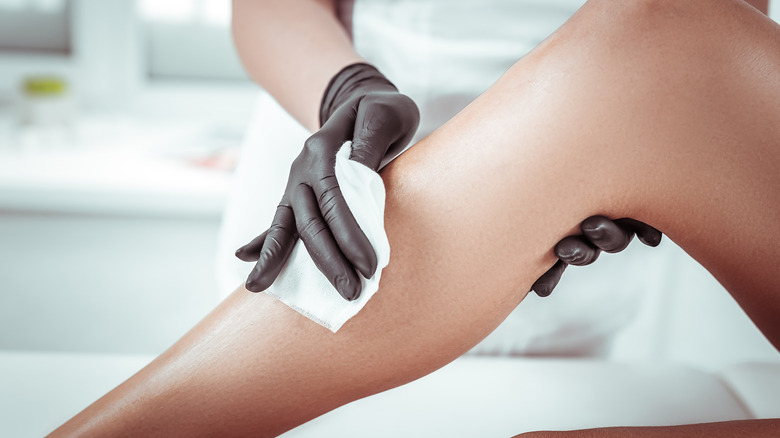 YakobchukViacheslav/Shutterstock
Coating your body in brown foam isn't exactly everyone's idea of the perfect date scenario, but, when it comes to self-tanning, sometimes you need an extra hand. Hard-to-reach spots on the back can be easily taken care of by a friend or a partner, so don't be afraid to ask for a little help during the process. We have a limited view of our bodies, even when using a mirror, so it can also be helpful for someone to give you a once-over to guarantee you covered spots you can't typically see like the backs of your legs or around your neck.
If you'd rather take on the challenge alone — and we don't blame you — just make sure you have access to a full-length mirror in good lighting. For hard-to-see areas, try using a hand mirror in conjunction with the full-length mirror to get a full view of exactly where you applied your product. It might seem a bit like an overkill, but you'll be grateful you double checked before your tan got the chance to fully develop.
Moisturize in the days following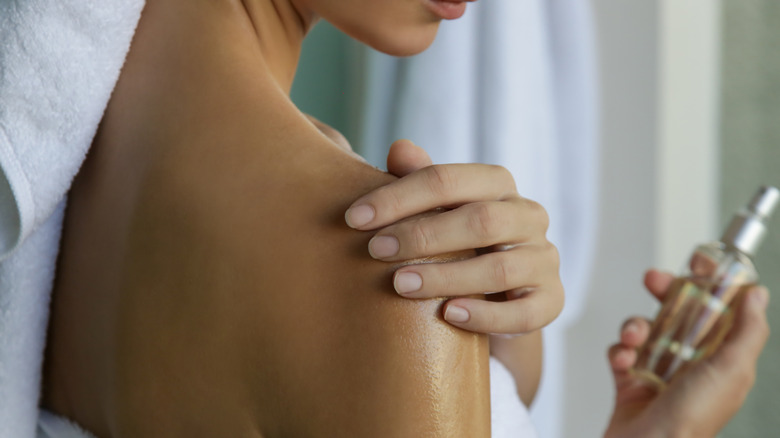 triocean/Shutterstock
Immediately after self-tanning, you should avoid contact with water, perfumes, and lotion until the product fully develops, but after, it's a good idea to keep your skin moisturized to extend the life of your tan. Dry, flaky skin, especially during the colder months, can make your tan fade and look patchy more quickly than if your skin were properly hydrated. Along with a regular lotion, you should also still be utilizing your daily sunscreen. Just because your skin looks more bronzed, it doesn't mean that it actually has any additional sun protection.
Whether you're a self-tanning devotee or just branching out for a special occasion, these tricks can help you accomplish and maintain a summery glow that looks seamless and natural. It might be a bit of an intimidating process to start, but by following these tips, you'll be sure to end up with a professional-looking tan in no time — no sun exposure necessary.